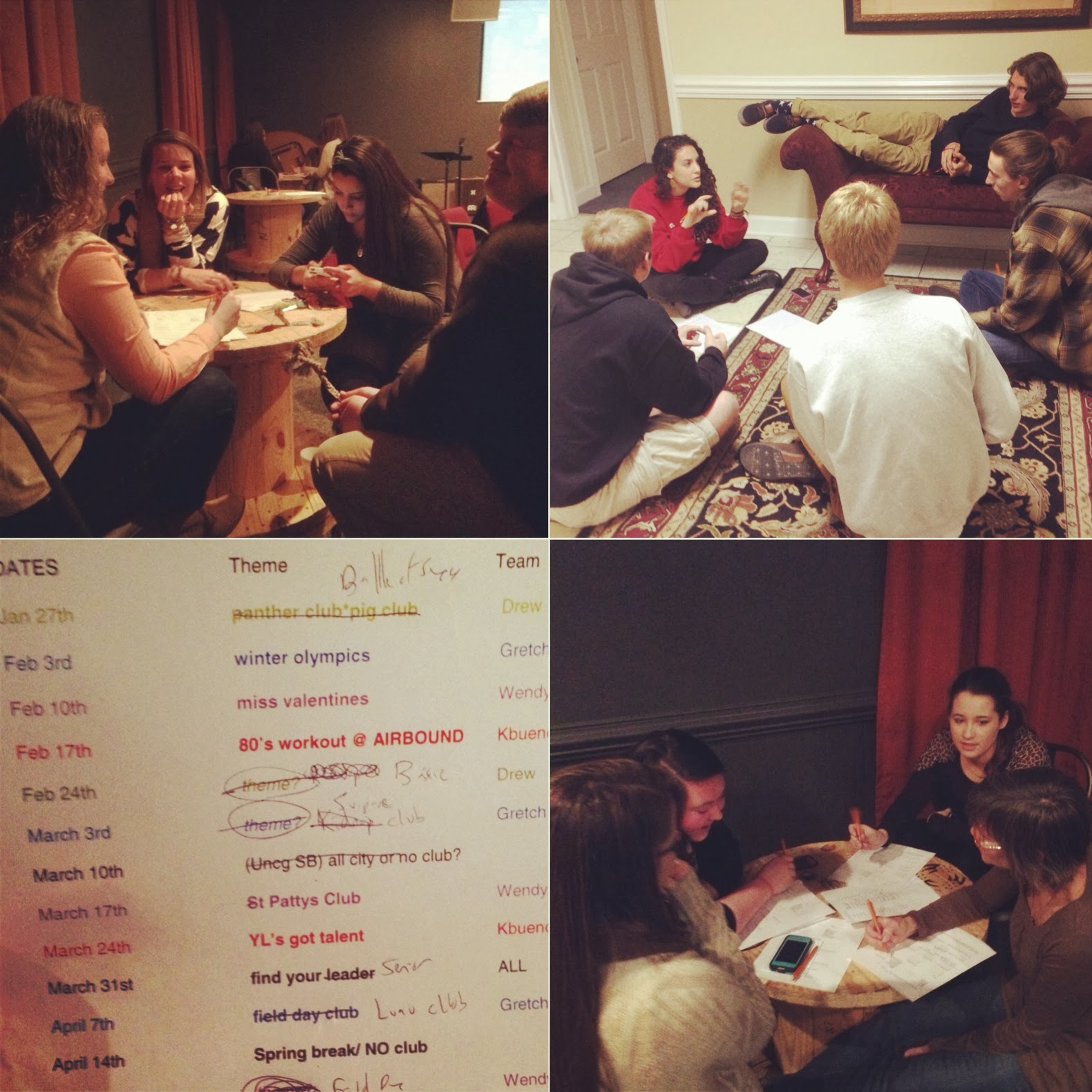 Last week I posted some ideas to help with planning clubs for the spring semester. Our YL team met last week and brainstormed more ideas together. This week on our typical club night, we had a 'Club Planning Party.' We invited any high schooler who wanted to have input. About 15% of our normal club attendance showed up, which was what we were expecting. We wanted to give ownership to the senior leaders and identify other potential leaders from the underclassmen.
Club Planning Party Schedule
7:00 Hangout & snacks
7:15 Cast Vision, Pray, Acts 2:41-47
7:30 Talk through the adult leader planned club schedule with the large group
7:45 Brainstorm new ideas and tweak schedule
8:00 Break into Program Teams and each team plan 2 clubs with skit characters, fun way to do announcements, good background music, club song suggestions, upfront game, & mixer.
8:45 we outtie like a belly button
Our YL team presented our ideas, a few which got shot down fairly quickly. I honestly thought 'Pig Club' was going to be funny (pigskin, bacon, superbowl, pig games), but I got outvoted. The kids came up with some winner ideas, which I've listed below. I've included links for all the clubs with plans that are already previously written up on YoungLifeLeaders.org.
Jan
13- Club Planning Party
20- All-City YL WingFest @ Kickback Jack's (chicken wing eating competition, teams of 4.)
27- Battle of the Sexes Club (first club of the semester, guys wear blue/gals wear pink)

Feb
3- Winter Olympics Club
10- Ms. Valentine's Pageant (similar to Mr. Christmas Tree)
17- 80's Workout Club at AirBound
24- Basic Club

March
3- Surprise Club (We'll call it 'Surprise Club' but it will actually be Kidnap Club)
10- No club (UNCG Spring Break)
17- Irish Club (On St. Patty's Day)
24- YL's Got Talent (Talent Show)
31- Find Your Senior Club at New Garden Shopping Center

April
7- Luau Club
14- No Club- Spring Break
21- Field Day Club
28- Middle School Club- (invite an 8th grader, dress like a middle schooler)


May
5- Adios Seniors Club (Cinco De Mayo)
12- Blessing service for seniors