Here's a few options for "Young Life BEACH CLUB""Winter" Beach Party(bring lots of heaters to your club location)"Spring Break" Beach Party(the week before spring break)"Wipeout" Beach Party(using games from the TV show "Wipeout")"Indoor Volleyball" Beach Party(in big cities there are often sweet indoor beach volleyball facilitiesas pictured above. Google your city to see if there is an undiscovered one near you. I know they exist in Denver, Cincinnati, Seattle, So Cal, NYC, DC, etc…) A few years ago we rented out one and did an All-Area "Beach Club." We ran a volleyball tourney, teams wore matching costumes, it was a big hit!No matter what direction you choose to go, below are a few ideas that will help it be successful:Encourage Kids To Wear Beachy AttireLeis, flowered Hawaiian shirts, swim trunks, shades, zinc sunscreen, etc…You can order leis in bulk for cheap from places like Oriental Trading Company. (You can get 100 for $15 here.) Leaders should lead kids in dressing appropriately.
Games And Activities
Play beach games outside before club starts: beach balls, volleyball, paddle ball, corn hole, baby pool filled with water or jello, squirt guns, etc…
You could also buy a "beach scene backdrop" at Party City for $13, get some tiki torches, coolers, beach chairs, and possibly sand, and set up a photo booth to take pics similar to this one pictured.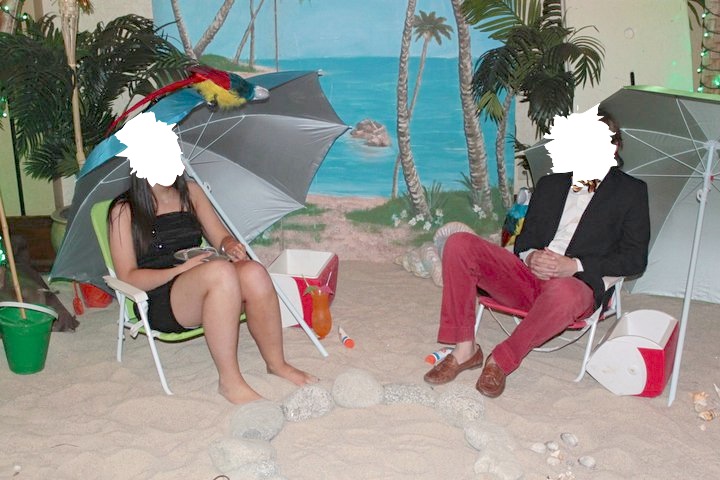 You can also turn a mattress into a "surfboard" and have a "body surfing" race as the mattress is passed as demonstrated in this video.

Music
Make an iPod play list with good beach music for background tunes. Sing beachy songs like Jimmy Buffet, Kenny Chesney, Beach Boys, Party in USA, etc… as club songs.
What ideas would you add? Please comment below and I'll add your comments to this post.