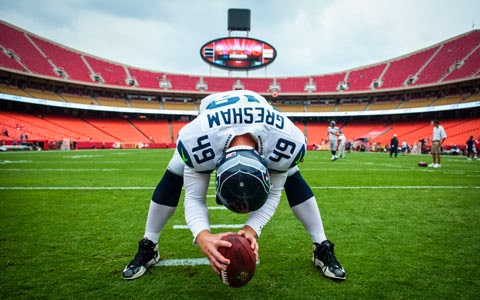 On Sunday night we had Campaigners at our house. We watched the Seahawks-Niners game and had 'cabin-time' during half-time. While the Seahawks were attempting a field goal, I thought I'd try and be cool and name drop. "Fellas, see #49 snapping the ball. His name is Clint Gresham and he's a Young Life leader in Washington."
I then proceeded to show them this picture from Clint's Instagram feed of his Campaigners group meeting in the Seahawks locker room. My plan had backfired. Suddenly my basement wasn't quite as cool of a Campaigners meeting spot.
In case you haven't seen it yet, here's a video YL put together about Clint. I can't imagine watching my Young Life leader play in the Super Bowl!
If you're doing Super Bowl club or a Super Bowl party, here are some ideas we used a couple years ago.
Clint Gresham – Young life leader from J&B on Vimeo.