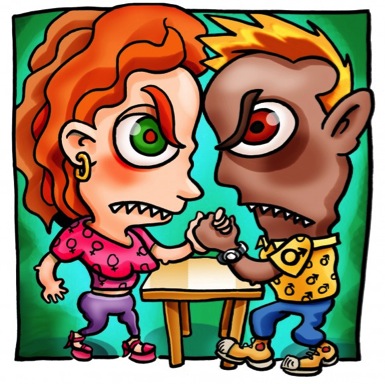 Gals wore pink.
Guys wore blue.
Here's what went down at our 'Battle of the Sexes' Club:
Battle of the Sexes Club Schedule
6:15- Pre-club dinner, prayer, run-thru
7-seniors go pickup freshmen, set up inside, Band practice
7:20- Ready for folks to arrive
7:37- official start time
7:42-band enters
7:47- seniors form tunnel- (Girls entrance/Boys entrance)
7:50- Rolling in the deep
7:55- Tonight Yes Tonight chant
7:55- Baby
7:59- Take a seat, take a seat
8:00 – girls video
8:04- Pyramid mixer
8:09- guys video
8:13- Rockbridge: list of who's going slide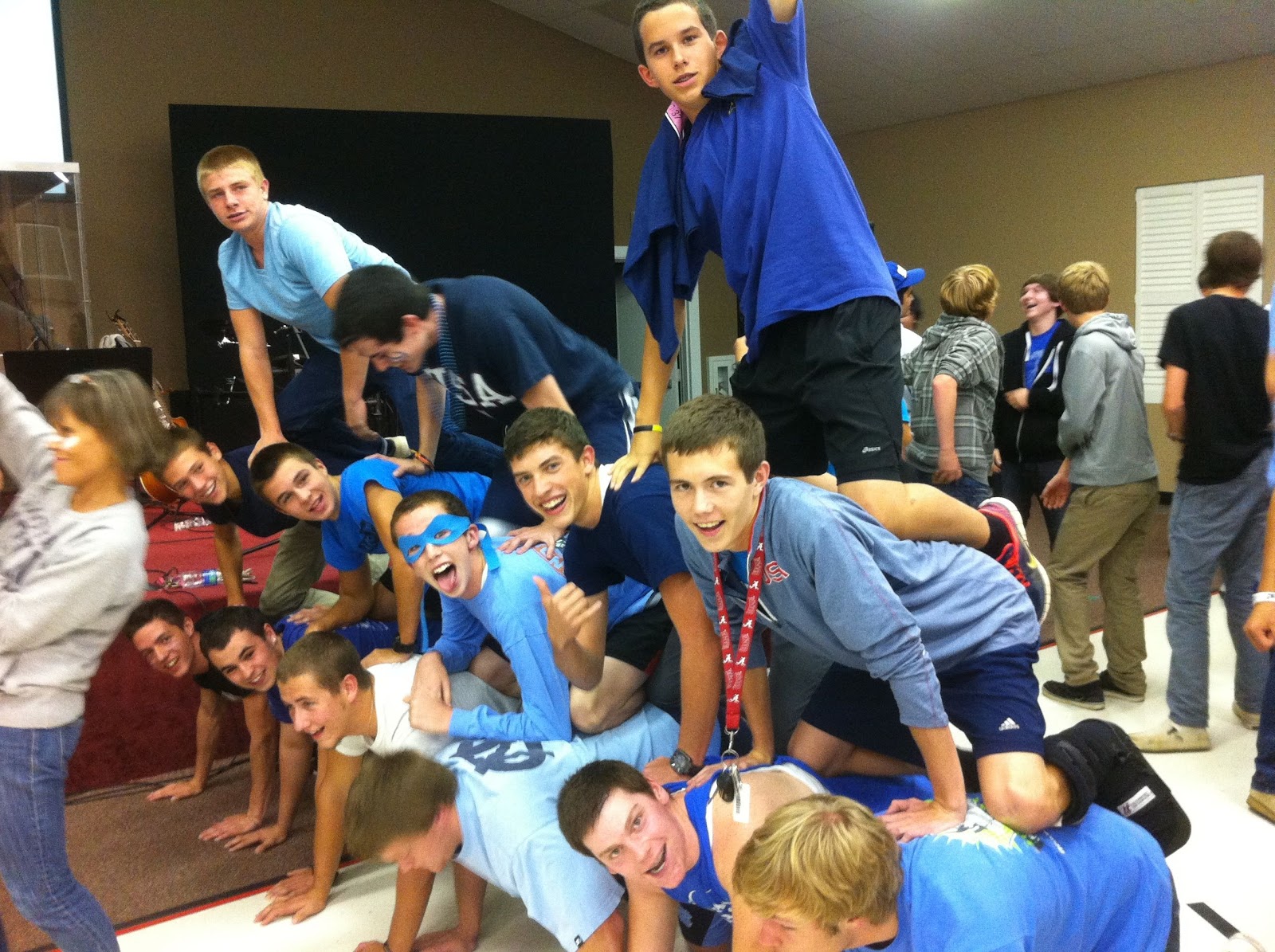 8:14- Battle of the SAXes interrupter
8:15- Jack & Diane
8:19- Massage Train
8:20- I won't give up
8:24- Blindfolded makeovers
8:30- Announcements- junior girls
8:34- Your Love is Deep
8:38- How He Loves
8:42- Drew intro Z Leicht
8:43- Z talks
8:55- music plays for exiting
Separate Tunnels
We had planned on the senior gals making a tunnel for all the gals to enter into the club room and the same for the guys. Rained changed our plans, but the room being divided with blue on one side and pink on the other was a cool visual effect.
Background Music
We didn't come up with any super song ideas to play in the background, but I edited the chorus of 'Boys & Girls' by Good Charlotte down to a 30 sec clip to use during games. You can listen to the whole song here or get the edited clip here. If you have any other good song suggestions, please comment below.
Battle of the Sexes Trivia
You can download a PowerPoint Trivia game we made for club here. We like to use pots on kids' head with other kids' banging on them spoons as the buzzers. Sort of a Family Feud type setup.
Pyramid Building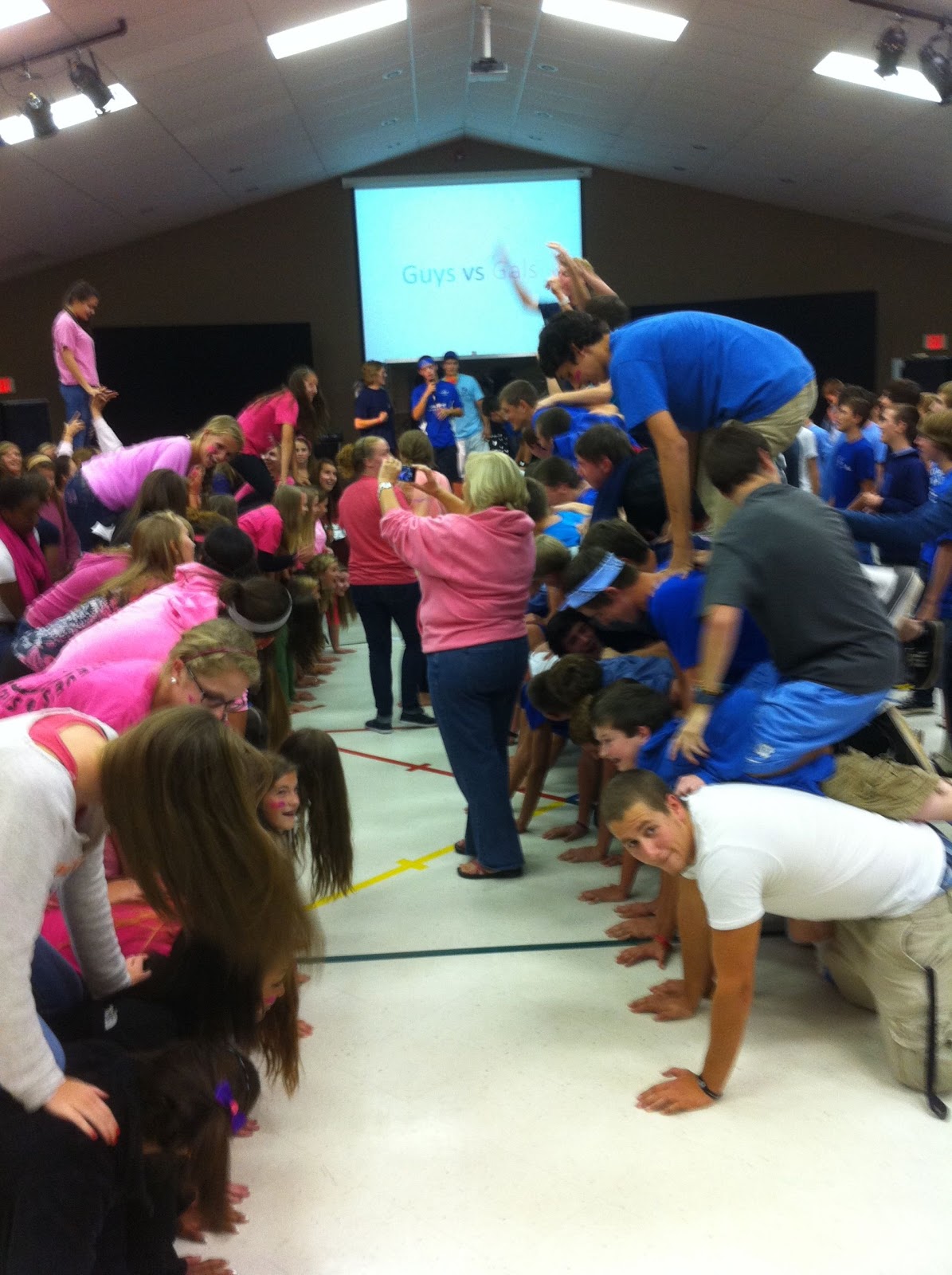 One of my favorite mixers! Have guys go to one side of the room, gals go to the other. Have your skit characters leading the game instruct the teams to race to build as many pyramids of 3 people as possible. If you have 60 kids, you'll have about 10 guy pyramids and 10 gal pyramids. Round 2 is pyramids of 6. Round 3 is by class (build a pyramid with all the freshmen guys, etc…). Round 4 is all guys vs all gals. Those can be some big pyramids! Make sure you have a photographer in place as the pictures are priceless.
Battle of the SAXes
We have a couple guys who play the saxophone, so we created a silly interrupter based on 'The Sexy Sax Man.' When the on stage announcement person asked them why they were there, they said they heard it was 'The Battle of the SAXes' club. Insert courtesy laugh.


Blindfolded Makeovers
For our up-front game we had gals give guys makeovers while wearing blindfolds. There are endless possibilties of games to use here. I think the Baby Bottle Burping game is always a winner.


Videos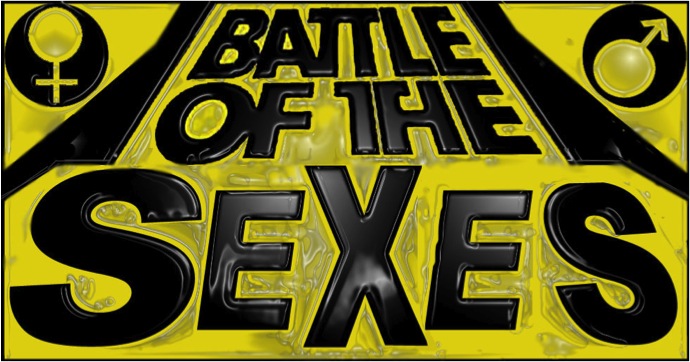 We also had a Campaigners group of gals make a Rocky-like video of them getting pumped up and ready for Battle of the Sexes club. The senior guys took some freshmen guys into the woods to make a similar video from the male perspective. Both were audience favorites!


What other ideas can you share? Please comment below.