It's coming up soon…that marathon YL Team meeting where you stay up late, eat Cheetos, and plan a whole semester of clubs in 6 hours. Here are a few "Theme Club" ideas to hopefully jump start your planning. Please add your own suggestions in the comments below. If you have any ideas for songs or games that go with a certain theme, please comment as well. I'll take all the comments and update the post with the shared ideas as they come in.
Wipeout Beach PartyCreate outdoor games like the TV show Wipeout, have kids wear leis and flowered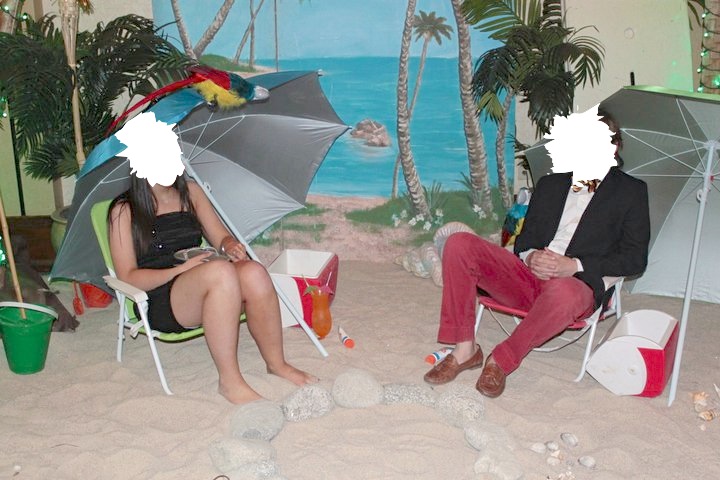 shirts, swim trunks, shades, zinc sunscreen, etc… Play beach games before club outside: beachballs, volleyball, cornhole, baby pool filled with water or jello, squirt guns,etc… You could also buy a "beach scene backdrop" at Party City for $13, get some tiki torches, coolers, beach chairs, and possibly sand, and set up a photo booth to take pics similar to this one. Sing beachy songs like Jimmy Buffet, Kenny Chesney, Beach Boys, Party in USA, etc…iClubPlay games that kids play on iPhones. Do a live 3D version of Words With Friends (with cardboard scrabble pieces), Angry Birds (with red and green kickballs and painted bird and monsters faces), etc… Have a live Twitter feed up on the screen during club and assign kids to Tweet about every single detail as its happening at club. Use iPods to have kids sing "Junkyard Karaoke." "iClub" might go well with a sin talk, relating how sin is simply s-I-n, putting "I" as the center of our life instead of God. Maybe that's too cheesy, but I think its something kids might remember. Here's alink to an iClub outline from YLhelp.comMustache ClubThis was a real winner for us last year. Everyone wore fake or drawn on mustaches t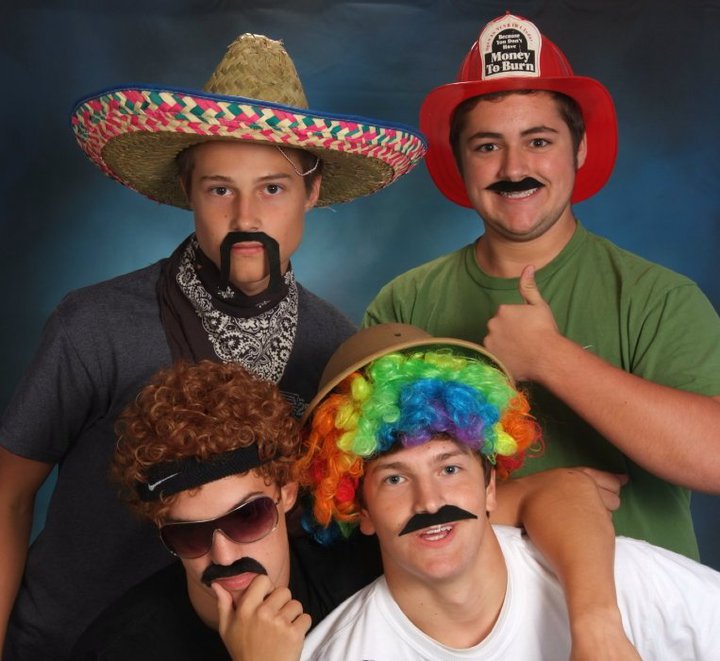 o club. That one Junior guy on the football team who hit puberty in 4th grade showed up with a sweet real 'stache, but it wasn't better than the 'stache one of our leaders shaved into his back hair. We also set up a photo back drop, grabbed our entire skit closet, provided 'staches to kids who didn't bring them, and took a ton of great pics that stayed on the "Top News" in everyone's facebook feed for awhile. It was also a killer way to learn lots of new names to go with the faces under the 'staches. YLplaybook.com also posted a hilarious "Pin the Mustache on Bieber" game.Jock & Jill ClubGuys come dressed as athlete jocks in uniforms, gals come dressed ultra girly or even cheerleaders. Sing "Boys of Fall" by Kenny Chesney. Have an arm-wrastlin' tournament and at the last minute announce its for gals instead of fellas.Glee ClubSing songs from the show: Don't Stop Believing, Sweet Caroline, Hit me Baby One More Time, Livin' on a Prayer, Soul Sister, etc… Plan ahead and get some kids who actually sing to pe
rform a number as a surprise. Sing everything, including the announcements and the run-on. Get the full run-down on what North Shore YL did for Glee Club at the most booyah location for games and skits: YLPlaybook.comBreakfast ClubHere is a linkto YLHelp.com and a Breakfast club plan they used.Homecoming ClubSimilar to Tacky Prom club, elect a Homecoming King and Queen and use Burger King crowns. You could award the king/queen based on who brings the most freshmen to club.Harry Potter ClubClick on this link for lots of ideas. Once again stealing some ideas from YLHelp.com. Play Quidditch as a mixer (broomball), make up some HP trivia ?'s and award the "House Cup." Reenact the HP Puppet Pals viral YouTube video.This club could have momentum following a summer where 90% of kids saw HP7.Barn Party (aka: Red Neck Live, Country Club, Hoe Down)The fall is a perfect time to dress like rednecks, spit crickets, wear fake teeth, bowl turkeys, get that one kid you know who has an uncle that plays banjo to come to club, etc… I wouldn't call it a "Hoe Down," to many opportunities for kids to make bad jokes.Costume ClubOne of the annual favorites around Halloween, which happens to fall on a Monday this year, so…if you have Monday club, its a no-brainer. Start promoting it WAY EARLY with incentives for best costumes. If you do have a Monday club, consider what extra stuff you could tag on the back of club to entice kids to spend Halloween with YL instead of somewhere else. Maybe a corn maze? Rolling your Area Director's house? Or how bout this, combine with other area schools and actually apply to The Guinness Book of World Recordsto have them verify your clubs setting a record for the largest group of trick-or-treaters ever? How sweet would that be to make a video of hundreds of kids trick or treating in a neighborhood. If you go this route, I'd alert the neighborhood and authorities ahead of time to save yourself some trouble.Christmas ClubHere is a link to a TON of good Christmas Club ideas.Fake Injury ClubHere is a link to how to do a Fake Injury ClubFind Your Leader ClubHere is a link to how to do a Find Your Leader ClubOther Ideas:Camo Club
Blue Club
Freshmen Club
All-City Club
Camp Reunion Club
So You Think You Can Dance Club
Young Life's Got Talent Show
Battle of the Sexes Club
Rave (Glow Club/ Blacklight Nite)
Ninja Club
YouTube Club
Backwards Club
Kidnap Club
Cookout Club
80's Night
Cops and Robbers Club
Hip-Hop Club
Ice Cold Club
Fear Factor Club
Minute 2 Win It Club
Bigger Better Best Club
Baby Club
Yellow Club
Banana Club
Nerd Club
Couch Olympics
Pizza OlympicsDisney ClubWhat other ideas would you add? Please comment below.