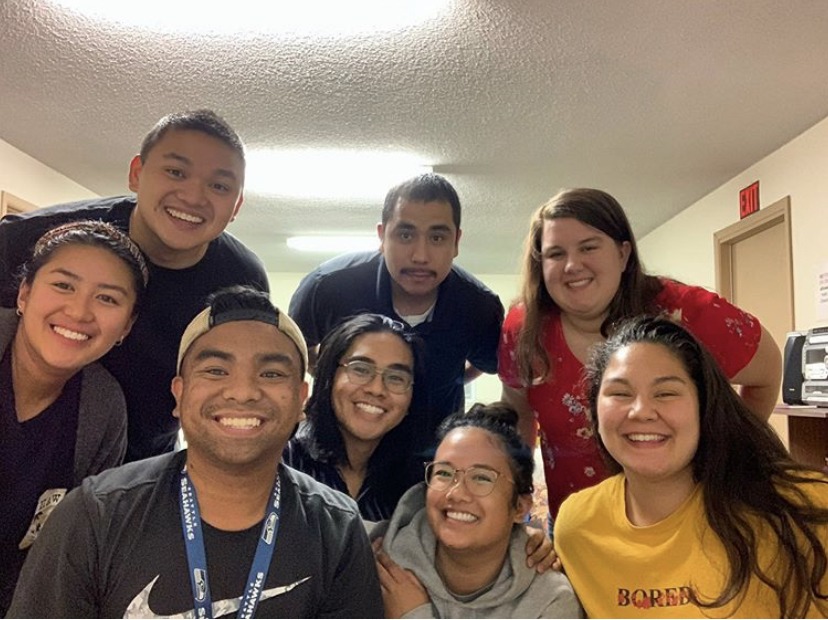 This semester on Tuesdays we're taking a deep dive into Young Life team dynamics. If you missed the first couple posts, check them out here:
In this post, Alex gives us a picture of what gospel-centered community looks like versus unhealthy community. We often elevate the idea of community, yet it is not as simple as simply desiring it. It takes intentionality. 
You can download the PDF of the document below here. Consider discussing it with your YL team.

"The person who loves their dream of community will destroy community,
but the person who loves those around them will create community."
―Bonhoeffer, Life Together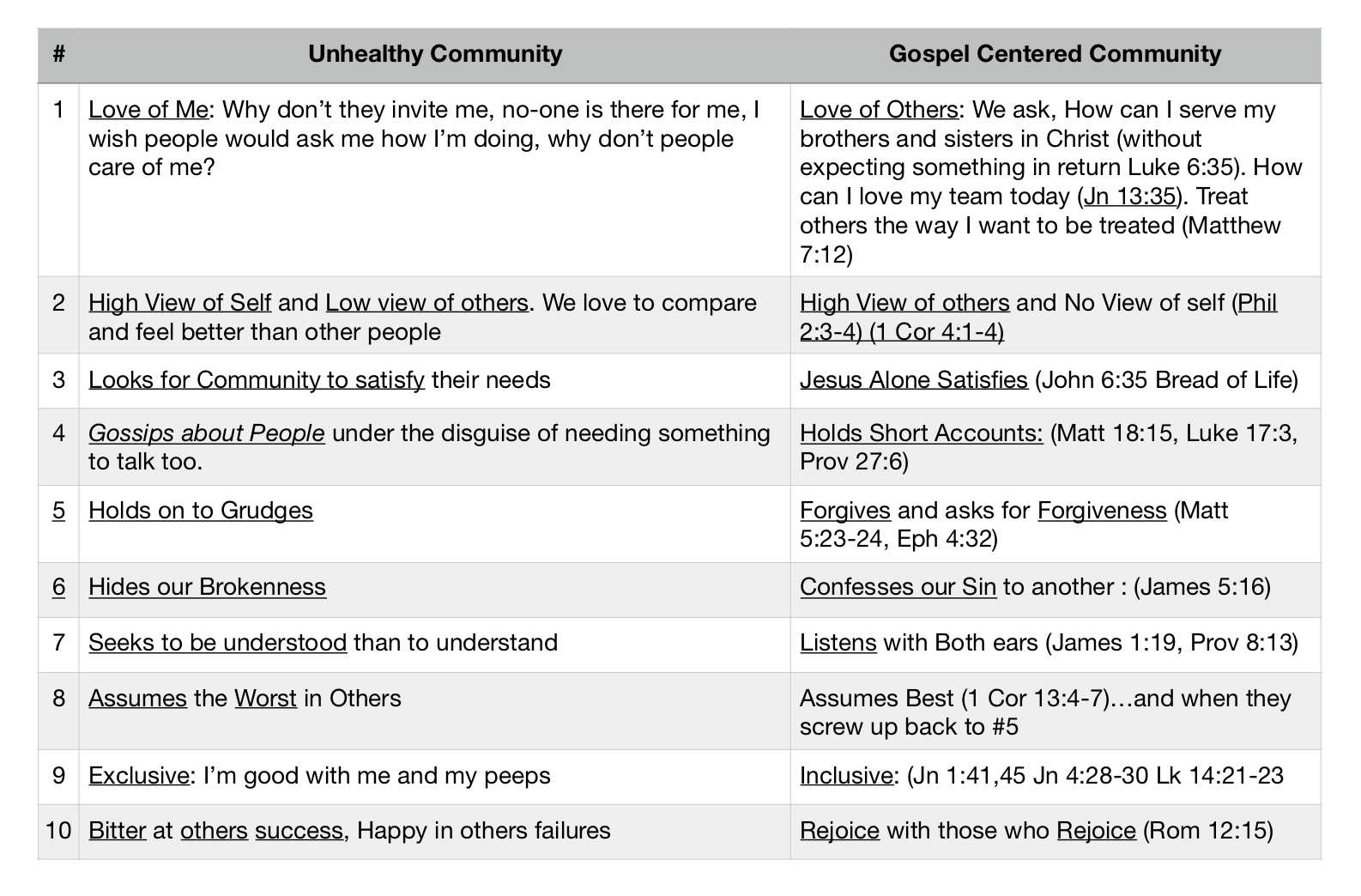 Questions to Ask Yourself
Are you looking for Community to give you what only Jesus can give?
Which one of the 10 do you have the hardest time with?
Who do you need to forgive and who do you need to ask forgiveness from?
Who do you need to include or invite?
What is one Gospel-centered trait that you, your team, family, or friends need to try?
Point 1- Love of others
•   "But love your enemies, do good to them, and lend to them without expecting to get anything back." Luke 6:35
•   "By this everyone will know that you are my disciples, if you love one another." John 13:35
•   "So in everything, do to others what you would have them do to you, for this sums up the Law and the Prophets." Matt 7:12
Point 2- High View of others and No View of self
•   "Do nothing out of selfish ambition or vain conceit. Rather, in humility value others above yourselves, not looking to your own interests but each of you to the interests of the others." Phil 2:3-4
•   "Humility is not thinking less of yourself, it's thinking of yourself less." C.S. Lewis
•   "If my sinfulness appears to me to be in any way smaller or less detestable in comparison with the sins of others, I am still not recognizing my sinfulness at all. … How can I possibly serve another person in sincere humility if I seriously regard his sinfulness as worse than my own?"– Dietrich Bonhoeffer
Point 3-Jesus Alone Satisfies
•   "Then Jesus declared, "I am the bread of life. Whoever comes to me will never go hungry, and whoever believes in me will never be thirsty" -John 6:35
Point 4- Holds Short Accounts
•   "If your brother or sister sins, go and point out their fault, just between the two of you. If they listen to you, you have won them over."- Matthew 18:15
•  "Wounds from a friend can be trusted, but an enemy multiplies
kisses."- Proverbs 27:6
Point 5- Forgives and asks for Forgiveness
•   "Therefore, if you are offering your gift at the altar and there remember that your brother or sister has something against you, leave your gift there in front of the altar. First, go and be reconciled to them; then come and offer your gift.- Matthew 5:23-24
•   "Be kind and compassionate to one another, forgiving each other, just as in Christ God forgave you." – Ephesians 4:32
Point 6-Confesses our Sin to another
•   "Therefore confess your sins to each other and pray for each other so that you may be healed. The prayer of a righteous person is powerful and effective." -James 5:16
•   ""It may be that Christians, notwithstanding corporate worship, common prayer, and all their fellowship in service, may still be left to their loneliness. The final break-through to fellowship does not occur, because, though they have fellowship with one another as believers and as devout people, they do not have fellowship as the undevout, as sinners. The pious fellowship permits no one to be a sinner. So everybody must conceal his sin from himself and from the fellowship. We dare not be sinners. Many Christians are unthinkably horrified when a real sinner is suddenly discovered among the righteous. So we remain alone with our sin, living in lies and hypocrisy. The fact is that we are sinners!"-Dietrich Bonhoeffer
Point 7-Listens with both ears
•   "My dear brothers and sisters, take note of this: Everyone should be quick to listen, slow to speak and slow to become angry," – James 1:19
•   "To fear the Lord is to hate evil; I hate pride and arrogance, evil behavior and perverse speech." – Proverbs 8:13
Point 8-Assumes Best..and when they screw up back to #5
•   "Love is patient, love is kind. It does not envy, it does not boast, it is not proud. It does not dishonor others, it is not self-seeking, it is not easily angered, it keeps no record of wrongs. Love does not delight in evil but rejoices with the truth. It always protects, always trusts, always hopes, always perseveres." – 1 Corinthians 13:4-7
Point 9-Inclusive
•   "Then, leaving her water jar, the woman went back to the town and said to the people, "Come, see a man who told me everything I ever did. Could this be the Messiah?"They came out of the town and made their way toward him. – John 4:28-30
Point 10- Rejoice with those who Rejoice
•   " Rejoice with those who rejoice; mourn with those who mourn." – Romans 12:15