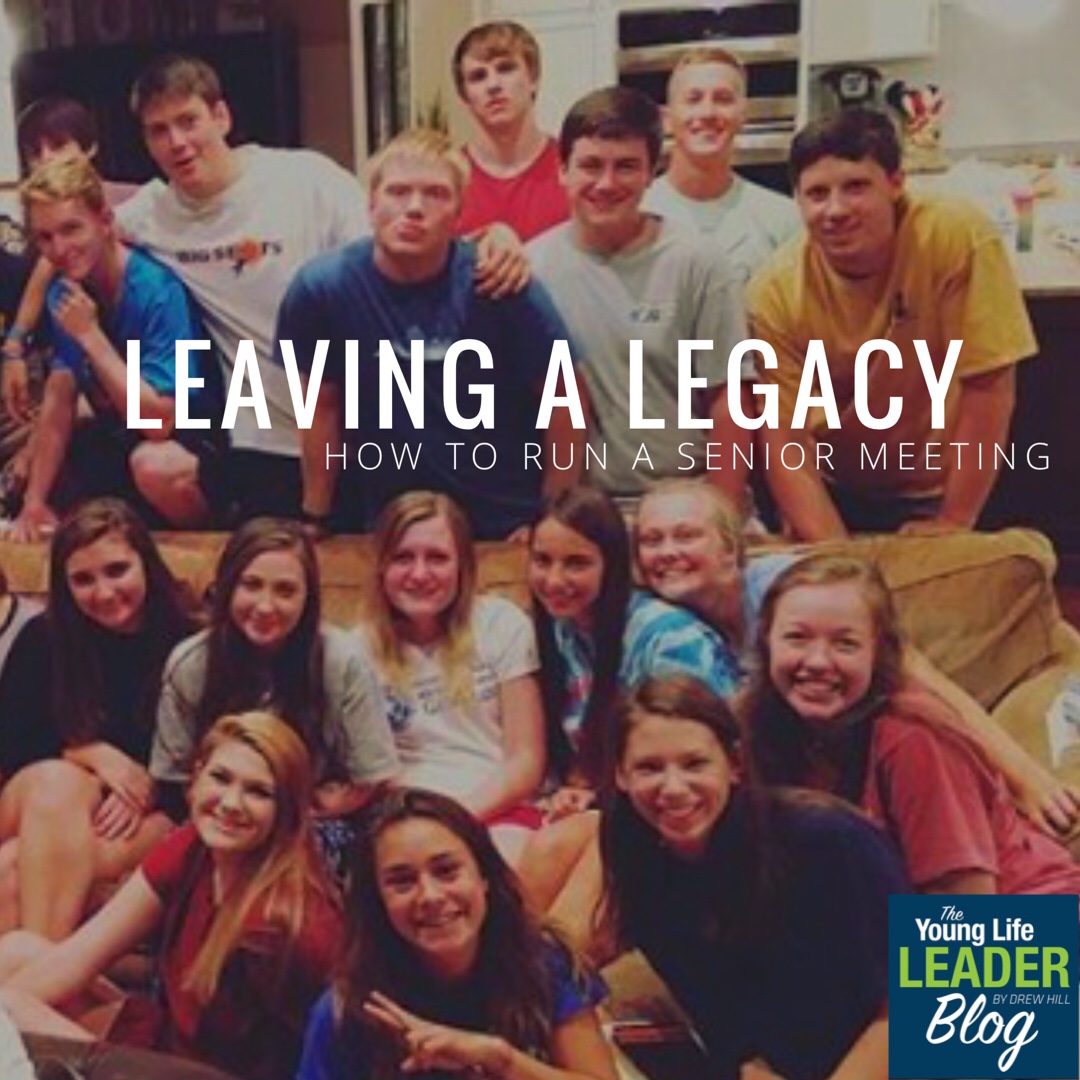 Over the past few years we've kicked off the new semester of Young Life with a 'Seniors Only' meeting. Special thanks to Brian Summerall for sharing his wisdom with us and prompting this new rhythm.
It has worked well for us to hold our 'Senior Meeting' on the evening of the first day of school. In addition to promoting the event on social media, our YL team has divided up the list of seniors and made personal invites to each of them.
We try to plan the Sr. Mtg with even greater intentionality than we would give to planning club. This is such an important part of the Young Life year in setting the pace and casting the vision. Below is a sample schedule we've used in the past.
Download this sample schedule below here in Word.
Senior Meeting Schedule
7:30– Adult leaders arrive to pray and get music and food and AV set up. Have music playing in background.
8– Seniors arrive
8:15– Start with welcome, leaders introducing themselves and an opening prayer.
8:20– Ask the seniors to one by one go around and share 'How did you first hear about Young Life? Why did you come? What was it like?'  As they are sharing have an assigned leader listen and write down every name that a senior mentions when they are sharing. Ex: "I came because my neighbor Parker picked me up and brought me when I was a freshmen."  Write down 'Parker.' You'll use those names later.
8:30– It's an older clip, but still works in painting a picture of leaving a legacy: 'Lord Of The Rings Clip: Samwise the Brave'

Sam: I wonder if we'll ever be put into songs or tales. 
Frodo: What? 
Sam: I wonder if people will ever say, 'Let's hear about Frodo and the Ring.' And they'll say 'Yes, that's one of my favorite stories. Frodo was really courageous, wasn't he, Dad?' 'Yes, my boy, the most famousest of hobbits. And that's saying a lot.' 
Frodo: You've left out one of the chief characters – Samwise the Brave. I want to hear more about Sam. 
Frodo: Frodo wouldn't have got far without Sam. 
Sam: Now Mr. Frodo, you shouldn't make fun; I was being serious. 
Frodo: So was I. 


8:35– "I wonder what people will say about you after you've graduated? I wonder if three years from now someone in the class of 2019 will be sitting at this meeting and mention your name." Use the names you've recorded from their share time earlier and read those back to them.
8:40– Read the Burr Nichols story out loud. Make printouts of this PDF and ask a few seniors or adult leaders to take turns reading.
8:45- Appoint a leader to give a short 'vision casting' talk after the Burr Nichols story.
Below are some potential talking points:
Leave A Legacy: Give Your Life Away
What legacy will you leave when you graduated in 9 months?
What will people remember about you?
What will they write in your yearbook?

You are HOT.
You have a sweet car.
You can hit a ball far.
OR… You cared about me, you listened to me, you noticed me, you reached out to me when I was lonely, you included me, you introduced me to Jesus and showed me what He's like.

Be a "there you are" kind of person and not a 'here I am' kind of person. It's counter-cultural in this selfie generation.
"To have life is to give it away."
The Power of Invitation
There is way more power in a personal invitation born out of genuine friendship than just passing out flyers and saying 'come to this thing.'
Ask them to think through who are the 'right' people that Young Life is for? (EVERYONE!)
Ask the seniors to think through their niche in the school and who they know.
Ask them to think about kids in different groups/cliques at the high school who aren't a part of YL. Do the 'x' kids feel welcomed and invited to club?

People who don't wear Vineyard Vines
Band kids
Chorus kids
Lax bros
Exchange students
Kids of different races
Gingers
Angry kids
People who wear all black

Ask them to take a few minutes and brainstorm and write down a list of folks they know at the school who they could invite to be a part of YL this year.

The Whys of Club
Pull back the curtain and go through a typical night at club and explain why certain things are done certain ways. Point out the different roles seniors can play in club. Use a dry erase board and see if they can come up with the club order. Always ask them "What's next?" and "Why?" to see if they can come up with it on their own. Draw a funnel showing how club begins with a point of high activity and ends pointing to Jesus.
A Typical Night at Club
Leaders meet for final club prep and to pray
Kids Arrive – Club starts in the parking lot with parents and kids being welcomed with a handshake, hug, fist bump, or high five.
Club Entry – Fun music with the seniors forming a tunnel
Radio songs- It's familiar- this place feels fun and safe and welcoming, moving kids from spectators to participants
Mixer- to meet new folks, include everyone
Skit/Up-front game- making kids the stars
Camp video or another fun video- Shows a picture of community, friendship and the memories being made
Announcements- announcing THIER stuff, not just YL stuff- what's going on at the school
Slow songs- Content related to the talk, changing the pace, slowing it down
Talk- explain talk progression
After club hang out/rides home- more time with kids
Leaders clean up and pray
Roles Seniors Can Play
Whether you are a Sr. Leader or not, you have great influence as a senior. Here are a few ways you can be a leader at YL this year:
Letting us as leaders know about key events at school
Wear YL shirts on Mondays- "Let YL take the worry out of what to wear on Mondays"
Tweeting/instagramming about club, use our hashtag: ex:  #NWYL
Explain the pre-club party on Sunday night before the first club where we'll sell shirts and shoe polish our cars with YL on them
Invite folks to fall camp
Leadership Roles at Club
Pre-Club DJ: Run music during pre-club hangout outside the club room
Club Hosts: Run the pre-club games (volleyball, corn hole, etc.) club card table and sell t-shirts. Pass out announcement info sheets and camp flyers as kids are leaving club.  Welcoming new comers and thanking them for coming. If we have drinks or snacks before club, the hosts would be the ones serving those. Also could help with parking and talking to parents who are dropping off underclassmen and picking them up after club.
Photographers/Videographers: Shoot pics and video before and during club, post the pics online (that same night if possible) and tag their friends.
Video Editors: Helping edit short videos to show each week at club.
Club Band: Lead music each week
AV Crew (Audio/Video): Running slides, lights, and sound.
Skits/Games: Leading games and doing skits at club.
Tunnel Makers: Every senior does this at the start of club
9:10– Invite all the seniors to pray out loud for their school
9:25– If you choose, you can close the meeting by asking folks to fill out Senior Surveys and include a nomination for a YL President.
Sample Senior Survey
Name
Phone

Favorite songs you've sang at club that you want to sing again? 

(BOTH fast/fun & content/worship songs)

Favorite games you've ever played at YL that you want to play again?

What have been your favorite Young Life related events?

How can we make club better for you and your friends?

What do you want to contribute to club?  (band, skits, host, making videos, etc…)

What theme clubs do you want to do this year?

Anything else you want us to know?

Who do you think should be president of YL this year?
9:30– It would be a fun surprise at the end to do a gutter ice cream sundae or reveal the new YL shirts.