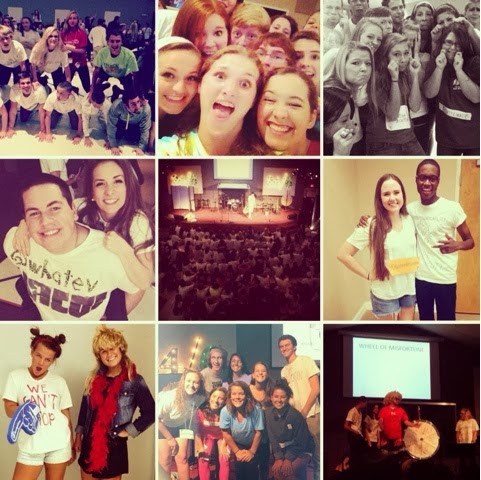 This week I'm posting one new game a day on the blog. All games were submitted by you! If you have a game you're willing to share, submit it here. Today's post has a bonus feature, entire club plans for Insta-Club!


Kyle Eberth sent in the Insta-Mixer game below, just in time for us to use at our own Insta-Club at Northwest Guilford High School this week! It was Insta-ntly AWESOME!


In addition to Kyle's game, I've included our PowerPoint Slides, schedule, and a description of the other games we did. I highly recommend doing this club this semester. It was a big hit and caused a social media frenzy!
I did wrestle with how this club might make kids without smart phones feel, but felt like it was still a fun night for everyone. Obviously if you lead YL in a lower income school this club might not work as well.


Here's a one minute video of some club highlights.
Insta-Club #NWYL from Drew Hill on Vimeo.
I made the video above in less than 3 minutes using the iPhone app Magisto. It cost me $1 to download the video, but it's worth it for the editing time it saved me. Magisto also comes on Android.
Download our PowerPoint Slides here.
Insta-Club schedule
6:15- pre club dinner, prayer, run thru
6:45- band run-thru
7:20- shirts, club cards, camp flyers
Take Filter pics
7:37- official start time
7:45- gather tunnel
7:48- Tonight YES Tonight
7:49- Photograph
7:53- Banana Song
7:56- INSTAntly Mixer (Boe & Sam)
8:03- ManCrushMonday (Boe & Sam)
-band gets on stage during MCM
8:08- Brown Eyed Girl
8:11- Carolina
8:15- Wheel of MisFortune (Mr. Goodtimes)
8:19- 30 second dance party
8:20- Transformation Tuesday Skit
8:24- Announcements/ Club Card giveway
8:28- I am yours
8:31- Intro Simeon
8:33- Simeon Talks
8:46- Your Love Is deep
Pre-Club Filter Pics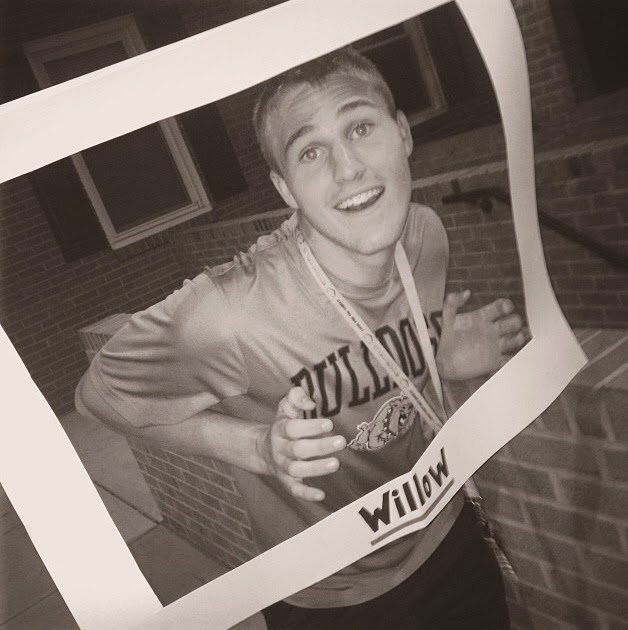 Before club we cut out poster board frames and made the twenty Instagram filters for kids to take pics with. We hope to make a cool poster with all the pics and to share them online.
Insta-Mixer
We had 12 teams group up by birth-months. Here are some other creative ways to divide into teams. We then had each team select 4 smart phones to use from their groups. On the screen we posted instructions for each of the 4 rounds, a different phone for each round. The first slide goes up for Round 1, leader explains that round, music plays, and kids scramble to post a pic.
I used a program for Mac called 'Reflector' that's $12 to download and mirrors my iPhone to my mac through Wi-Fi so we we're able to use my actual Instagram feed to see live results of what picture was posted first. I searched the hashtag we used, #NWYL, and whichever pic came up first, using the correct filter, won that round. The characters leading the game from stage announced that round's winner and we moved to the next round.
Round 1
10 Person Pyramid, Filter: Nashville, #NWYL


Round 2
A Selfie with atleast 6 faces in the square. Filter: Rise, #NWYL

Round 3
Entire group together making FAKE
CRY face. (except 1 person taking pic). Filter: Inkwell, #NWYL

Round 4
ALL feet, just feet, in a circle…BAREFOOT. Filter: Valencia, #NWYL
Great way to tie in tech, teenage culture, and simultaneously have kids post to all their friends on social media about YL.
Thanks to Kyle Eberth for sharing such a fun mixer!


#ManCrushMonday (up front game)
You could use the traditional YL game of 'Girls Wrestling For Guys' aka 'Musical Chairs with guys as the chairs.' Same game, just call it ManCrushMonday.
We switched it up a little and had the entire crowd form a circle around 'the wrestling ring.' Two freshmen guys were selected along with 4 upper classmen gals. The gals were blindfolded and each handed a pillow with 'LIKE' written HUGE on the pillow case. The music started and whichever gal 'liked' the guy the most times won. Each pillow hit counted as a like. The guys tried to run away, inside the circle, from the gals. You can watch a clip of it on the video above.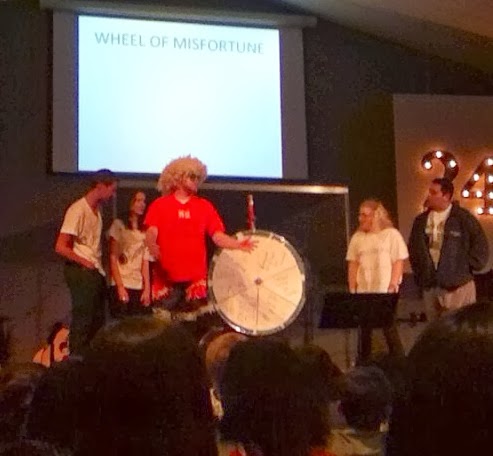 Wheel Of Misfortune
Our YL area has a spinning wheel we covered with poster board 'pizza slices.' On each 'slice' were the following options below. 'Mr. Goodtimes' counts…1,2,3 (and the crowd yells together…SPIN…THAT…WHEEL)
Free YL T-shirt

Selfie picking a boog

#MCM 'Mom Crush Monday pic of your mom

Everyone in the room that follows you, UNfollows you! #SorryNotSorry
Everyone in the room that doesn't follow you, follows you! #FTW

Actual pic Instagrammed during club
as a 'Wheel of Misfortune' punishment.

Hotdogs or Legs pic?
#TransformationTuesday: The Machine
(an upfront skit)
We took the old YL 'enlarging machine' skit and revamped it to work for Insta-club. Instead of an enlarging machine, we had a 'Transformation Machine.' The first girl walked out dressed as Hannah Montana to the song 'Best of Both Worlds,' then she entered the 'Transformation Machine' and another girl walked out to 'Wrecking Ball' dressed like Miley from the VMA's. After than we played Chris Brown's Transform Ya (clean version) in the background for the rest of the skit. Be creative and you can come up with some of your own transformation ideas, here are a few of the ones we used.
Farmer and pig = Farmer eating bacon
Guy holding a banana= Guy holding a guy in a banana suit
White guy= Black guy
Gal holding babydoll with diapers= gal comes out with freshmen in just a diaper

Freshmen in diaper= comes out as senior in diaper
Hope this is helpful! Please feel free to email me if you come up with other Insta-Club ideas and I'll add them into this post. -Drew