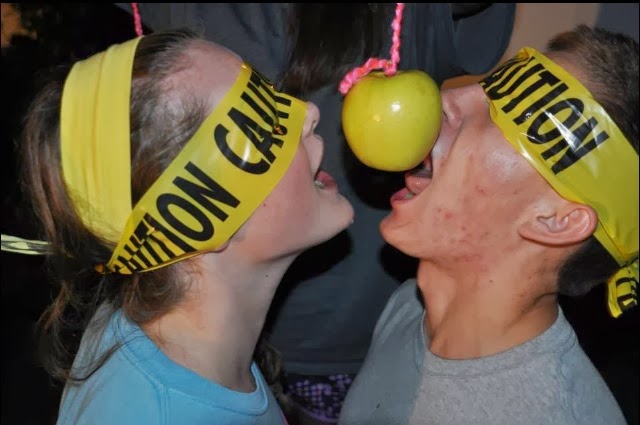 This week I'm posting one new game a day on the blog. All games were submitted by you! If you have a game you're willing to share, submit it here. Today's post is from Lindsey Gipson in Suwanee, Georgia and a perfect game for the fall club season.
Materials Needed
Whole apples with stems, string, blindfolds, peanut butter (optional).
Potential Skit Characters
Game show host, overly zealous coach, or you can run the game with your weekly run-on characters.
How To Play
Get "volunteers" aka pick 4 teams of 1 guy and 1 girl. We like to do it by class, and we try to sometimes get kids who are "talking" or "hanging out" as partners. Blindfold each person and place them on their knees in front of each other so they can adjust their height. Have 1 leader hold each apple which is hanging on a string. Count down and start music to signal game beginning. The object of the game is to eat as much of the apple as you can in XX seconds. The apple swings and slips… And well the rest just sort of happens. Make sure players keep their hands behind their backs. Want to add more fun?! Cover the apple in peanut butter. The couple with the most apple gone at the end of the game wins.