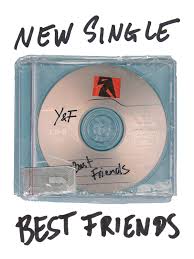 Hillsong Young & Free recently released their new single "Best Friends" that will resonate with many of our middle, high school, and college friends and could be a great content song for club.
"I think it's important to note with this song that we are trying to achieve something different here," says Hillsong Young & Free's Aodhan King. "It may not sound like a song for church, but we believe it's an anthem for young people who know there's something missing. Kids who know there's a level of dysfunction to the culture they've been sold and are ready for 'another way.' Our prayer is that this song propels them on the journey of discovering that the thing they are missing is Jesus," King adds. "We wrote it with intentionality towards that end…a seed sown into places that our songs have never been before."
We've got the lyrics, the slides, and the guitar chords for you. 
You can check out the live video of Hillsong Young & Free performing the song here. 
If you have a club song that your Young Life club loves, email us so we can share it! You can also check out our new playlists on Spotify if you need some music for club.