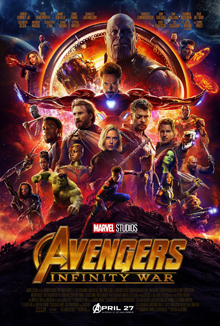 With the release of "Avengers: Infinity War" tomorrow, the summer movie season is already beginning.


Our job as Young Life leaders is to lead our middle and high school friends into the adventure of following Christ. Part of that means helping them discover different ways to use their time than just settling for the big screen. But another part of our role is to meet them right where they are, and this summer, they're likely to be at the movie theaters.
We can take advantage of this by planning well. Last summer I wrote in my calendar the opening nights of the blockbuster movies. A couple weeks before one I wanted to see came out, I started talking it up with kids. We went to see a couple midnight showings and they thought it was cool that their leader was willing to drive them around in the wee hours of the morning.
One night we met at a field around 10pm to play "Glow in the Dark Ultimate Frisbee" before the movie. Another night we hit up Waffle House after the film. Great bonding memories!

Disclaimer
I haven't seen any of these movies below and would highly recommend checking out reviews on kids-in-mind.com or commonsensemedia.org before taking kids to see a movie you might regret. When in doubt, talk to your Area Director. Also, be sure to communicate well with parents, especially if you're keeping their kids out late at night. Don't just settle for "my mom said it was cool." Go ahead and make that phone call to a parent.
Below are the opening dates for some 2018 summer movies you might want to see with your middle/high school friends. You can view the trailer for each movie by clicking the movie title below.Apr. 27 – Avengers: Infinity War
May 25 – Solo: A Star Wars Story
Jun. 15 – The Incredibles 2
Jun. 22 – Jurassic World: Fallen Kingdom
Jul. 6 – Ant-Man and the Wasp
Jul. 13 – Hotel Transylvania 3
Jul. 13 – Skyscraper
Jul. 20 – Mamma Mia! Here We Go Again
Jul. 27 – Mission Impossible: Fallout
Aug. 3 – The Darkest Minds
Aug. 3 – Christopher Robin
Aug. 10 – The Meg
Aug. 17 – Alpha
Aug. 17 – Crazy Rich Asians
What movies are missing from this list? Any "movie contact work ideas" you can share? Shoot us an email.
Read more about how we as leaders can help kids engage with movies in this post, Jesus Goes to the Movies.