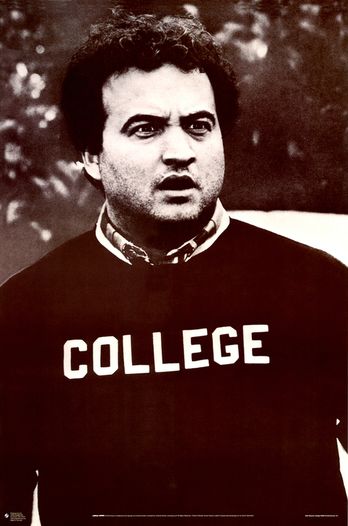 Many of our friends recently graduated high school and are starting college this month. What happens during those first weeks of college will significantly influence, not only their next four years, but the very direction of their lives.
Andy Stanley says "Direction, not intention, determines destination." He illustrates, "If you're going north on I-85, you're not going to end up in Florida."
We can have conversations with our friends about their hopes and goals for college, but those good intentions can easily be forgotten once the lures of college begin to entice. Let's help them be intentional with their intentions.
If they desire college to be an experience leading them into deeper intimacy with God, we can help them go that direction. One practical way to do that is by making one simple phone call or sending a text message.
Odds are there's an active Young Life ministry in the town where your friends are going to college. If so, it's worth it to spend the time to look up the phone number/email address of the YL staff in that area. One easy way to find the number is by using the online Young Life locator. Text or email the YL staff folks the contact information for your friends going to that college. Also, text your freshmen friends the phone numbers of the YL staff.
If there is not Young Life at that college, there most certainly are other campus ministries and healthy churches around the area. Spend some time on Google and do some research along-side your recently graduated friend. By making one simple phone call, you may help connect them with someone who can significantly impact their journey after Jesus.
Even Jesus sent out his disciples in pairs. We're not meant to do this alone. Let's work hard at helping our friends find someone to walk alongside of them. It just might be the most important phone call you make this August.
Another way to get them connected to their new area is to encourage them to sign up on the Young Life Alumni and Friends website.
Below is part of an email Kristina Thompson sent last year to all the YL staff in North Carolina. It was super helpful to just click and save the image below and text it to my friends going to East Carolina. Thanks Kristina!

Tarheel Region YL Staff,

I wanted to put a resource in your hand that you could pass along to those kids coming to East Carolina University. Would it be possible for you to put this Rush Week flyer in their hands? (I really mean in their phones.) If you save this image on your phone you can just text it to them! It's that easy, but it's another reminder to them of what's waiting for them here…Jesus and a community of people growing together and trying to share Him with more people.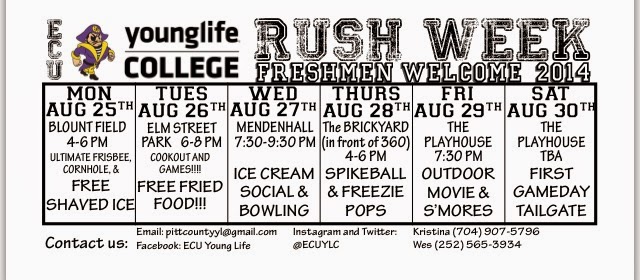 Thanks to Wes Emery and the ECU YL College team for the design
None of you need to be reminded that we are engaged in a battle, as kids head to school they have a lot of choices, I'm thankful Young Life was an option for me in college and we want it to be for your friends too. Thanks for taking a moment to save a photo and to send a text. We're so grateful for your partnership in the Gospel.