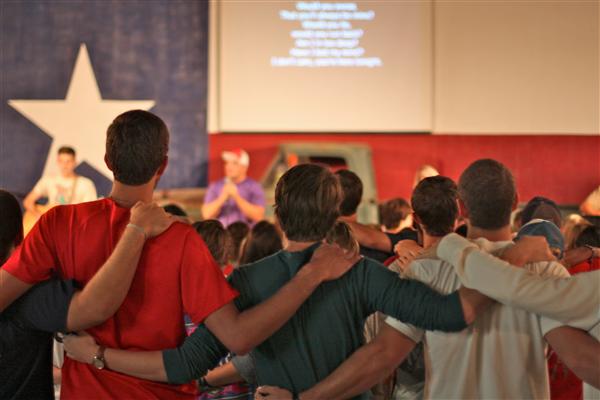 This week we're sharing 'best practices' for YL College Club. Today the focus is on music. Having music can make or break the mood you want to set for club and is a great way to engage your audience. What is the best way to engage a college student? We suggest three potential directions.
Coffee Shop Vibe
An acoustic set of one or two club songs, then another set of a couple deeper worship tunes.

Less of a high school vibe and more of a collegiate feel to the music. This affects the songs we choose and the style in which we play them.
For The Party Crowd
We play mostly secular songs: (Home, Washed by the Water, Roar, Fix You)

The most success we've had is when we pick a song that has a "rave" type feel in it (Wake Me Up by Avicci) and turn the lights out and throw glow sticks during that part.

Being interactive with dance parties with strobe lights during the break down of 'Wake Me Up' for example,

having someone come up and crush a rap verse of a song (almost a performance just for that verse but everyone is still singing along).

Fast paced and mash-ups

Every time we play a throwback classic everyone loves it (Don't stop believing, Sweet Caroline, etc.)
Full-On Worship
Some college clubs have a full band and do worship music as the only music at club.

Some just have more secular worship at club but do specific nights of just worship music.




Pick the "Right Leader" and Band
Leaders that actually know how to play or sing.

Leaders with lots of energy that have fun leading
Leaders that practice ahead of time

Leaders more focused on leading than performing
Student Ownership
If you can, have an student music team, but bring it a trained person to help them.

Sometimes its better to keep it simple with just one guitar and other clubs can add multiple instruments, it just makes having a practice time essential.
Maybe you feel like music isn't working for you:
Some clubs shared that they didn't do music at club because lack of critical mass hindered singing.

Some folks tried just singing at special events like bonfires

Some clubs do special music request nights and don't do it weekly.