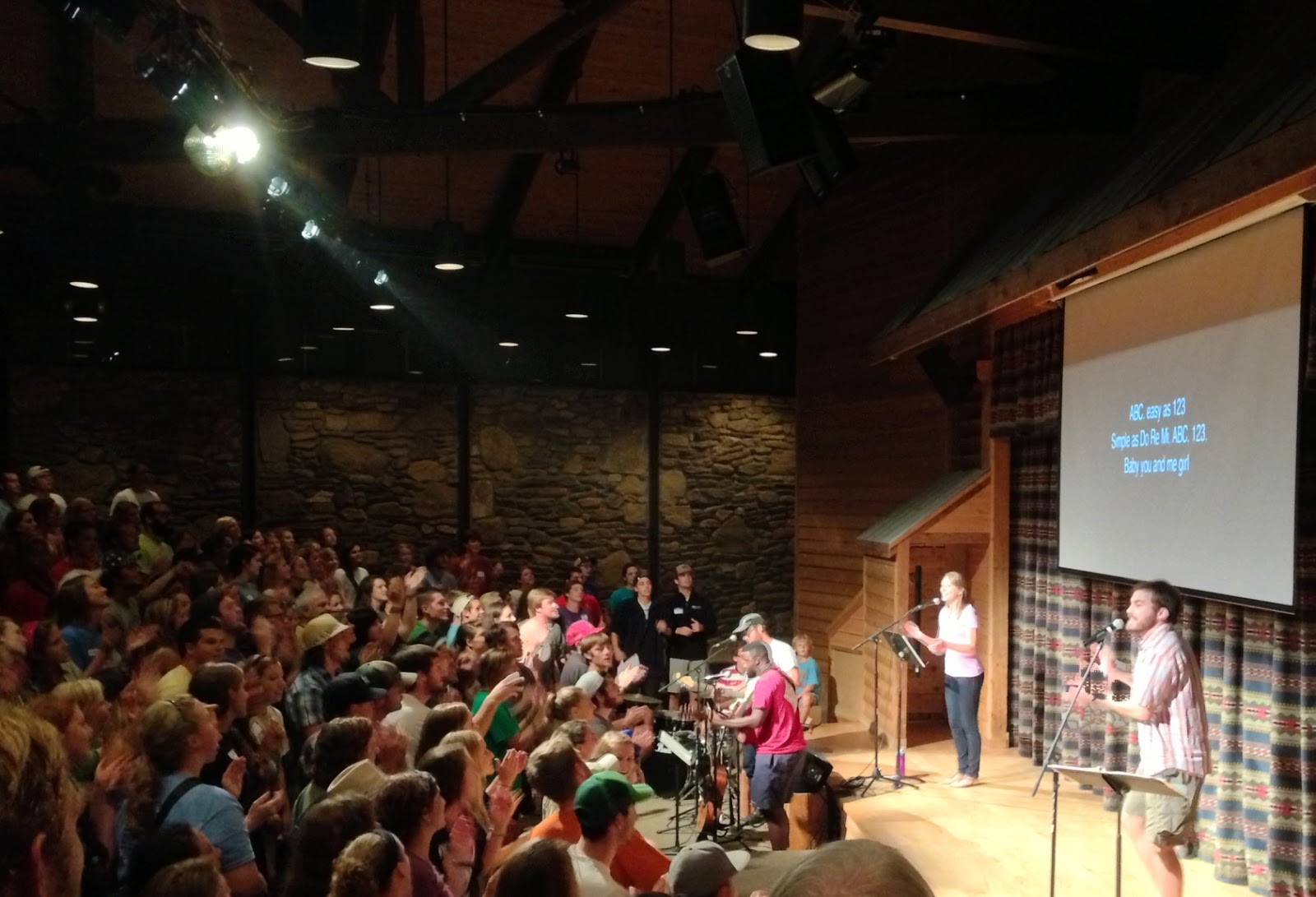 Picking songs for club isn't easy. Hopefully this 'database' below will help…but your best resource when picking songs is your middle and high school friends. We had our first YL band practice last night and it was awesome to see them take ownership and select songs for the first couple clubs.
Here's how we started a student led YL band.
Here's a database of 70+ songs with Keynotes, PowerPoints, and guitar chords that was built by Andy Borror, YL Student Staff in Holland, MI.


Some lyrics in a few of the songs below may need to be tweaked. It's easy to change them in a funny way, like on the 3rd verse of 'Wagon Wheel' substitute 'told a nice long joke' or 'had an ice cold coke.'
If you have additional
song suggestions, please comment below or email me here.

This new content song, 'I Am Yours,' (recorded by Jenny & Tyler) has worked well in our club in Greensboro and was also used during Cardboard Testimonies at some summer camp weeks.
Song Categories
Content
New
Pop

T-Swift

(she deserves her own)

Country
Classic/Oldies
Mashups
We usually try and select one from each category, except content songs, of which we typically do two.
Example Set List
Pop- fast
New- fast
Mashup- fast
Classic- medium
Country- medium
Content- medium
Content- slow
CONTENT SONGS

Amazing Grace/Peaceful Easy Feeling
As I Am- Lee Younger
Beautiful Scandalous Night
Beautiful Things – Gungor
Change Me – Ryan Long
Enough For Me- Nashville Nine
Gravity – Sam Heilig
How He Loves – David Crowder Band
I Could Run Away – Waterdeep
I Have A Maker – Tommy Walker
Keep Our Eyes Open
It's Amazing- Tony Congi
I'll Find You There
I Will Never Be The Same- Nashville Nine
Lay My Burdens Down – Ryan Long
Let There Be Light- Nashville Nine
Light The Fire
Love Immeasurable- Ryan Long
Made to Love – Sam Heilig
O Love That Will Not Let Me Go
One Of Us- Nashville Nine
One Thing Remains- Jesus Culture
Only You
Somebody's Calling Out Your Name
Something to Live For – Sam Heilig
S.O.S- Ed Cash
The Valley- Ellie Holcomb
Wait & See- Sam Heilig
What If What They Say Is True?
Where Do I Go? –Andy Osenga
Who Do You Say That I Am?
You Are Holy (Prince of Peace)
You Won't Let Go- Nashville Nine
Your Love Is Deep – Jami Smith
You Will Find Me- Andrew Ripp
Other suggested songs (from you on Twitter)


New Songs (popular in 2013)
Anywhere With You- Jake Owen

Best Song Ever- One Direction

Between The Raindrops- Lifehouse

Carolina- Parmalee

Gone, Gone, Gone- Philip Phillips

Good Time – Owl City

Ho Hey- The Lumineers

I Won't Give Up- Jason Mraz

Mirrors- Justin Timberlake

One Thing Remains- Jesus Culture

Radioactive- Imagine Dragons

Roar- Katy Perry

Take A Back Road- Rodney Adkins

Wagon Wheel- Darius Rucker (Old Crow Med Show)

Wake Me Up

– Avicii
Pop Songs
Airplanes – B.o.B
As Long As You Love Me – Justin Bieber
Baby- Bieber
Be My Escape- Reliant K
Best Days- Graham Colton
Best Love Song – T-Pain
Best Song Ever- One Direction
Bleeding Love – Leona Lewis
Boyfriend – Justin Bieber
Breakaway- Kelly Clarkson
Call Me Maybe – Carly Rae Jepsen
Carry On – Fun
Check Yes, Juliet – We The Kings
The Cave – Mumford & Sons
Daughters- John Mayer
Drops of Jupiter- Train
Dynamite – Taio Cruz
Firework – Katy Perry
Fire & Dynamite- Drew Holcomb
Fix You- Coldplay
Good Life – OneRepublic
Good Time – Owl City
Gone, Gone, Gone- Philip Phillips
Halo-Walking On Sunshine Mash-up – Glee
Heart Attack – Demi Lovato
Hero-Enrique Iglesias
Hey Soul Sister – Train
Hey There Delilah- Plain White T's
Home – Phillip Phillips
Ho Hey – The Lumineers
How To Save A Life- The Fray
I Gotta Feelin- Black Eyed Peas
I'm Yours – Jason Mraz
I Will Wait – Mumford & Sons
I Won't Give Up – Jason Mraz
Just The Way You Are – Bruno
Magic- B.O.B.
The Middle- Jimmy Eat World
Mirrors- Justin Timberlake
One Thing – One Direction
Over My Head- The Fray

Part Of Me – Katy Perry

Party in the USA – Miley Cyrus
Payphone- Maroon 5
Pieces of Me- Ashley Simpson
Radioactive- Imagine Dragons
Roar- Katy Perry
Rolling in the Deep – Adele
See You Again – Miley Cyrus
Since You Been Gone – Kelly Clarkson
Some Nights – Fun
Someone Like You – Adele
Stereo Hearts – Gym Class Heroes
Stronger- Kelly Clarkson
The Twerk Climb- Miley Cyrus
The Reason- Hoobastank
Tonight Tonight – Hot Chelle Rae
Tonight's Gonna Be A Good Night
Viva La Vida-
Coldplay
Wake Me Up– Avicii
We Are Young- Fun
We Found Love – Rihanna
When I Was Your Man – Bruno Mars
What Makes You Beautiful – One Direction
Without You – David Guetta & Usher
You & Me- Lifehouse
Taylor Swift Songs
I Knew You Were Trouble
Love Story
Mean
Our Song
You Belong With Me
We Are Never Ever Getting Back Back Together
22
Country Songs
Anywhere With You- Jake Owen

Barefoot Bluejean Night- Jake Owen

Carolina- Parmalee

Chicken Fried- Zac Brown Band

Colder Weather- Zac Brown Band

Cruise- Florida Georgia Line

Free- Zac Brown Band

I Want Crazy- Hunter Hayes

Live Like You Were Dying – Tim McGraw

Love Like Crazy – Lee Brice

Take A Back Road- Rodney Adkins

Wagon Wheel – Darius Rucker

Wanted- Hunter Hayes
Classics/Oldies
Ain't No Mountain High Enough
All-Star- Smashmouth
A Whole New World- Alladin
Brown-Eyed Girl – Van Morrison
Build Me Up Buttercup
Don't Stop Believing- Journey
Free Fallin- Tom Petty
Fresh Prince of Bel-Air
Go Bananas
Good Riddance- Green Day
Hey, Hey Baby
Hero- Enrique
I Don't Want to Miss A Thing – Aerosmith
I'll Be – Edwin McCain
I'm A Believer – Smash Mouth
In The Jungle (Lion Sleeps Tonight)
I Want It That Way- BSB
Kiss The Girl- Little Mermaid
Lean On Me – Bill Withers
Livin on a Prayer – Bon Jovi
My Heart Will Go On (Titanic)
Sweet Caroline – Neil Diamond
Sweet Home Alabama – Lynyrd Skynyrd
Stand By Me- Bill Withers
Will You Be There (Free Willy) – Michael
Jackson
Wonderwall
500 Miles- The Proclaimers
Mashups/Medleys
Breakaway/Stronger/Kelly Clarkson Medley
Payphone/Call Me Maybe
Viva La Vida/Every Teardrop is a waterfall- Coldpla
Sweet Home Alabama/Fresh Prince
Dynamite – Taio Cruz (with What Makes You
Beautiful Chorus)
Don't Stop Believing/Titanium
Some Nights/We Are Young- Fun
Hip Hop Mashup 2006 – Crazy/Ridin'/So
Sick/Golddigger/Chain Hang/Girlfriend/Apologize
Wonderwall/Aiplanes/Replay/PartyRock
You can also find this list on the 'Club Songs' link on the blog menu bar up top. Please comment below with other songs that work in your club and I'll add them to this post. If it's easier you can email me here. -dh