We hosted an epic dance party that began with a 50's style Sock-hop followed by a "Dance through the Decades." Below are some helpful details, along with a MP3 of the music that you can download if you want to pull off a similar event. Could be a great way to kick off the new semester this coming fall.
COSTUMES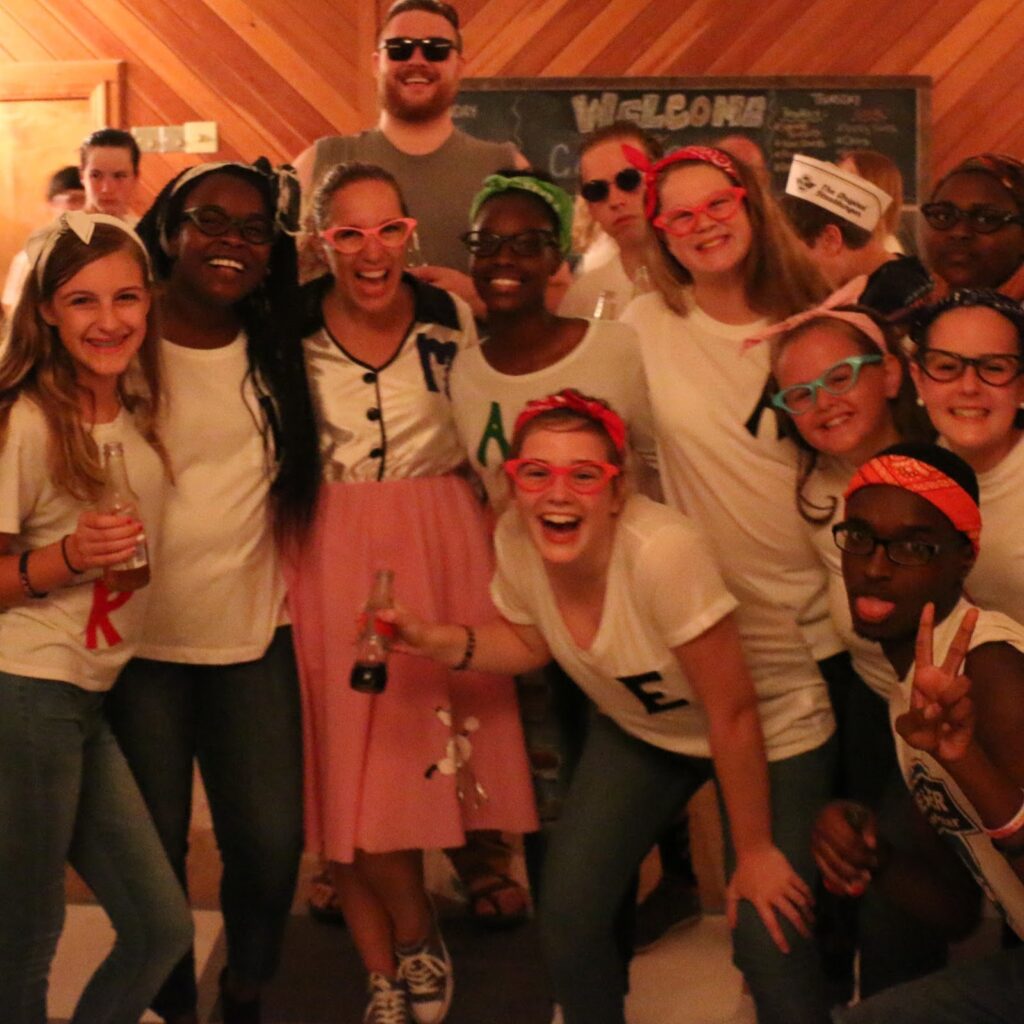 Kids wore white t-shirts and jeans.
We provided hair gel for the guys.
My incredible mom cut out dozens of felt letters with stick on backs so each gal could have the first initial of her name to stick on her shirt.
We got dozens of Steak-N-Shake hats donated for anyone who wanted to wear them.
We also ordered these 50's glasses on Amazon for about $1/pair, but they were a hit!
I borrowed a red striped vest from a friend in a barbershop quartet.
FOOD
To start off the event we dressed as Soda Jerks and served bottled-Cokes and ice cream sundaes as kids arrived. We got the bottle sodas from Costco and they required a bottle opener, so that meant the soda jerks were able to interact with each kid and open their drink. We got Coke, Sprite, Root Beer, Cream Soda, and Coke Life. We had lots of ice cream that we served and kids could put their own toppings on top.
DECOR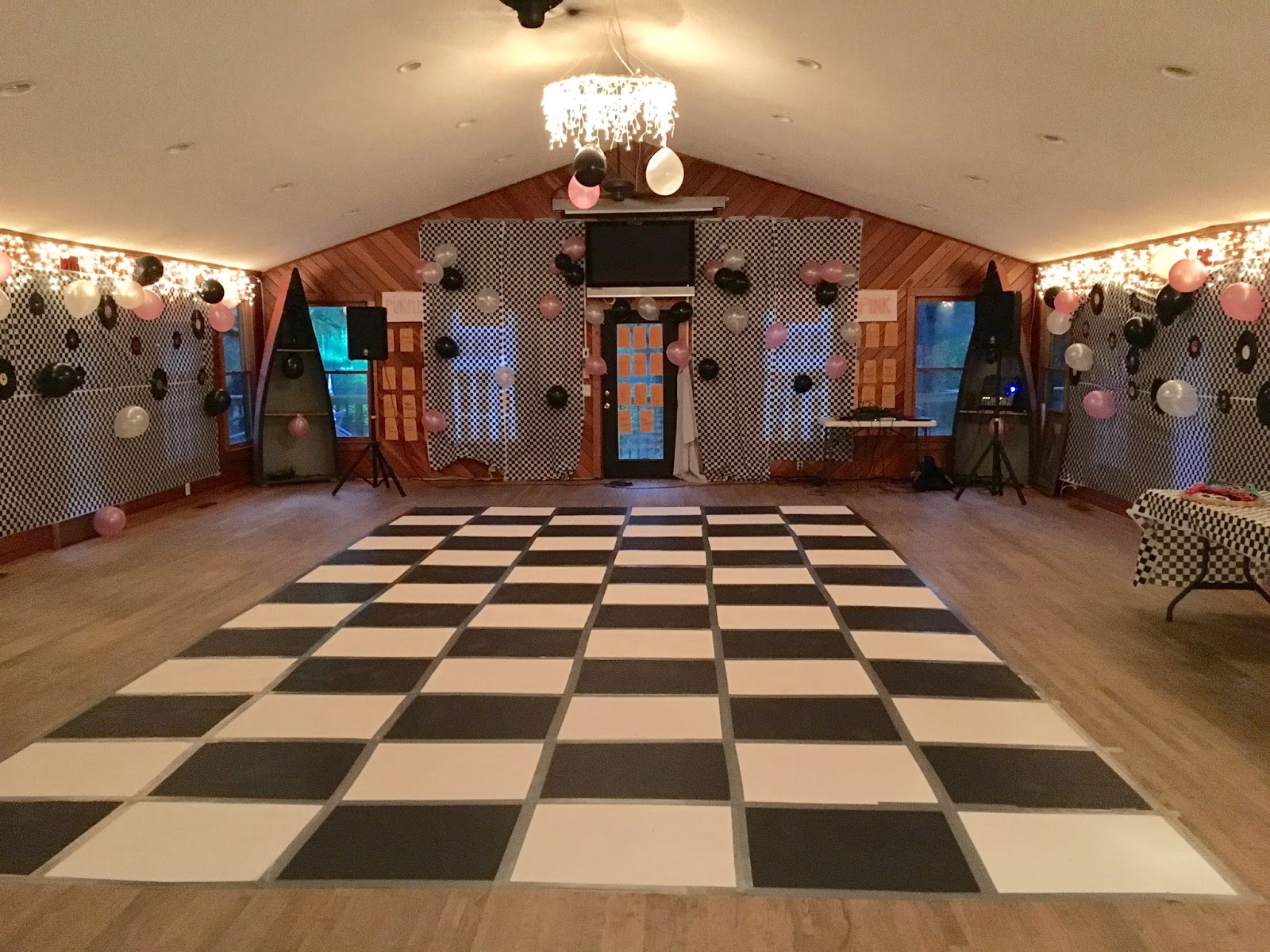 We also bought 50 pieces of black posterboard and 50 white and duct taped them to the floor to make a massive checkerboard dance floor.
For the walls we used checkboard plastic table cloth rolls, that are $25 on Amazon and one was enough to cover all the walls pictured here.

MUSIC
14 min – 50's dance music as kids arrive
8 min – "sock hop" music
27 min – dance through the decades
7 min – exit music
The first 14 mins of music on the track are snippets of 50's dance music to play as kids come in, get their cokes, ice cream and pics taken.
At the 14 min mark, pause the music and get everyone together to do the hand jive, then Twist & Shout, etc…
At the 21 min mark, tell everyone, "I'm tired of these oldies, let's dance through the decades!"
At the 47 min mark, wrap it up and there's 7 more mins of "exit music" to play after the dance ends. You could use that music for a bathroom break before announcements, a couple content songs and a talk.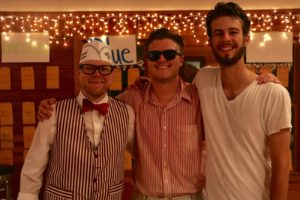 Here is a list of the songs clips in order:
Johnny B. Good
Ring of Fire
Jailhouse Rock
Great Balls of Fire
Hound Dog
Tutti Fruitti
Blue Suede Shoes
Shout (You Make Me Wanna)
Born to Hand Jive
The Twist
Rockin Robin
Twist and Shout
Let's Get It Started
I Want You Back
YMCA
Stayin' Alive
Girls Just Want to Have Fun
Thriller
Wake Me Up Before You Go-Go
I Wanna Dance With Somebody
U Can't Touch This
I Will Always Love You
Fresh Prince of Bel-Air Theme Song
Cha Cha Slide
Lip Gloss
Cupid Shuffle
Single Ladies
Party In The USA
Baby
All I Do Is Win
Best Song Ever
Do The John Wall
Boyfriend
Shut Up and Dance
Watch Me (Whip/Nae Nae)
24K Magic
Juju on that Beat
Don't Let Me Down
Hit The Quan
Can't Stop The Feeling
Special thanks to Justin McWilliams for editing the playlist! The playlist was the single key to making it feel like such a fun party!