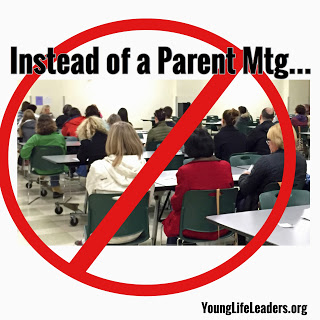 I'm guessing you have the same problem we do. Parents are busy and it's difficult to get them to show up to a "parent meeting" at the beginning of a new school year. We have important information we want to communicate with them about Young Life. We want to  explain club and camp and introduce them to leaders, but the problem is that parents aren't showing up to the meetings.
What if, instead of having a "Parent Meeting," we offered something of even greater value as a gift to parents. If you were a parent of a teenager, which of the three meetings below would you come to?
Young Life Parent Information Meeting.
How To Help Your High Schooler Get Into College.
How To Handle Technology and Social Media with your Teenagers- A Seminar to Help Parents Living in a World of Screens.
What if, instead of just having a "Young Life Parent Mtg," we offered an informed discussion on the topics of "getting into college" or "technology and social media." When we scratch where they're itching, they're much more likely to show up.
We could still give out the same info about Young Life and still introduce the leaders, but the focus of the meeting wouldn't be on "our thing," but it would be about "their thing."
How To Help Your High Schooler Get Into College
If you went this route, you could invite an expert or two to come in and share. Connect with the guidance counselor from the high school or an admissions counselor from a local college. Do your research ahead of time. Have college leaders share about their own experience in high school and what motivated them. Offer "college tours" and have some dates set where leaders offer to take kids and tour different colleges in the fall. A big way to motivate kids to study is to actually take them to a college and show them what their future could look like. Make sure it's helpful information that you're providing. Also, listen to parents and find out ways that you can support and encourage them as well as their kids.
How To Handle Technology and Social Media- A Seminar to Help Parents Living in a World of Screens
This is such a tough topic for parents who want to protect their children,
but also feel overwhelmed by a world of screens that they often don't understand. If you go this route, below are a few resources I recommend reading/watching to help you plan your parent training time.
Have Smartphones Destroyed a Generation?
Simon Sinek on Millenials in the Workplace
In Your Parent Meeting, Make Sure To Include:
Calendar for the year (YL banquet, fall camp and summer camp dates if you know them)
Leaders and their contact info
Ways parents can get involved (hosting club, campaigners, providing meals for leaders before club, being "team parents" or on committee,
prayer team, etc…)
Make sure to gather their info (email and phone numbers)
A great way to continue contact throughout the year is a weekly parent email. This is an easy way to communicate with parents, help them feel involved, and remind them of ways they can serve. Here are some ideas for
information to include in weekly emails to parents:
Helpful articles on parenting
Leader introductions with pictures and contact info
Re-cap club from that week: share main points from the talk and funny moments
Links to your YL social media accounts
Links to the area YL website and ability to donate online
Important dates for upcoming events
Any specific ways they can help: hosting, food, etc.
Camp: Utilize these emails to sell camp to parents. You can include dates, deadlines, a cost breakdown, and opportunities to raise money.