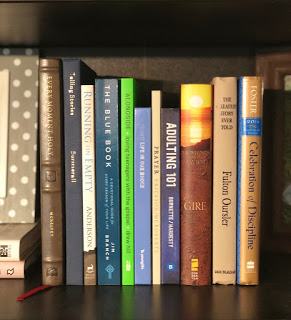 Thank you to all who entered our Summer Reading Giveaway!
Our Grand Prize Winner, who won a copy of each of the ten books, is Derek Walne! Congratulations Derek!
Our 90 winners are listed below with the book that they won! You should be receiving your new book within the next few weeks to the address you included in your entry! Thank you again to each of the authors who each graciously donated 10 books for this giveaway!

A Life Worth Living by Chuck Reinhold
Tons of wisdom from a seasoned Young Life veteran. Reading this book will make you want to spend more time with Jesus.
David DeLozier
Kaylin Mathes
Joel Newbury
Trey Trent
Raygan Hall
McKenna Swindell
Jordan Graydon
Emily Zapata
John Webster
Adulting 101 by Pete Hardesty and Josh Burnette
A practically helpful guide for any graduate who is entering the world of adulthood.
Alex Vasquez
Brad Scandrett
David Wegman
Quinten Ncube
Camden Belinko
Leah Metzger
Jake Schwab
Kevin Dorman
Kim McElreath
A vulnerable look into the world of a Super Bowl Champion and Young Life leader.
Caleb Burchett
Louise Thomas
Patrick Meehan
Tucker Been
Hayden Regitz
Rosalia Jeon
Angie Polejewski
Brody Clarke
Debbi Hobart
Longing to Experience More of Jesus by Ty Saltzgiver
A 20-day primer that will lead you deeper in Christ this summer.
Jordan Gilbert
MacLaine Birch
Jackson Ducote
Kahlil Glenn
Mark Kirgis
Brooke Christopherson
Dylan Birkett
Kassi Brown
Rob Johnston
Mark in a Month by Sean McGever
Go through the Gospel of Mark in 30 days. A helpful tool to use with kids after they come home from camp.
Andrew McMillan
Amy Nielson
Jen Payne
Brooke Allen
Rob van Mourik
Erin Buddig
Emma Boardman
Matt Siebert
Jackson Leach
A unique guide to prayer with out-of-the-box suggestions and thought-provoking imagery.
Alex Medlin
Beeb Gerlicher
Trey Ridge
Rachel Saltarelli
Caleb McCombie
Jeremiah Grooms
Madeleine Williams
Katie Carter
Gerardo Guerra
Running on Empty by Fil Anderson
A true story of hope from a Young Life veteran. Encouragement for any of you who feel like you're facing burnout.
Tabitha Boothe
Amanda Wells
Riley Korf
Nathan Hunt
Bubba Ivey
Cody Sanders
Katie Vahle
Jeremy Engle
Magdalene Jacobs
Teach Us To Pray by Jim Branch
A reflective journey through the Psalms from the author of The Blue Book.
Devon Messick
Wyn Pobletts
Terykah Hollis
Sean Raimando
Amy Hurd
Rudy Aleman
Miranda Bilello
Patrick Flint
Liam Lambert
Telling Stories: God's Grace Revealed Through Adventures, Awkwardness, and a 1981 Monte Carlo by Brian Summerall
A collection of true stories along with Scripture applications and questions from one of Young Life's best story-tellers.
Stephanie Marquez
Chelsey Gravseth
Justin Friel
Klariza Lynn
Jake Landon
Heather Faulkner
Alejandro Maldonado
Braden Sydor
David Koch
Worth the Suffering by Jenna Henderson
Prayers and journal entries from a Young Life leader who recently passed away. Encouragement for anyone facing suffering or loss.
Erin Long
Hailey Stulp
Jeffrey Chambers
Claire Simon
Andrew Cates
Loma Steele
Megan Kelley
Riese Chatfield
Briana Bourgeois