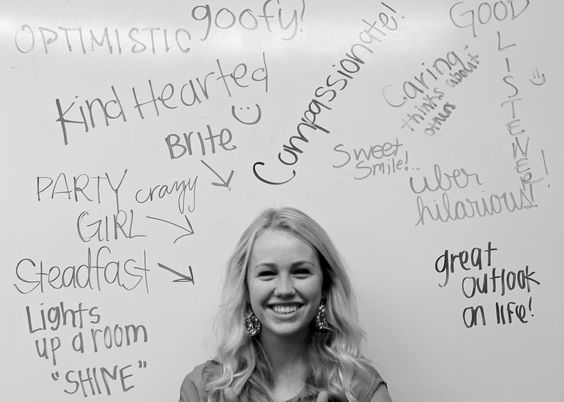 As expected, last night's presidential debate was a slugfest. Clinton and Trump's constant insults reminded me of middle school and what our teenage friends often endure.
They live in a world where their identities are shaped by what others say about them, to their face and on social media.
"You're fat."
"You suck."
"You're ugly."
"Your zits are gross. Invest in Proactiv."
"You'll never make the grade."
"You're lazy."
"You're a failure."
"You're a disappointment."
"You'll never make the team."
"You're lonely."
If you made it all the way through the presidential debate, you noticed an abrupt change in the atmosphere at the very end. One voter in the town hall asked, "Would either of you name one positive thing you respect in one another?"

It felt strange to hear them speak positively about one another. It felt as if we'd been watching a gun fight and for just a moment, they set the guns down.

I imagine that's how our middle and high school friends often feel.

Like they're stuck in the middle of a war of words.

Trying to survive.

Trying to discover the truth about who they are.

What if this week at Campaigners we took a few moments and reminded them of the truth?

Here's one way you could do it:
Place one of your Campaigners guys or gals in front of white board or poster board.
Have others in your Campaigners group write a word or phrase about them, then take a picture.
Don't let them see the words until after the photo is taken.
Share the pics on social media as an encouragement to the person. Maybe feature one kid/week on your club's Instagram account.


Another way you could remind them of the truth:
Read through the following list of scripture verses about what God says regarding our identity. Hand each of them 3 index cards and have them copy 3 different verses of their choosing, 1 on each card. Ask them to strategically place the index cards in places where they will constantly be reminded of the truth of their identity. Maybe their bathroom mirror, dashboard of their car, and inside of one of their books for school.
Download the following as a PDF here.
Our True Identity In Christ
You Are Made by God and Known by God
God created man in his own image, in the image of God he created him; male and female he created them. Genesis 1:27
Then the Lord God formed the man of dust from the ground and breathed into his nostrils the breath of life, and the man became a living creature. Genesis 2:7
"Before I formed you in the womb I knew you, and before you were born I consecrated you; I appointed you a prophet to the nations." Jeremiah 1:5
For we are his workmanship, created in Christ Jesus for good works, which God prepared beforehand, that we should walk in them. Ephesians 2:10
O Lord, you have searched me and known me! You know when I sit down and when I rise up; you discern my thoughts from afar. You search out my path and my lying down and are acquainted with all my ways. Even before a word is on my tongue, O Lord, you know it altogether. You hem me in, behind and before, and lay your hand upon me. Psalm 139:1-24
I praise you, for I am fearfully and wonderfully made. Wonderful are your works; my soul knows it very well. Ps. 139:14
You've Been Made New
If anyone is in Christ, he is a new creation. The old has passed away; behold, the new has come. 2 Corinthians 5:17
To put off your old self, which belongs to your former manner of life and is corrupt through deceitful desires, and to be renewed in the spirit of your minds, and to put on the new self, created after the likeness of God in true righteousness and holiness. Ephesians 4:22-24
But now thus says the Lord, he who created you, O Jacob, he who formed you, O Israel: "Fear not, for I have redeemed you; I have called you by name, you are mine. Isaiah 43:1
You Have a Hopeful Future
I know the plans I have for you, declares the Lord, plans for welfare and not for evil, to give you a future and a hope. Jeremiah 29:11
You Are Royalty
But you are a chosen race, a royal priesthood, a holy nation, a people for his own possession, that you may proclaim the excellencies of him who called you out of darkness into his marvelous light. 1 Peter 2:9
You Are the Body of Christ
Now you are the body of Christ and individually members of it. 1 Corinthians 12:27
You Will Bear Much Fruit
I am the vine; you are the branches. Whoever abides in me and I in him, he it is that bears much fruit, for apart from me you can do nothing. John 15:5
You Are a Child of God
See what kind of love the Father has given to us, that we should be called children of God; and so we are. The reason why the world does not know us is that it did not know him. Beloved, we are God's children now, and what we will be has not yet appeared; but we know that when he appears we shall be like him, because we shall see him as he is. And everyone who thus hopes in him purifies himself as he is pure. 1 John 3:1-3
For all who are led by the Spirit of God are sons of God. For you did not receive the spirit of slavery to fall back into fear, but you have received the Spirit of adoption as sons, by whom we cry, "Abba! Father!" Romans 8:14-15
But to all who did receive him, who believed in his name, he gave the right to become children of God. John 1:12
The Spirit himself bears witness with our spirit that we are children of God, and if children, then heirs—heirs of God and fellow heirs with Christ, provided we suffer with him in order that we may also be glorified with him. Romans 8:16-17
Christ Lives in You
I have been crucified with Christ. It is no longer I who live, but Christ who lives in me. And the life I now live in the flesh I live by faith in the Son of God, who loved me and gave himself for me. Galatians 2:20
Even as he chose us in him before the foundation of the world, that we should be holy and blameless before him. Ephesians 1:4
You are the Temple of the Holy Spirit
Or do you not know that your body is a temple of the Holy Spirit within you, whom you have from God? You are not your own, for you were bought with a price. So glorify God in your body. 1 Corinthians 6:19-20
And it is God who establishes us with you in Christ, and has anointed us, and who has also put his seal on us and given us his Spirit in our hearts as a guarantee. 2 Corinthians 1:21-22
God Calls You His Friend
No longer do I call you servants, for the servant does not know what his master is doing; but I have called you friends, for all that I have heard from my Father I have made known to you. John 15:15
So then you are no longer strangers and aliens, but you are fellow citizens with the saints and members of the household of God. Ephesians 2:19
You Are Valuable
Look at the birds of the air: they neither sow nor reap nor gather into barns, and yet your heavenly Father feeds them. Are you not of more value than they? Matthew 6:26
You Are No Longer Guilty
There is therefore now no condemnation for those who are in Christ Jesus. Romans 8:1