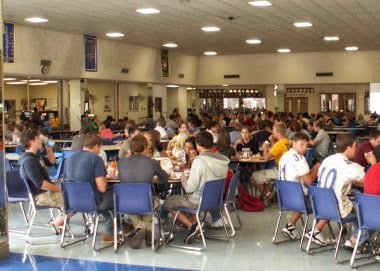 A number of years ago I was in the high school cafeteria with a few other Young Life leaders. We were visiting our friends as they ate lunch. We would typically meet there a couple of times a week and spread out all over the cafeteria hanging out with kids during their break.
On this particular day, I overheard a commotion a few tables away and looked up to see one of the kids who came regularly to club on Thursday nights. She had accidentally dumped her entire tray of food into her lap. I don't remember what they were having for lunch that day, but I do remember that it was a total mess. A tray full of food was all over her pants and she was on the verge of tears.
Immediately her Young Life leader, in a moment of grace and wisdom, sprang into action. She grabbed her friend and whisked her off to the restroom as she said, "Quick, let's go change pants. You take mine and I'll wear yours."
That is exactly what they did. Within minutes the teenage girl emerged from the restroom looking like nothing had ever happened, while her Young Life leader came out wearing the pants that were completely covered in mess and grime.
What a beautiful picture of what Christ did for us. And what a beautiful picture of what you, as Young Life leaders, do for kids. Thank you! Thank you for taking on their mess the same way Jesus took on ours. Keep up the good work!
Written by Jim Branch.
You can read more from Jim at the BlueBookBlog.com. Also, if you don't yet own it, every YL leader needs The Blue Book! Get it here: