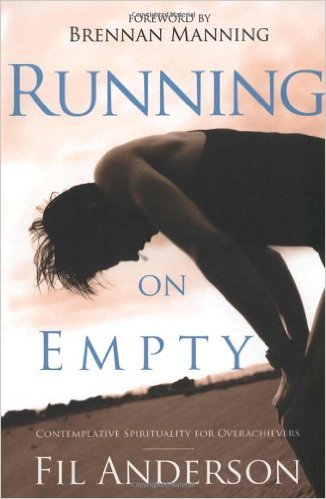 This is the third week in our Sunday series, "Running on Empty," by Fil Anderson. If you missed the first two, catch up here:
Part 3: The Fear of Insignificance
I heard about a highly effective evangelical leader who said
to his friends, as they observed a rock climber ascending a cliff in the Swiss
Alp, "Now there's a 1st rate commitment to a 2nd rate mission!"
I remember smugly expressing similar sentiments to fellow
staff and volunteer leaders when I was on the Young Life staff. After all, I
had more important things to do than climbing rocks, building a business,
making money and accumulating a bunch of stuff; I was building God's kingdom.
But apparently the
ministry leader had done some soul-searching. "I've given myself to a 2nd-rate
mission as well." No doubt his friends had not seen that coming. "Don't get me
wrong…Building the Kingdom of God is important. But someday that mission will
end. From now on, my #1 mission's going to be nurturing my relationship with
God."
I don't know his name, but his story and mine are much the
same. During my early years in Young
Life, I feared insignificance and fixated on "making a difference." Thus, any measure of apparent success was
like pouring gasoline on my already raging fear. Consequentially, my zeal
appeared to be Godliness. However, it was really driven-ness.
Eventually my driven-ness controlled almost everything: my
time, relationships, health, spiritual depth, ethics, and convictions. I lost
the ability to distinguish the difference between my work and myself. How
others appraised my work became the most important value in my life. My mission
had become an idol.
Meanwhile, I was on the first assigned team at Lake Champion.
That summer our son Will was three years old. Knowing the days would be
jam-packed, we took a week to drive the trip, allowing us some quality time
together as a family.
As expected, when we arrived, I hit the deck running. I
spent the first three days in meetings. When camp began, I remember sitting in
a meeting, aware of someone pacing back and forth at the end of a long hallway
to my left. At first, I gave no thought to the person's presence. But as the
march continued, I turned and discovered that it was Will. Now distracted, I
began wondering what was going on. The next time he passed I motioned for him
to come to me. I pray that I'll never forget the look of sheer joy, relief and
delight on his face. First walking and then running toward me, he shouted, "Him
wants me! Yes! Him wants me!"
My first years with Young Life were needlessly spent, frantically pacing back and forth, driven by the fear of insignificance. Today,
I'm convinced that the thing Jesus wants from us, more than any other thing, is
for us to live confidently in the blessed assurance that the basis for our
worth can be summed up in just a few words, "I am my beloved's and his desire is
for me" (Song of Songs 7:10).
What do you
value most?
What do you
believe God values most?
Fil Anderson is a spiritual director, conference speaker, writer and retreat leader. He served on the Young Life staff for 25 years. Fil and his wife Lucie live in Greensboro, NC and are parents of 3 adult children. He is the author of Running on Empty: Contemplative Spirituality for Overachievers and Breaking the Rules: Trading Performance for Intimacy with God.
"Running on Empty: Part 4" will be posted next Sunday.