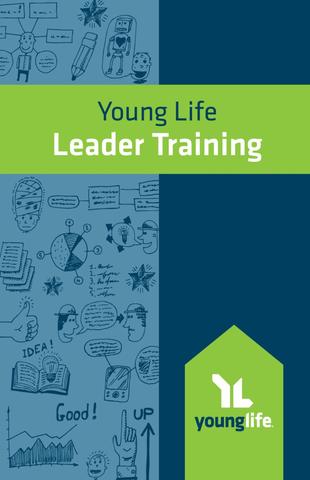 We've been taking a look at Young Life College on Thursdays this fall. This week we asked YL College ministries around the country what they use to train leaders. Below are a variety of different answers from across the mission.
We have developed a life skills curriculum called "Life and Leadership" that we go through in the first semester.
Our book list includes: "Spiritual Leadership" J. Oswald Sanders, "How to Win Friends and Influence People" by Dale Carnegie and lots of John Maxwell nuggets.
Storyline by Donald Miller
John and Romans study- YLC resources
Beyond- Ray Donatucci
Stuck, Chase, Restless- Jennie Allen
Topical-leaders pick a passage and have questions
The BASIC series by Francis Chan
Jesus > Religion by Jeff Bethke
Study on Ephesians from the Campus Crusade website
YL Leaders Manual: We put together (club, contact work, campaigners…) and also work through "Discovery" by the Wyatts
We use Right Now Media offerings.
We use materials from the YL Staff Resources site to create our own manual. We have developed a curriculum over the past 4 years using those materials and knowing what college students need to know to be successful.

Jason Rinne's material.
We've borrowed Marty Caldwell's material from his Sunbelt days.

We use the books Back to the Basics, Master Plan of Evangelism, other articles as well.
We use our area's training manual supplemented with applicable articles from various sources.
Everybody reads through 'The Master Plan of Evangelism' and writes a short reflection.
We use 'Out of the Saltshaker' by Rebecca Pippert.
We have come up with our own New Leader Training curriculum (that we borrowed from several people we trust). We have a two- year all county leadership plan that we cycle through.
"The YL Tool"- by Rick Scherr and "Letters to a YL Leader" by Bob Mitchell
"Young Life- A way to live out your Faith"by Kevin Warnick
We use "Back to Basics" by John Miller
For our 101 group we used "Searching for God Knows What" by Donald Miller for group discussion.
We also did some training on "telling your story" and had 1-2 leaders each week share their story in five minutes or less.
We give leaders a notebook full of things like: a map of campus, Small Group Leader 'Dos and Don'ts,' "best practices" from small group leaders in the past. Anything that will paint the picture of what it might be like to lead a small group for four years.
We provide leaders with handouts and we have them read 'Master Plan of Evangelism.'
We use YL Access and YL training manuals. Our leaders are required to be in small groups and pursuing a church.
We look at other clubs with more history for training material ideas and at Greg Boyd's book for small groups.
Regional training manual, and online college material.
YL Access has a lot of great resources there, and, of course, the Bible.
So what's this YL Access so many mentioned?
YL Access is an incredible new online training tool with over 50 interactive training posts and more to follow. YL Access ensures that leaders have access to the "best of the best" training materials on the devices they carry every day. Volunteer leaders and staff have 24/7 access to online interactive training posts covering Contact Work, Club, Campaigners, Camp, WyldLife, Young Life Favorites, and Core Values/Mission on their phones, tablets, and laptops.
Anyone using "Right Now Media" has access to a Bible Study Library full of content from Andy Stanley, Francis Chan, Jen Hatmaker, Tim Keller, Max Lucado and many more.
Users have full access to the Leadership Events Library (Passion, Catalyst, Leadership Network, Echo, Verge, Send, Right Now)
How do I learn to use YL Access?
Go to www.ylaccess.com​ for information about getting log in information and how to get started using YL Access.