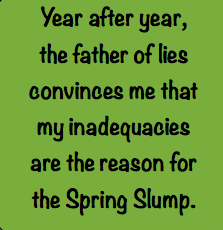 Written Lindsay Fluker.
Spring is definitely in the air, as yards are bursting with color and my friends at the high school talk of prom and spring break. I am the wife of a Young Life Area Director and a volunteer leader and over the years, I have come to have a love-hate relationship with this little season.
As a wife, I love it, because ministry slows down.
As a leader, I hate it because… well… ministry slows down.
The past two months have been filled with speaking engagements, weekend camp trips and successful work crew training and Bible studies. But now we are coming down from our little mountaintop and into the valley of Spring, where baseball games trump club, the Bachelor is more important than Campaigners, and that kid you led to Christ at camp avoids you when she sees you coming (or maybe that's just my effect on people!)
It's ironic that while the flowers are blooming and trees are bearing fruit, this season of ministry with teenagers often brings lower numbers, spring break/prom rumors, and general apathy toward God. There are, of course, exceptions, but sometimes it can be quite discouraging.
I also find this is when the Enemy often attacks us in our unique, individual ways. Stacy Eldridge, author of Captivating, wisely states that "the whispers of Satan are as old as the Garden of Eden. His mission is to convince us that we are too much and not enough, and that God is holding out on us."
I laughed today as I looked back on a journal entry I wrote this time last year. Essentially, I was believing the same old lie: that I am not enough. Not doing enough with kids. Not being a good enough friend. Not sharing the gospel enough. Not going to school enough. Not helping my husband enough. Not being a good enough mom/wife/leader/follower of Christ.
Year after year, the father of lies convinces me that my inadequacies are the reason for the Spring Slump.
But this year, I want to take these thoughts captive. I want to push through this season with eyes on eternity. I want to keep pursuing kids, even though they seem disinterested. I want to be the one who tells them the truth. That God is GOOD and HE is ENOUGH!
So if you are struggling, know that you are not alone. Fight those lies with Scripture that states who you are in Christ, that you are deeply loved and accepted. Know that even when kids' lives seem fruitless, God is at work. And one day, those little seeds you are sowing, will "spring up like grass in a meadow, like poplar trees by flowing streams."(Isaiah 44:4)
Here's another encouraging post from Lindsay about the sacrifice some high schoolers in their area made to take middle schoolers to camp.
Originally posted in March of 2013.