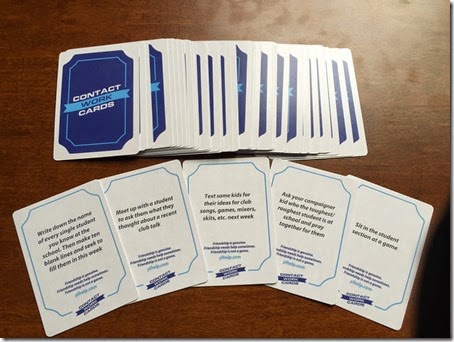 Special thanks to YLHelp.com for creating these sweet Contact Work Cards.
Written by Sean McGever


Contact work is the most distinctive and unique tool in the Young Life tool belt. Few other ministries do it, and even fewer do it the way Young Life leaders do. Yet, it is also the most challenging aspect of leadership for most of us in Young Life.
I am the product of great contact work. In fact, I met Young Life through a new leader on his first day doing contact work. It is the purest form of our sacred work. As I like to say, the highest title anyone in Young Life can have is "Visitor," and this comes in the form of a disposable sticky-backed label handed out at a front desk of a middle or high school. It comes in lots of other forms too, and that is where the creative genius of our highest ranking comrades excel.
Any reader of YLhelp.com has seen that I don't have contact work all figured out. But this idea could be helpful to someone like me. Here it is:
Contact Work Cards are a deck of 54 cards, each suggesting a unique contact work challenge. The idea for Contact Work Cards was born out of an article I read on how some people overcome fear and anxiety by setting up small goals for each day. As it turns out, when you make a small, specific goal, there is a much better chance that you will make progress. You may fail or forget occasionally, but overall a lot of progress is made through this approach.
Satan hates contact work because it is a pure form of incarnational ministry rooted in the imitation of Jesus and fueled by the power of the Spirit. That is the primary challenge to quality contact work. (And also why we can be assured that we'll be victorious if we persist in it.) On a practical level, most leaders don't plan regularly for contact work, like they might for weekly club and Campaigners. Left unscheduled, contact work yields to other priorities. Furthermore, many people just aren't sure what to do. Contact work can be intimidating! Each of the 54 cards provides a specific suggestions to overcome these obstacles.
One card reads, " Ask a Campaigner kid who the toughest/roughest student is at school and pray together for them," "Another suggests, "Sit in the student section at a game." And every card acknowledges, that contact work is not a game. Getting to know kids is not just a challenge issued through a deck of cards. Quality contact work is the process of building authentic friendships with kids who need to know we care.
Here are some suggestions for using Contact Work Cards:
Give every leader a card after club as their challenge for the week. Then report back.
Sign completed cards and put them back in the deck when done.
Try to work through the whole deck as a team.
I gave a pack to every club in my area and I've heard some fun reports. One of the cards instructs the leader to get together with a club kid and do something nice for the family that hosts club. Last weekend we heard a knock at our door and on the doorstep, we found a huge card from the kids in our club and some homemade cookies! Didn't see that one coming!
Many blessings in your contact work adventures. If you would like to order Contact Work Cards, you can do so here. -Sean