This guest post is written by Scott Reintgen in Durham, NC.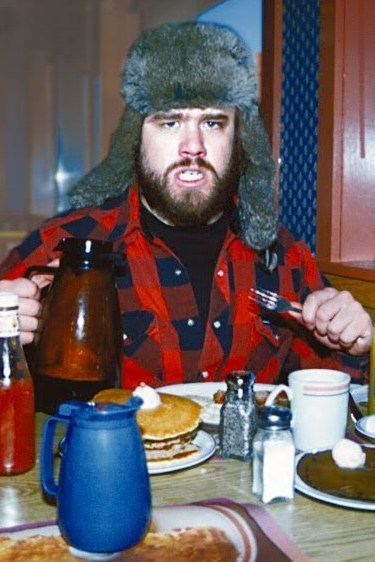 Everyone is doing No-shavember–It's a great way to bond with guys!
But few men are bold enough to take on…Lumberjack Week!
During the 3rd week of November, starting Monday Nov. 17th, grab your axes, strap on your suspenders, and don your flannels…it's time for Lumberjack Week.
I have to give all of the credit to my co-leader, Thomas Ferguson, who either started this or just took it to a whole new level with his group of friends in high school.
For an entire week, you wear lumberjack clothing. You're wearing heavy boots, flannels and the toboggan hat when you can, and you always, always have on your suspenders.
Keys to making this week work for your guys:
Commit to it.

You have to commit to wearing this stuff around all week. Go buy flannels from Goodwill with your guys after club or campaigners. Show your enthusiasm for it AND make sure you commit to going around the school a few more times than you normally would. Be visible.

Convert your campaigners that week to a morning of flapjacks. We had about 10 more guys show up that had never been to Campaigners when we did that. It was a great morning of fake beards and flapjack eating lumberjacks.
Give your guys leadership over it. Our guys took over the school when they did this. I distinctly remember two interactions as I walked onto Riverside's campus: A pair of guys walked by me. One of them said "What was that dude wearing?" The other guy cut him off and said, "Nah it's cool man, it's lumberjack week!" Then at lunch, the principal strolled up to me and asked, "Lumberjack Day, huh?" I politely corrected him, "Lumberjack WEEK actually."
Why do this? What were the benefits?
Lumberjack clothing is recognizable, easy to scrounge for, and fun. The guys loved every minute of it. They didn't have to worry about how they looked–they were lumberjacks!
Expansion. Guys I didn't even know were wearing suspenders that week. They'd look at me and laugh or high five me or shout out "NICE LUMBERJACK STUFF MAN!" God grew our Young Life club in a cool way from that one week of ownership and fun.
It provides guys with an opportunity to take things their own direction. I had a pair of guys who would take pancakes to lunch every day that week. People loved it. Give your guys room to take ownership of something that will be traced back to Young Life. If people can see something at school that is incredibly fun, they'll want to ask "Why are you doing this?" And eventually they'll show up at Young Life to see and hear what it's all about.
Something We Didn't Do, but I Wish We Had
Hold an all-area, man-specific event. You could organize something for the 3rd week of November in which all of the clubs in your given area get together for a man-competition of sorts. We have plenty, PLENTY of Young Life games that fit the mold for this. I think it would have been a real treat for those guys that are always at Young Life to really connect with guys from other schools in that way. (Game examples that might work: Get two dead fish, dip them in chocolate pudding and have guys slap fight with them, eating competitions, modified hoedown events that fit a more lumberjack theme, etc.)
I just always think there is room to take what we are doing to the next level. Why not make it that much more fun, that much more involved, and that much more appealing?! Sometimes we settle for going halfway and people around the school don't get to catch that glimpse of "life and life to the full" that they inevitably would run into if they came to a club. Keep seeking ways to leave an imprint on the school you're at in a creative way.
-Thanks for sharing, Scott! No better contact work than to involve your current Campaigner group with meeting new high school friends. If you try this at your school, send us your stories and photos!