When I first became a YL leader we handed out paper flyers to promote club. That was way before everyone had a smart phone. While we still do use paper flyers for special events, word is now typically spread through social media.
At our high school we use Twitter and Instagram to announce themes for club, where to buy YL shirts, camp details, etc…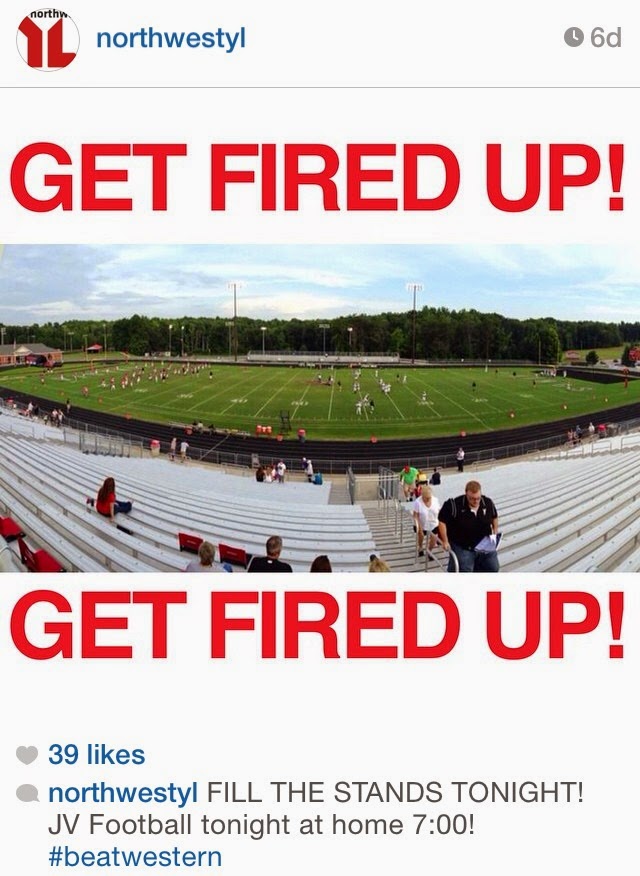 Last week one of the leaders on my team Instagrammed a picture of our empty football stadium and made a meme that simply said 'GET FIRED UP.' "Fill the stands tonight! JV Football at home at 7pm. #BeatWestern.' I loved scrolling through my feed and seeing that Kristen was supporting the JV guys team. I imagine the guys on that team felt encouraged as well.
It's easy to use social media as a billboard to only promote Young Life events. Why not use it to support the school as a whole? Let's not just tweet about Young Life, let's post pics of all kinds of school events. And not just Varsity football, but let's support the chorus, the band, chess club, and JV Lawn Bowling team as well. It's even better to actually go to the game and take some pics to post. Everyone's favorite thing to see on Instagram is a picture of themselves, unless its a bad picture.
A simple plan to regularly promote school events on social media is to ask every leader on your team to attend at least one school event each week…and when you're there, Instagram/Tweet a pic. If you have a leader on your team that doesn't love social media, ask them to simply text another leader a picture with a caption and that leader can post it.
If contact work is 'going where kids are,' social media is quite an effective way to regularly enter their world.
Other YL Instagram/Twitter Tips
If you're confused by how to use social media, ask a high schooler to teach you. They'll love it and it's a great way to model a humble and teachable spirit.
Make it a habit to post a #TBT (ThrowBackThursday) every Thursday. The TimeHop App is an easy way to find out what you did a year ago today.
Tag people in pictures (now on both Twitter & Instagram).
Tweet at the right times. (When kids wake up, when they're are on lunch break, as soon as school gets out, and at 10pm at night.)
Follow YoungLifeLeader on Instagram. I post lots of pics you can screen shot and reuse for your school. If you have good generic ones to share, just tag me in the photo.

Create a hashtag for your school. Then go to

Tagboard.com

and you can find every picture with that hashtag on tons of different social networks. Encourage kids to use the hashtag when posting pics after club and camp.
Tagboard.com
If you'd like more help getting your area up to speed with using social media in YL, contact me here.