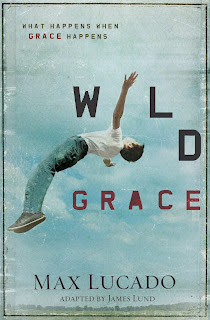 Win more free resources for Campaigners by commenting below.
Through a random drawing we have chosen our winner of 'Redefining Beautiful' from
last week's post. Congrats to Rhiannon McNulty from Newburgh, Indiana. Please send us an email with your address and the # of copies you need.
If
you've been a Young Life leader for any time at all, you've likely
struggled with choosing the right resource for your Campaigners group.
For some groups, a simple Bible study will work. For others, a book
study may be better. It just depends on your group of friends, and
sometimes it can take some trial and error. As you gear up for the new
semester, I hope this series of posts will help you find a book that can
be a great fit for your friends in your Campaigners group. -Kristen Baird
"Grace is God's decision to change everything. Goodbye earthly labels. Stupid. Unpopular. Ugly. Failure. No longer. You aren't who they say you are. You are who He says you are. Spiritually alive. Connected to God. Amazing." – Max Lucado, Wild Grace
That's the definition of grace I want my high school friends to know. What a sweet reminder of Christ's love. This week's book, Wild Grace,by bestselling author Max Lucado, will teach our friends that if they let God's grace change them, shape them, and strengthen them, their lives will never be the same.
Our high school friends go through a lot of junk. Much more drama and temptations and pain than I ever remember dealing with at their age. The pressures and disappointments of this world are shaping them, and day after day, satan is controlling the voices of the world. He comes to "steal their peace, kill their dreams, and destroy their futures." But God's grace? It has the power to silence it all.
Grace can change the lives of our high school friends in amazing and powerful ways. Their lives are messy and sometimes they end up in big trouble. But when they let God's grace work on them, it can change everything. Each chapter of Wild Grace describes another miracle that happens when we let God's grace take over.
Reading through Wild Grace, I thought specifically of some of my high school friends.If only she understood God's grace, or, she really needs to hear this, were thoughts that kept jumping out at me. I thought of specific girls I've known, and their specific stories and pain. This book is written just for our high school friends. It's written for the one who knows Jesus, and it's also written for the farthest kid from Christ. Everyone can use a dose of grace; those of us who are already walking with Jesus daily as well as those of our friends who haven't come to accept Him yet.
Wild Grace will meet the needs of your high school friends. It will teach them the life-changing power and extent of God's grace. It will find them where they are and change them.
I'm excited for the possibility of using this with a Campaigners group soon. It's written in a way that it's perfect for small group studies. Each chapter has a Your Story section, with questions for the reader and space to fill in an answer. This is a fairly short book, with just 10 chapters, which makes it easy to go through in one semester.
Let's make sure God's grace happens to our high school friends.
You can preview Wild Grace HERE and order copies HERE.
I'd love to give away some copies to a lucky leader out there! The winner will get copies for his/her entire Campaigners group! Enter by leaving a comment below. We'll announce a winner next Tuesday.
Today's guest post was written by Kristen Baird. Kristen has been a Young Life leader in Nashville, TN for five years. She led throughout college and is now a career leader. Kristen works in Christian book publishing, and has some awesome resources to share with us for Campaigners studies. Chat with Kristen on Twitter at @KristenBaird.