Recently, one of my high school friends asked me for my Xbox Gamertag, which is the online name gamers use to play with each other. Folks, I haven't played video games regularly in seven years, but I'm about to. Although the world has ground to a halt, our mission has not. Video games are what contact work looks like right now, so you bet I'm going to pick up that controller and run full steam into the world of kids.
Across the mission, Young Life leaders like us are finding new ways to stay connected with our friends during this season of social distancing. On Friday, May 8th, Young Life is hosting a webcast to share stories of what the Lord is doing in the lives of the friends that we love so much.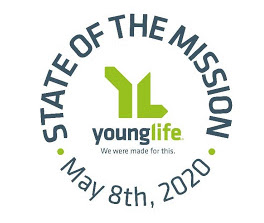 I'm watching the State of the Mission webcast for:
Ministry ideas! From Zoom calls to video game clubs to senior shout outs, the greater Young Life family is still going all out for kids. It looks different now, but our mission stays the same. We introduce our friends to Jesus Christ and help them grow in their faith. I'm excited to see the innovation taking place and how I can use it in my own ministry.
Encouragement! In John 10, Jesus tells us, "The thief comes only to steal and kill and destroy. I came that they may have life and have it abundantly." If I'm honest, the last couple of months have felt lonely. Leading has felt like a chore at times, which isn't uncommon even in normal circumstances, so I'm excited for the reminder that the Young Life family is in it together for kids everywhere. This is abundant life, and I'm thankful to be part of it!
Newt's beard! The president of Young Life might have the best beard in America right now. Although I can't wait to see his amazing facial hair, I'm really tuning in to hear his vision for Young Life. I don't want to miss this opportunity to hear important updates from the leader of our mission.
Will you join me for the webcast? The State of the Mission will air every hour, on the hour, from 10:00 AM to 10:00 PM EST on Friday, May 8th. Check out the trailer for the event below, and make sure to register!
Lastly, a quick word from the Author and Perfecter that has been echoing in my heart: "Take my yoke upon you, and learn from me, for I am gentle and lowly in heart, and you will find rest for your souls. For my yoke is easy, and my burden is light." Matthew 11:38-40. Take heart, friends!
Join a conversation with hundreds of Young Life leaders in the new Facebook group!