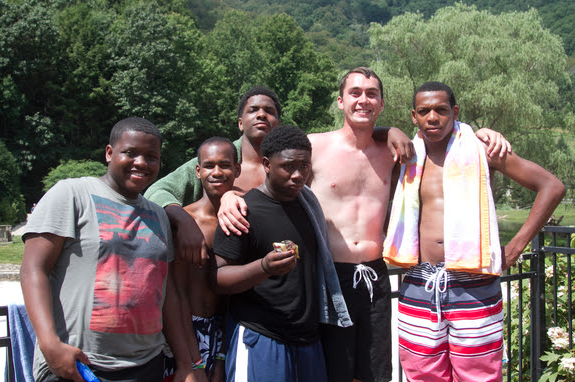 Written by Alex Holroyde, Young Life Area Director in Northeast Columbia, SC.
Ryan had been praying for Sam since the beginning of the school year. He so badly wanted Sam to know Jesus' reckless love for him.
Each week, Ryan invited Sam to club, picked him up and drove him home. A few months ago Ryan invited Sam to summer camp at Windy Gap. Sam was a little unsure because he had football workouts and other sports camps throughout the summer. With some persistence and courage, Ryan asked Sam's mom about Windy Gap and told her "he needs to come." Ryan promised it would be the best week ever. Sam finally decided to go and Ryan's prayers were answered.
They arrived at camp and as the week went on, Sam was having the time of his life but wasn't so sure about the whole Jesus thing. He had doubts and questions and didn't know where to even begin. Ryan became a little disheartened but kept praying.
On day six, leaders shared their testimonies and Ryan noticed Sam had tears in his eyes. Ryan asked what was wrong and Sam responded, "I want to meet this Jesus that everyone talks about."
Ryan, nervously answered, "how 'bout I take you to him."
Ryan prayed with Sam in the club room that day and led his friend to the feet of Jesus.
One thing I didn't mention is that Ryan is a high school senior and Sam is a Freshman. Ryan climbed down the social ladder so that his young friend could experience real and full life! Thanks be to God.