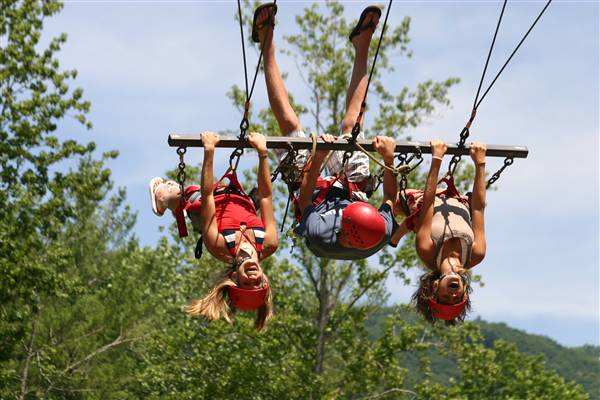 Free time at WyldLife camp can be the most difficult time of the day. After all, middle school kids need structure and don't always know how to use several hours with no planned activities. So what's the best way to make use of this time?
First, remember free time is an opportunity to continue building relationships. It's a time to laugh, play, talk and make memories with kids. Be creative and come prepared. Here are a few ideas to get you started:
Bring Your Own Games
Catchphrase, Apples 2 Apples and Spot It are easy to pack and fun to play. You'll be especially glad to have these on rainy days when rides aren't available. Or play outside on the lawn and you'll have other kids asking to join you.
Create Area Activities
Set a time for all cabins from your area to meet at the pool, the soccer field, the whiffle ball field. Have a "biggest splash" contest. Play guys vs. girls or leaders vs. kids. Create your own photo scavenger hunt around camp.
Be Intentional
At a meal, ask kids what they want to do and make a plan for later that day. Let a different person pick each day's activity.
Encourage Kids To Try Different Things.
Even if you're not an expert at something, give it a try. Try playing nine holes of Frisbee golf with a cabin of girls, and someone might discover they like it.
Get Together For "Bonus" Cabin Times
If you have eighth-grade girls, they love to talk. Use the free time to continue cabin time discussions.
Take Advantage Of Every Moment
There will be periods of free time throughout the day – before breakfast, after a morning activity, afternoons and evenings. Be ready with fun questions and conversation starters. Ask kids what they've heard at club – you never know when God might open the door to talk about Jesus.
And What To Avoid During Free Time…
Too Much Time In The Cabin
Encourage kids to get away from the cabin. If they want to talk, go with them to the snack bar, the porch or the pool.
Kids Taking Naps
Don't let kids sleep during free time – they'll be up all night.
Leaders Doing Only What They want to do
Spend free time doing what your kids want to do.
Leaders Hanging Out With Leaders – And No Kids In Sight
If you want to spend time with your friends leading other cabins, find an activity your kids can do together.
Every Leader From A Cabin Taking A Break At The Same Time
Get some time away but make sure one cabin leader is always available to hang out with kids.
Written by Julie Clapp, mission director for WyldLife.