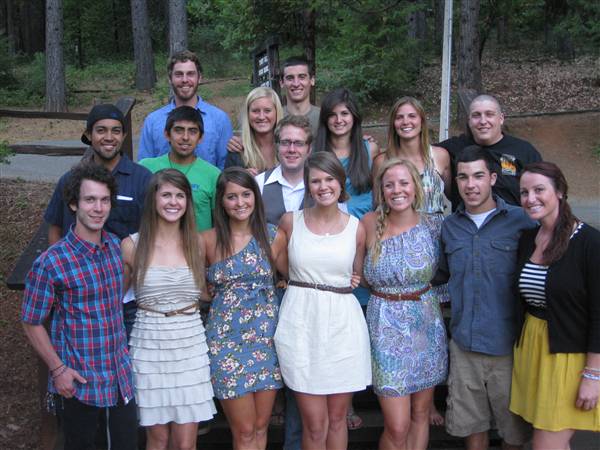 Every summer, thousands of middle, high school and college students participate in "the best week of their lives" at a Young Life camp. This can only happen thanks to the many volunteers and staff that work tirelessly to ensure that the YL camp slogan rings true. Some of the most behind-the-scenes servants are the Young Life camp interns!
With the help of many past and present YL camp interns, we've compiled the list below.
Top Ten Things To Know Before You Intern
BE STILL
When you're constantly working and having Gospel-centered conversations, it can be easy to get busy and miss your own time alone with the Lord. If you are going to have a successful summer, this is an absolute must. But not just reading God's Word and spiritual books, be sure to take time to LISTEN. Be still and know that He is God.
GIVE GRACE
We aren't perfect people and as close as it might be, Young Life camp is not a perfect place. You're going to mess up and you're going to need grace. You are also going to need to give grace. Be slow to anger, quick to forgive and courageous enough to receive grace. Speak life. It will be easy to grumble. You want to create safe spaces and a community that reflects Jesus. Celebrate in public, correct in private. If someone does something awesome, let everyone know. If they do something regrettable or make you mad, have a private one on one conversation. Never resort to shame.
SLEEP
Nothing will burn you out more than not getting enough of it. Be disciplined in this. Fight for it. Be willing to miss out on fun things so you can be well rested. It's tough to hear from the Lord and to be fully present with others when you are exhausted.
FIND JOY
Interning can be an easy job. Not because the job is easy, but because the job is worth it. Finding joy in the work you are doing is crucial. Understanding that what you do for the camp and the kids has an eternal impact. Remind yourself of this on the daily and rejoice that you have this incredible opportunity.
BE REAL
Be vulnerable. Let the community see your mess and your deep goodness. It will allow you to know sides of God you never dreamed were real. Don't be afraid to be known and give everything. People will respond with love and grace. This won't happen right away. Be patient. Spend the time it takes to know and be known.
EMPTY EXPECTATIONS
Begin your internship with open hands. Don't go in with any expectations of other interns, property staff, summer staffers, or your job itself. One thing you'll discover is that God put you in that job and not another for a specific purpose, and often it's for refining. Be careful to not be jealous of other jobs, because there are days where you might work much more hours than others. It can be easy to get frustrated about that because you might think it was all going to be fair work time and everyone was doing to do the same amount of work for the same amount of hours. Comparison is the thief of joy.
BE MISSION-MINDED
If you are fully-on-board for the mission, then the community will follow naturally. Understand that your mission is to love the Lord and to love others. It always is, not just at camp. The summer is going to be long. Be intentional with your fellow interns, be clear in communication and strive to be on the same MISSION. You are in this together. You need them to point and often push you to Jesus. And you need to be willing to do the same.
FOCUS ON OTHERS
What if the entire intern group had one common goal- to out serve each other? It may take a while to understand, but your job is to work behind the scenes to set up both the summer staff and the work crew to serve. You also get to set up the leaders to lead. It's not often glamorous, but it's always glorious. Be a "THERE YOU ARE" kind of a person, not a "HERE I am" kind of person. It's easy to go to a new place and be so consumed with what others think of you.
LOVE
You will interact with a lot of different people all summer. Some might not be easy to love. The way you act and respond in situations will be seen. Summer staff can be knuckleheads sometimes. Showing them grace and love will change their life. It for sure changed mine.
PRAY
Spend time on your knees. Expectantly and often.
Interning at a Young Life camp is much like the story with the four friends who lowered their paralyzed buddy through the roof to meet Jesus. Except as an intern, you aren't the paralyzed buddy. You aren't the buddies. And you certainly aren't Jesus. You are not even in the crowd. Rather, you are the house owner. Every week leaders will show up at the camp and tear the ceiling off just to get their kids to the feet of Jesus. And every week you will fix that roof, again and again. And every week you'll be excited to get a front row seat as you watch another miracle happen right in front of you.
Thank you to Craig Linder (YL Leader at FGCU) for compiling this list and thanks to Kate Macmillan, Jake Busch, Kelly Potilechio, Mike Pavlak, Josh Shipman, Kyle Banal, Dan Rehor, Matt Meier, and Elizabeth Veres for their input in putting this together. Special thanks to all of you who will be interning at Young Life camps across the globe this summer!