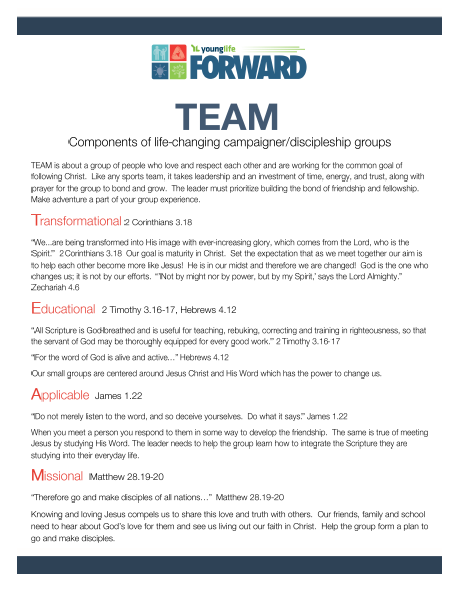 As part of the FORWARD movement, Young Life is committed to taking kids deeper in their relationship with the Lord. Below are four components of life-changing Campaigner/discipleship groups.
T-E-A-M is about a group of people who love and respect each other and are working for the common goal of following Christ. Like any sports team, it takes leadership and an investment of time, energy, and trust, along with prayer for the group to bond and grow. The leader must prioritize building the bond of friendship and fellowship. Make adventure a part of your group experience.


Transformational
"We…are being transformed into His image with ever-increasing glory, which comes from the Lord, who is the Spirit." -2 Corinthians 3:18
Our goal is maturity in Christ. Set the expectation that as we meet together our aim is to help each other become more like Jesus! He is in our midst and therefore we are changed! God is the one who changes us; it is not by our efforts.
"'Not by might nor by power, but by my Spirit,' says the Lord Almighty." -Zechariah 4:6
Educational
"All Scripture is God-breathed and is useful for teaching, rebuking, correcting and training in righteousness, so that the servant of God may be thoroughly equipped for every good work." -2 Timothy 3.16-17
"For the word of God is alive and active… " -Hebrews 4:12
Our small groups are centered around Jesus Christ and His Word which has the power to change us.
Applicable
"Do not merely listen to the word, and so deceive yourselves. Do what it says." -James 1.22
When you meet a person you respond to them in some way to develop the friendship. The same is true of meeting Jesus by studying His Word. The leader needs to help the group learn how to integrate the Scripture they are studying into their everyday life.
Missional
"Therefore go and make disciples of all nations…"-Matthew 28.19-20
Knowing and loving Jesus compels us to share this love and truth with others. Our friends, familyand school need to hear about God's love for them and see us living out our faith in Christ. Help the group form a plan to go and make disciples.