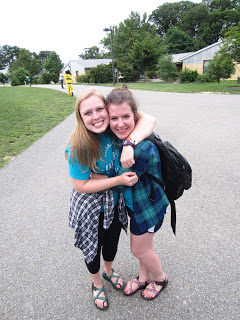 Written by Abby Cunningham, WyldLife leader in Grove City, PA.
Last summer, I had the privilege of being a leader on my first Young Life camp trip. Our middle school friends had the time of their life at NorthBay. It was amazing to be a part of a life-transforming week.
Leading up to camp I tried to pray daily for the girls I was bringing- that their hearts would be vulnerable and that they would understand what it means to call Jesus their savior. I also prayed for myself. I wanted to lead these girls well, reflect Christ's unconditional love, and speak truth. As it was my first time leading a trip, I had never done a 1-on-1 before. I was nervous. The thought of sitting down with one of my girls and having to answer any question she threw my way about life, the Bible, or the gospel made me nervous.
One of the girls, in particular, was giving me concern. She came from a difficult home life. I worked hard to get her to camp and was thrilled when she got on the bus. Given her past, I feared her asking questions about God and pain I didn't know the answers to. I so badly wanted her to know Jesus but I feared getting in the way. What if I froze up? What if I gave the wrong answer? What if I had to say "I don't know?" What if I couldn't think of the right verse or the right words to answer her questions?
I prayed throughout the week that our 1-on-1 time would go well, but the nerves wouldn't shake off. I told the Lord that I was fearful and that I didn't feel equipped for the conversation. I wasn't a good enough leader.
When I got to camp, I was in the middle of reading through 2 Corinthians. During my quiet time one day I read 2 Corinthians 9:8.
"And God is able to bless you abundantly; so that in all things at all times, having all that you need, you will abound in every good work."
In the context of the passage Paul is talking about generosity, but I think this verse can be applied to the nature of God's grace. He gives us, in abundance, the grace needed for each situation.
The Lord would give me the grace needed for my 1-on-1 conversation. I didn't have to be an all-knowing leader with an abundance of theological knowledge and wisdom. I didn't have to be "enough" because God's grace was enough for the situation. He would give me the words I needed.
A few chapters later Paul says,
"But he said to me "My grace is sufficient for you, for my power is made perfect in weakness." Therefore I will boast all the more gladly about my weaknesses, so that Christ's power may rest on me." (2 Cor. 12:9)
When we are not enough, his grace is enough. Our weaknesses are an opportunity for us to lean on his grace and his power.
Even Paul admitted to not knowing all the answers.
… When I came to you, I did not come with eloquence or human wisdom as I proclaimed to you the testimony about God. For I resolved to know nothing while I was with you except Jesus Christ and him crucified. I came to you in weakness with great fear and trembling. My message and my preaching were not with wise and persuasive words, but with a demonstration of the Spirit's power, so that your faith might not rest on human wisdom, but on God's power. (1 Cor. 2:1-5)
He clung to what he did know and that was his savior. Paul was reliant on the Spirit's power and on God's grace, not his own wisdom or speaking abilities, which he admits were lacking.
The Lord certainly gave me the grace needed for my 1-on-1. I walked away with great peace because I answered her questions and articulated truth in a way that I hadn't done before. Glory be to Him.
You don't have to be a "perfect" Young Life leader. Let God's grace, the power of the Holy Spirit and your knowledge of who he is as Savior be enough. You don't need fancy words or all the most insightful answers. You don't need to be the funniest, the coolest, the hippest, the most adventurous leader. Be the leader who is the most in love with Jesus and rely on Him.
My Area Director puts it this way:
"Kids don't need more of you, they need more of Jesus. So show kids Jesus and He will supply the rest."