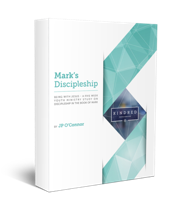 Written by Zach Gurick, YL Metro Director in Florida.
For the past 15 years, one of the greatest joys and most fruitful aspects of ministry has been leading Campaigners. It's also been one of the greatest challenges! Taking on the burdens of kids and really walking with them through the "highs and lows" of their lives is hard stuff! But, some of the most meaningful relationships I have today are with those kids that sat in my living room week after week as we wrestled through the struggles of adolescence and opened the Scriptures to see what Jesus had to say.
I've always been on the lookout for resources and insights that could help the kids I lead really "get it." With that in mind, a couple of friends and I figured, "we know a bunch of really smart people that are really good at this stuff, what if we asked them for help?" So, that's what we did!
JP O'Connor is finishing his PhD in New Testament, has a background in ministry, is brilliant and loves the ministry of Young Life. He is passionate about helping kids who have never opened the Bible hear the good news, and has worked really hard to write this study with you and your ministry in mind.
So, we figured he's doing all the hard work of studying, and we want you to keep doing the hard work of walking with lost, hurting kids that desperately need you in their lives. So, we have this amazing resource, a 5-week study about discipleship in the book of Mark, and we want you to have it! It sells for $35, but because of what you're doing with Young Life, we want to give it to you for $1! Yes, it's only $1, because we want to help you get this really great resource, and put it to use with the kids you know and love.
For just $1, you'll have the first half of the semester of Campaigners planned and done for you, hopefully making your work of running Campaigners a little easier this semester. There are questions for middle school, high school, and college students included so it can be used by anyone in your area across the mission!
Here's a list of all the things that come with this guide: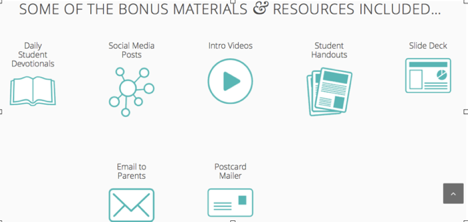 When you go to this page, use the special coupon code: younglife2017 to get this special offer only available to YL staff and volunteers for a limited time. Here's a link to more info about the study if you're on the fence.
Here's a link to a blog post on the Book of Mark by the author of the study, JP O'Connor if you're in the mood for some light reading.
Also, take advantage of a free download of our e-book called "11 Hacks for Youth Ministry."
We are so grateful for you and the work that you're doing in the lives of kids. We pray and trust that these resources will be a great gift to you and to them, will empower you, sustain you, and encourage you to continue your pursuit of kids and Jesus.
Yours in Christ,
Zach Gurick and the Kindred Youth Ministry Team