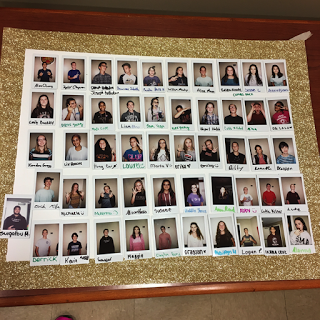 Written by Bekah Siau, Area Director with YL Military at West Point, NY.
We know that middle schoolers long to be known by name, to feel safe, to have an advocate and we would love for them to feel like Wyldlife club is a place where they belong.
One of the challenges that many of us face with Wyldlife ministry is keeping track of kids and remembering their names.
I don't remember where I got this idea, but I felt like this was an idea worth sharing.
Polaroid Posters
I bought a Fuji Instax Mini 8 Polaroid camera for $59 at Best Buy. You can get one here for $50 on Amazon: Fujifilm INSTAX Mini 8 Instant Camera (Blue)
.
Then I ordered a bunch of film online. You can get 3 packs of 20 (60 pics total) for $36, here on Amazon:
Fujifilm Instax Mini Instant Film (3 Twin Packs, 60 Total Pictures)

Next, I bought three heavy duty foam poster boards from the dollar store and had a leader help me tape paperclips to them. We decorated one for sixth grade, one for seventh grade and one for eighth grade.
At our first club, we took a photo of each student who attended and explained that this is our new check in system for club. When kids arrive for club, they grab their photo from the table and put it on the board for their grade. When they leave, they take the photo down and drop it in a box to check out. We take a photograph of each board during club to keep track of attendance. I also regularly take photos of all of the Polaroid photos of each grade to send to our leaders so they can keep praying for and remembering kids by name.
We will let kids take their photos home at the last club of every year. I'm working on ideas to put something special together with their photos – like cards with notes from their leaders. We've seen that some kids even come to club for the first time because they want their photo on that board – they want to be a part of something bigger. It's been an incredible way to love kids and make them feel connected and a part of club.
We've used the same sort of idea for high school as well, but we don't use it as a sign in/sign out system. Instead, each time students come to club for the first time, they can add their photo to the poster. By the end of the year, we'll have a poster with a photo of every kid who has come to club. (See below.) They have loved the idea just as much as our middle school students.