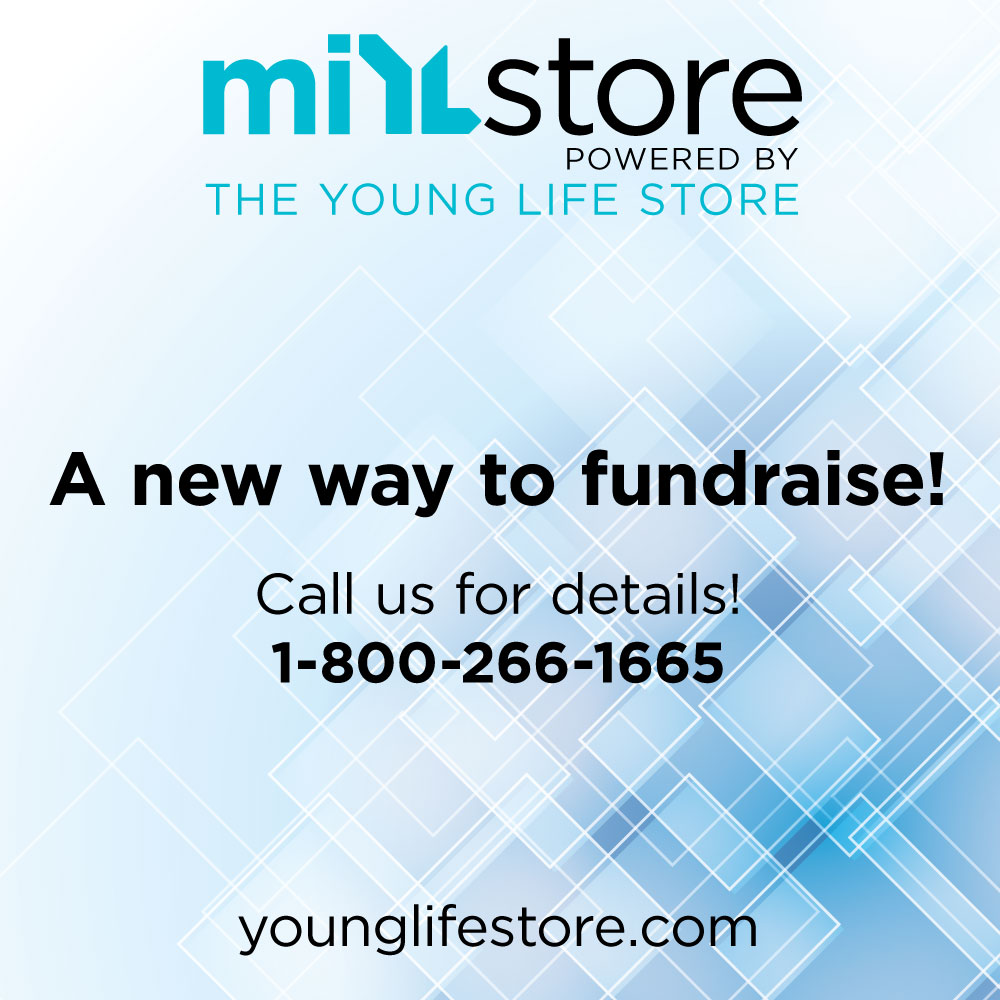 miYLstoreis a platform for Young Life Staff (Areas, Missions, Regions, etc) that makes it easy for Young Life staff to create and sell high-quality products with your custom Young Life logo that people will love, with no cost or risk!
This is a platform that can help you raise money for your budget or campership needs? We have the solution for you to add into your fundraising strategy to meet your goals! This is in addition to your current banquet, golf tournaments, crawfish broil, etc. The Young Life Store is now offering miYLstores for FREE so it costs you nothing! No investment of mission dollars!
Our mission at The Young Life Store with the miYLstores is to remove the barriers between great ideas and helping you raise the money you need to reach a world of kids!
Check out The Young Life Store's newest project and let us help you fundraise! Choose a month you'd like to do your campaign and launch a personal store just for your area, region or part of the ministry. Pick out a few fun items to put your logo on, let us build the site, you push out the marketing to your donors, friends and family! When the campaign is over we print the products and send to all your people. Once the fundraiser is over we will send you a check and the list of those that ordered for you to add to your donor list! No money investment and a fun way to get people all over the world involved in your local Young Life ministry! Give us a call today to set up your miYLstore!
How your miYLstore can work for you?
No investment of mission dollars
Help build your PPL
Easy accurate sign up system for camps & other events. Use for your next camp trip tee instead of investing mission dollars in t-shirts you might not need
Remove the guesswork and out of pocket cost for products
Let us ship the items for you to anywhere in the world
No set up fee
No design fee
No hidden costs
Steps to setting up your miYLstore
Check out the video on how the miYLstore can help you
Download and fill out the miYLstore interest form & send to younglifestore@cleanfunpromo.com or call us at 1-800-266-1665 and tell us you're interested in your own FREE miYLstore
Let us help you pick your products to put on your store with your custom logo. You're not limited to t-shirts. We can do it all!
Set your goal or how much money you want to make and how long the campaign will last (suggested time 2 weeks).
Let us do the work and set up the store for you!
You market out your fundraising campaign through word of mouth, newsletters, social media, etc.
Receive a check at the end of your campaign! All profits will be given to you in a check that you can put into any account you like!
You have nothing to lose so give us a call today to set up your FREE miYLstore!
We are here to help you!
1-800-266-1665
Follow with us on Instagram (@younglifestore) before April 29nd for a chance to win a Young Life shirt!