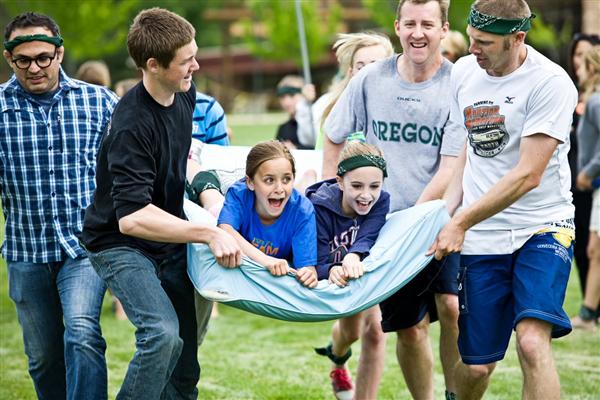 Some of your areas have Family Camps coming up for this spring. Young Life Family Camp weekends are special and unique. My friend Kristin Leathers is on staff in Mt. Airy, NC and does a fabulous job speaking at Family Camp. I asked her to put together some thoughts that might be helpful for those of you who will be speaking to this specific audience. Thanks for sharing Kristin!
Speaking at Family Camp by Kristin Leathers
Family Camp is a unique setting in which to present the Gospel because of your audience. There is a huge range in spiritual maturity, age, experience with Young Life, etc. So who do you speak to? What do you present? What is the goal?
In outreach camping we put the cookies on the bottom shelf so that the farthest out kid can access the Gospel. At family camp it is important to put the cookies on several different shelves. Study your passage of scripture at length (using various tools) so that you are able to present it from various angles.
Present the Gospel.
It is tempting to consider a talk sequence that is "more advanced" than the Gospel. This is a misnomer. The Gospel is always the thing that transforms us (the awareness of our sin in conjunction with our awareness of His grace) no matter how long we have been walking with the Lord. Present it in a way that engages non-believers and believers.
Know your audience.
Call the trip leaders who are bringing families to gain some insight into your audience. What are they like? What are their growth edges? Have they experienced a lot of suffering lately? Are they active in their faith? What is the culture of young families like in their area? Take this into consideration when preparing your talks.
Consider imagery over visuals.
We often use a visual aid to help present the message to high school kids. This may also be effective on a family camp weekend. However, imagery may be a more suitable tool to use in a club with mostly adults.
Be vulnerable. Be real.
Your audience has most likely lived a good bit of life. They've experienced real loss, real disappointment, and potentially a real sense of disillusionment in their faith. To hear from a speaker who is talking AT THEM rather than WITH THEM will shut them down. They do not need to hear more of what they should do. They need to hear from someone who is seeking Jesus in the midst of the mess.
Dig right in.
Although we still do need to earn the right to be heard (adults have walls just like high school kids), let's make the most of the opportunity and offer some real substance during the night 1 talk. Erring on the side of light and easy during that first talk may backfire.
Consider having a mini "say – so" at the end of the weekend.
Prepare a few key families ahead of time to share what the gospel means to them and share this at the end of talk 4, then opening up the floor to anyone else who may want to share.