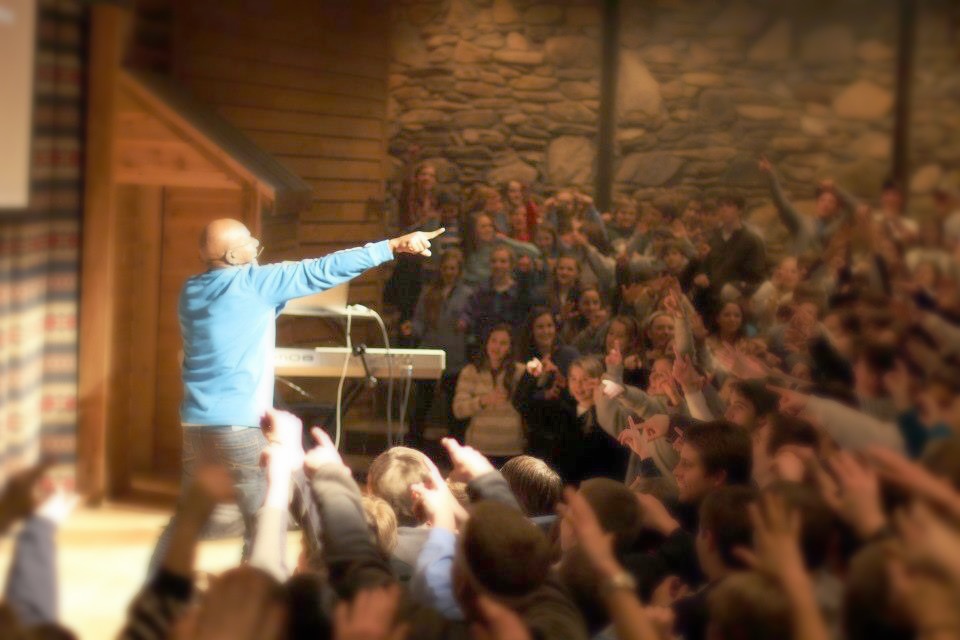 Our featured YL Camp Musician for the month of January is
John Jackson. If you attended YL75 (or any of the last four staff conferences
and three pre-conferences), or if you've spent any time over the last 15 years
at Windy Gap, Southwind, SharpTop Cove, or Camp Buckner, you've likely met and
been blessed by John's gifts – gifts that he shares generously with Young Life.
John encountered Young Life in 1999 when Emily Huck, who was heading up urban
ministry in Knoxville, invited him to help with music at club. It was an urban
school with about 25 kids attending and John remembers singing "Fresh Prince"
and "Parents Don't Understand." But it was Emily's invitation for John to
attend a week at Windy Gap as an adult guest that John says, "changed his
life."
"Dennis Pete was leading music for the weekend and he heard that I was music
director at a church in Knoxville. Dennis shows up in Knoxville at my choir
practice pursuing me to do music with him for the summer of 1999." Eventually
Dennis moved north, and John started leading YL Urban music for camps in the
south.
John has led music teams for YoungLives, WyldLife, and camps with Latino, urban
and multicultural emphases. "I have been fortunate to lead music for some of
the most diverse camps in Young Life," he says. "Taking the Gospel through
music, embracing culture and ethnicity is what I'd say Young Life has done for
me as a musician. Music in Young Life, really breaks down walls and allows kids
to hear the Gospel. I feel really blessed to lead music for Young Life camps."
John has shared his musical gifts with Young Life and he's shared his family as
well. His wife, April, has been on staff with Young Life since 2000. She also
leads YoungLives in their area. The Jacksons have two children, Jahson, a
sophomore in high school, and Jalan, a junior at King University where she
serves as a leader.
John also loves arranging music for Young Life — taking folk or guitar-driven
songs and arranging them to appeal to kids who've grown up in more diverse
backgrounds. Take a look at his many arrangements on John's YouTube
channel and enjoy this Young Life treasure:
What other Area Directors are saying about John:
I have had the privilege of serving at camp with John Jackson for
several summers. Every year as we're planning for camp staff eagerly ask,
"Do we have John Jackson?!?" and if you've ever been around him you
know why! John has an amazing gift of leading others with great energy. If you
were at YL75 you experienced this when he led us in worship one afternoon. He's
a talented musician and I've seen him transform a room of disinterested kids
over and over again to enthusiastically doing hand motions and singing at the
top of their lungs having the time of their lives. We've also had John lead
worship for staff and volunteers — what a gift John is to the mission of Young
Life! –Lisa Fiedler, YoungLives Southern Division Coordinator
John has the an incredible range of connecting with 'every kid', but he has
such a heart for Worship that when I was asked to serve on the YL75 Planning
Team and Worship Experience, John was my first and only choice. He was then
asked to lead a General Session at YL75 leading worship. John has a heart to
serve people, but a strong desire to teach, train and serve a 'budding'
YLleader who has a desire to lead music and serve kids in the area of praise
and worship that they can fully connect with as they are connecting with Jesus
in a deeper way. John has been a gift to the ministry of YoungLife and to kids
EVERYWHERE that will forever be changed by his ministry of connecting through
music, his humility and his LOVE for Jesus! – Veronica Tutaj,
YoungLives Regional Coordinator/MC/U Ministry
John Jackson can not be contained in a few words. Much
like his uncanny amount of joy and energy cannot be contained either. When I
first met John over 15 years ago I had no idea what a treasure we were
uncovering. His natural love for music, for kids, and for Christ allowed
him to instantly understand the mission of Young Life. His heart to serve
led him to jump right in wherever there was a need. John has a unique ability
to draw in any type of kid. He truly embodies our mission to reach every
kid, every where with the abundant life Christ offers. He has been one of
the pioneers that has made the dream to unite kids from different backgrounds a
reality through his gift of music. John's passion is contagious and
his joy overflows through his music, his kindness, and his smile. If
you have ever met John, you feel as if you have a new friend…and I assure
you, John does too. -Emily Huck, Area Developer, Knoxville TN