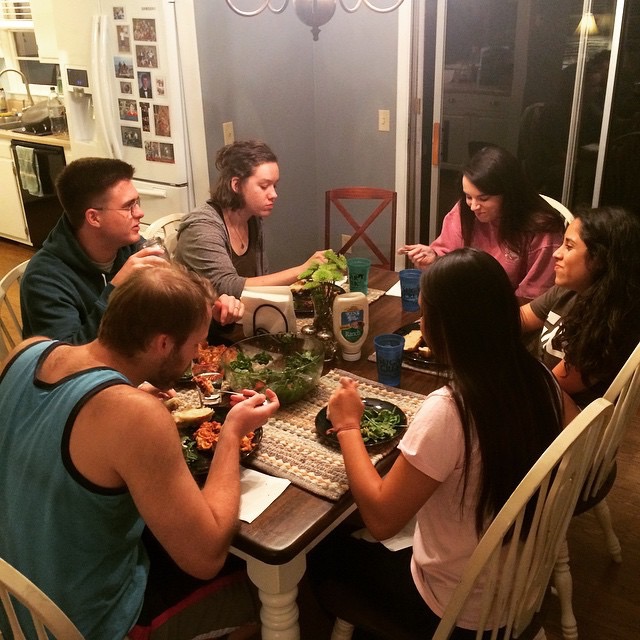 On Tuesdays this semester we're running a series of posts on discipleship by Justin McRoberts. If you've missed the first 5 posts, click the links below to catch up.
Community, part 2


Community Is Purposeful
When Jesus invites his friends to go with Him, notice the language He uses: "Follow me and I will make you fishers of men." (Matthew 4:19)
This isn't just an invitation to hang out. It is an invitation to join Jesus in his whole life, including the part the involves serving and loving others. That's not to say there is something wrong with just hanging out. But the richest relationships you will have will be with sisters and brothers who are about more than just hanging out. They do that, too. But your deepest friendships will be with folks who help you follow Jesus and join you in serving the world.
In an account retold in Matthew 14, Jesus and His disciples are joined by a crowd of thousands. Having been with Him all day, those thousands of people were hungry and started telling the disciples about it. "Send them away" the tell Jesus, "so they can get something to eat."
But Jesus says "You feed them."
Um… WHAT?! How is this small group of folks supposed to feed thousands of people?! He's the miracle-worker, so why doesn't He just do it?

What happens next is remarkable.
Jesus takes a five loaves of bread and two fish and, dividing them up, begins to feed those thousands of people. Of course, He doesn't hand out the bread and fish by Himself. Instead, He hands the pieces to His disciples and lets them do it.
Can you imagine how it might feel to be part of a miracle like that and feed a few thousand hungry people with only five loaves of bread and two fish? I'd bet the disciples didn't think they could do something like. But a life-giving friend will be someone who helps draw out the best in you. A life-giving friend helps to draw out more of you than you thought was there.


What a gift it is that Jesus invites His community into the work He does. That's part of what makes community good; that Jesus shares His adventures with His friends and family. Now, you may not go out and feed thousands of people with a Snickers bar and bag of chips, but you will definitely have your fair share of adventures. You will do woodwork in the world. Plan on inviting people to share in those works and adventures with you.
Speaking of gifts, I'd like to offer one to you. A few years ago, I wrote a book about the practice of community. I called it CMYK: The Process of Life Together and it is a collection of stories and letters written for and about the people I get to practice life with. Here's a chapter from that book which contains a story about my best friend and I. It highlights the way life-giving friends call out the best in one another. I think you'll dig it. -Justin