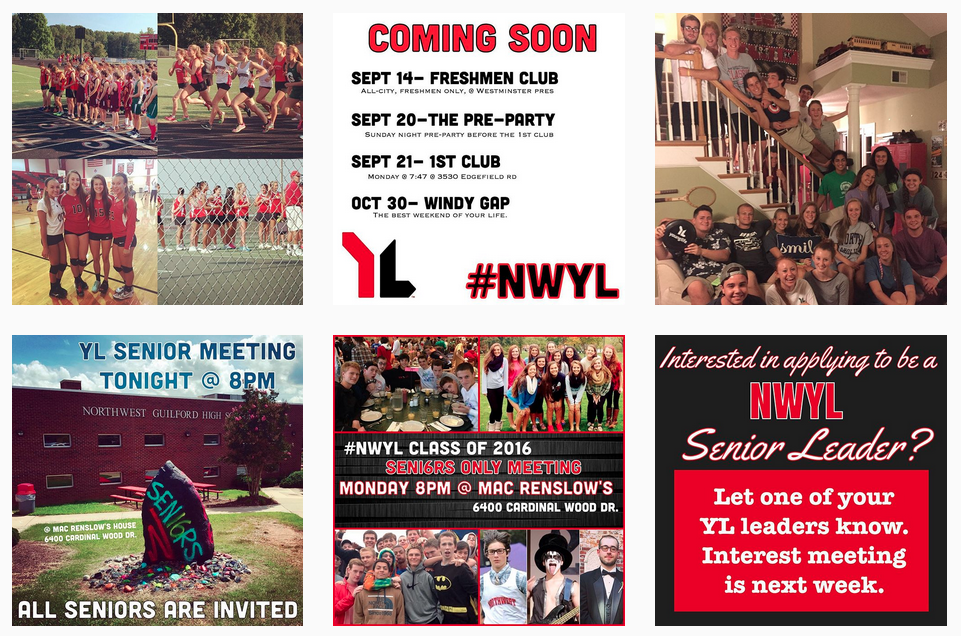 Our Young Life team is meeting tonight to do more planning for the fall. One of the things on the agenda to discuss is our 'social media strategy.' We've had seasons in the past where we've done a great job using Twitter and Instagram and plenty of weeks where we've dropped the ball. It's far from perfect, but you can see our Instagram account here.
Below are some thoughts for your team to discuss as you think through how you will use social media this new school year. A YL social media strategy should be the same as our contact work strategy: We consistently show up where our kids are… and they are constantly on social media.

Where To Post
We primarily use Twitter and Instagram but also have our tweets set up to automatically push to Facebook so parents that use fb can see what's going on as well.
We also have a YouTube channel where we post videos we make for club and camp.
What To Post
We try not to use Instagram as a billboard to only promote YL events, but also use it to promote other school events: games, plays, student of the day, band, chess club, etc.
Last week we had one leader at the tennis match, another at the JV volleyball game, and another at the XC meet. We each took a pic and used the Layout app to combine them into an Instagram square.
When you take a picture of kids, tag them in it (now you can tag folks on Twitter, Instagram and Facebook.)
Don't just post pictures, videos are fun too!


When To Post
If you have club on Monday, then post the club theme on the preceding Friday at noon. That way kids can talk in the cafeteria as they see it and make plans to go to Goodwill to get kilts for Scottish Club if they need to. Also, repost the details on Sunday night at 9pm so it's fresh on kids minds before going to school on Monday morning. If you forget on Sunday night, post on Monday at noon so they can talk about it over lunch.
Kids are constantly checking social media, but the prime times I've found to post where it will be seen:

First thing in the morning
Lunch
3:45pm (or when school gets out)
10pm (right before they go to bed)

Assign one leader to post a #TBT (Throw Back Thursday) post each week. It's fun for Seniors to see pics of them when they were freshmen. You can find old pics you've taken with the Timehop app or just look through old pics on your Instagram account or kids' accounts. Before fall camp I love posting old camp pics to remind kids how much fun they had in previous years.
How To Post
Below are the steps I took to make this Instagram square (pictured to the right) promoting our Senior Meeting last week:
I google image searched the word 'black' on my iPhone and saved one of the first images.
I looked back at a Facebook photo album from when we went to fall camp when the rising seniors were freshmen and saved a few of those pics to my phone. I then looked through Instagram for some other fun pics of seniors.
I used the Diptic app to put 4 of those people pics and the black screen background into a square of multiple pictures.
I used the Phonto app to put text on the black background. (I think it looks cleaner when words are written on a solid background instead of putting them on a picture where you can't make out the letters clearly.)
Who To Post
Everybody's responsibility is nobody's responsibility.
It's annoying to have to sign out of your personal Instagram account and log in to your YL one, so unless expectations are clear, chances are that no one will step up and do it consistently.
There are a few different ways you could delegate the social media responsibilities:

Team leader assigns individual leaders to be in charge of the social media for a week at a time.
Each leader takes one day of the week and sets a reminder for them to post on that day.
Everyone takes pics at events and sends them to one person who is in charge of posting.
After club each week the team meets and assigns specific days and things to post about for the coming week.
Other Ideas
Find a leader or kid in your area who is good at Photoshop and can make cool designs for you to post.
Steal ideas from our Instagram account @YoungLifeLeader, from Jacob Raitz's helpful account @TonightYesTonight, and from other school accounts who do it well. I really love how @PearceYoungLife uses Instagram.
Use Periscope to broadcast club so parents can watch from home.
Create a hashtag for your club and announce at club for kids to use that hashtag when posting pics. Ours is #NWYL
Hold a contest on Instagram or Twitter and give a prize at club. "Whoever reposts this pic inviting folks to club will be entered to win lunch brought to you at school next week."
Feature a 'Student of the Week' every Wednesday on Instagram. Post their pic and a brief bio. Kind of like small town papers feature kids or some high school's do on the morning announcements.
Share behind the scenes photos. Post a pic of the senior guys practicing a dance they're going to do at club the following night.
Post a pic of your YL team and tag the leaders so kids know who to follow.
Hold a caption contest of a funny pic from club.
Ask kids to text you their pics from club so you can make a collage to share.
If you don't feel confident using social media, ask a teenager to teach you how. Most of them are experts and it could be a fun time of contact work.
What other ideas would you add? Email us here.