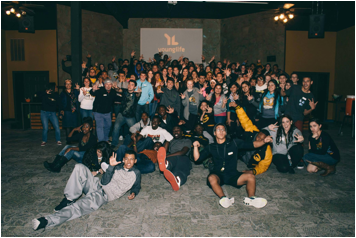 A guest post by Jason Talley, leader in Garland, TX
More Than Just a Giveaway
Three years ago we started Young Life at a Garland High school in Garland, Texas. Young Life had not been in this school in over 20 years, so aside from some amazing committee members in the area, we were starting from scratch.
Our first semester began with around ten kids. After 1.5 years we started to get into the school and see a larger impact being made. We started passing out flyers, getting on the school announcements, and building a social media presence. All of our leaders were trying our best to do contact work and meet our present kids' friends, but it seemed like we weren't seeing the growth that I wanted to see.
Just Once


One thing I noticed was if kids would come to club just one time, typically they would come back. I distinctly remember one Monday before club walking around and hanging out with kids. There were several new faces and I was eager to meet them. In the midst of conversation I asked some of them – "How many times did you hear about Young Life before you actually came?" The typical response was, "tons of times". That led me to ask them, "Why did you wait so long to come?" The majority of kids told me it was because they weren't sure what it was all about or if it was "their thing".
That night after club and for several days after I couldn't stop thinking about what those kids said. This led me to think about how I could get as many kids to club as possible – even just once – because I knew if I could get them there once, they would come back.
It was this thought process that led me to the Parable of the Great Banquet that Jesus gave in Luke 14:16-24. When the master's servants and friends wouldn't come to his banquet he opened his house and told one of his servants, "Go out to the highways and hedges and compel people to come in, that my house may be filled." (v. 23b) and that's when it hit me; I have to give something ridiculous away, I have to "compel" the kids to come!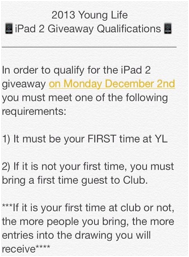 So, I went to friends and family and asked them to help me purchase an iPad 2 to give away (this was right after it came out so it was the newest hottest thing). I was able to grab it for $300.00 and saved $100 by buying it on Black Friday.
I advertised on Twitter and with flyers for several weeks that we would be giving away an iPad.
That night we had a record of 88 kids show up at club! Before Club I had leaders stationed at a table signing kids up for the drawing. This, of course, gave me all the kids contact info so we were able to start plugging them in and building relationships with them.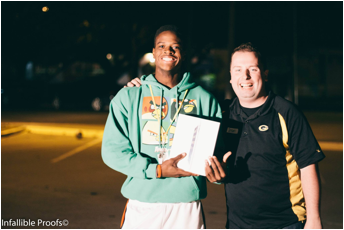 We waited until the very end of club to give away the iPad. Now here's the cool part – The kid who won, Devonte, it was his first time at club. He told me afterwards – "this kind of stuff never happens to me!"
Devonte ended up going with us to Frontier Ranch last June and has fully committed his life to Christ. I have the privilege of baptizing him in the coming weeks!