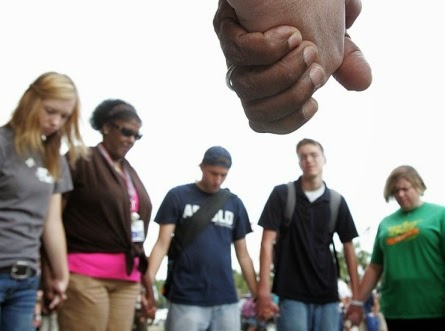 At the beginning of the school year we joined with parents of students for a Prayer Walk at our high school.
Listed below is an outline one of the parents put together to help us pray. We broke up into smaller groups and prayed out loud as we walked together through the school. We prayed over each classroom and teacher by name. We prayed for every locker and the student that would use it. We prayed over the buses in the parking lot, the cafeteria tables, the administration and the housekeepers.
It's not too late to do a Prayer Walk at your school! Even if you're not allowed inside, you can pray at night. We did ours on a Sunday afternoon after getting permission from the school administration.
Areas of Intercession
Students
Isaiah 55:7 – Let the
wicked forsake their ways and the unrighteous their thoughts. Let them turn to
the LORD, and he will have mercy on them, and to our God, for he will freely
pardon.
Salvation
Purity
Protection against depression, suicide, immorality and
illness
Respect for parents, teachers and all authority
Find their passions, and for school pride
Relationships with friends
Staff &
Administration
Counselors, Coaches, Cafeteria Personnel, Custodians, Substitute
Teachers
Philippians 1:9-11- And
this is my prayer: that your love may abound more and more in knowledge and
depth of insight, so that you may be able to discern what is best and may be
pure and blameless for the day of Christ, filled with the fruit of
righteousness that comes through Jesus Christ—to the glory and praise of God.
Salvation
Unity
Organization
Do jobs with joy, excellence and zeal to impact lives
Seek God for personal problems
Christian teachers/staff would stand firm in values against
secular philosophies
Christians On Campus
Matthew 5:14-16 – You
are the light of the world. A town built on a hill cannot be hidden. Neither do
people light a lamp and put it under a bowl. Instead they put it on its stand,
and it gives light to everyone in the house. In the same way, let your light
shine before others, that they may see your good deeds and glorify your Father
in heaven.
Godly attributes
Continued growth in their walk/relationship with the Lord
Doors to be open for Young Life, Fellowship of Christian
Athletes or other Christian based clubs
Students would lead Bible Studies and prayer groups, walk
bold in their faith and be leaders
Obey their parents and school authority in the Lord
School Board/County
Commissioners
Proverbs 16:9 – In
their hearts humans plan their course, but the Lord establishes their steps.
Positions filled with men and women of godly principles
Curriculum would be chosen wisely and include biblical
standards and values
Guide all Guilford County schools well
Support teachers
New build contracts upheld and carried out with excellence
School maintenance and repairs to be done quickly and
accurately
Fair distribution of monies
Help for failing schools
Against Evil,
Violence And Bullying
John 17:15 – My prayer
is not that you take them out of this world but that you protect them from the
evil one.
Atmosphere of learning/motivation, obeying rules and
respecting all authority would prevail
Purity of mind and body
Dress code
Bathrooms would not be destroyed, no hideout for skipping or
sexual activity
Hall ways would be free of danger
No drugs or illegal substances
Respect one another regardless of race or religion
Land & Physical
Building
Isaiah 54:2 – Enlarge
the place of your tent, stretch your tent curtains wide, do not hold back;
lengthen your cords, strengthen your stakes.
Protection for school campus
Safety with Sports
Transportation to and from school- Kids driving
Parking Lots
Greenway Safety
Holy Spirit to fill place and worship from Redeemer Church
to infiltrate/linger
Families
Matthew 11:28 – Come
to me, all you who are weary and burdened, and I will give you rest.
Husbands & Wives would love one another
Against and end to poverty cycle and homelessness
Protection from evil and destruction of marriage union
Get involved and volunteer
Any family hardship would receive Godly counsel and
compassion
Refuge families be protected, loved and guided
Clothing closet and backpack food ministry be effective and
find right people
Closing Prayer
Read, Psalm 91:11
For He will give His
angels charge concerning you, to guard you in all your ways.
Ephesians 3:20-21
Now to him who is
able to do immeasurably more than all we ask or imagine, according to his power
that is at work within us, to him be glory in the church and in Christ Jesus
throughout all generations, for ever and ever! Amen.

You can also click here for a PDF version of the handout we gave to everyone who attended.