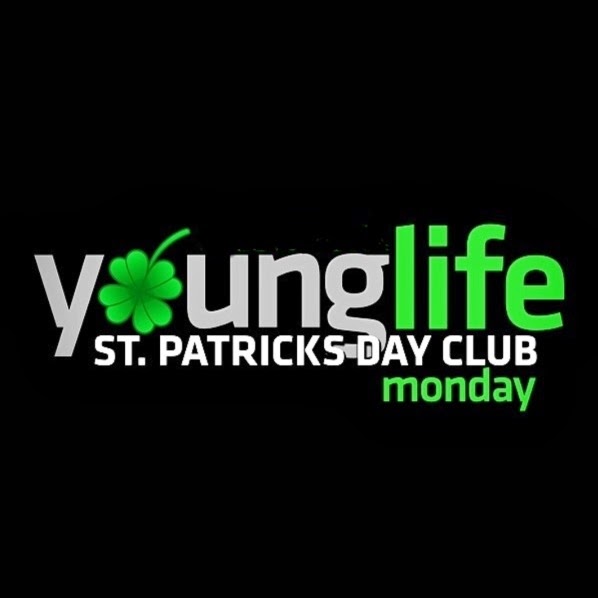 In 2014 St. Patrick's Day falls on Monday, March 17th. If you hold your "Sham-Rockin' Club" or "Irish Club" after St. Patty's Day you can get great deals on clearance items at Wal-mart starting Tuesday morning.

Ten Ideas For Sham-Rockin' Club
1. Host a "Ms. Shamrock" competition for the ladies similar to the "Mr. Christmas Tree" for the fellas. You can read more about that idea on the Christmas Club idea post and just tweak things to be "shamrock-y" instead of "Christmas Tree-y."
2. Let your character host for the evening be "Patty O'Furniture" Green tights, red wig, bow tie, shamrock shades (see #3 below), irish hat, beard, etc… A terrible Irish accent is a must.
3. Order some fun party favors to pass out at club. At Oriental Trading Post you can buy all kinds of novelties for cheap and they do have 2-3 day delivery. You can get shamrock shaped silly bands for ten cents/band; shamrock tattoos for a nickle/tat; etc… You can also buy some pretty sweet shamrock shades at this website for $3/pair if u buy 12 or more.
4. Download some Irish background music for free from this website
5. Game: Have a relay race where teams race to shoot marshmallows out of the noses into a bowl of lucky charms sitting on someone's head.
6. Have everyone dress in green. If they don't then pinch them. Not an original idea, but pinching people is fun.
7. Game: An Irish Jig dance competition doing dances like this one but probably funnier if you made a video ahead of time.
8. Mixer: "Feeling lucky?" Give one student $5 or $10 and tell him/her to give it to the 11th person that shakes their hand. Have everyone shake hands and meet someone new and tell them what's going on. Play some Irish Jig in the background.
9. Game: (stolen from YLhelp.com) Have 3 teams of two come up and whoever finishes a two-liter of Mountain Dew and a small bag of Lucky Charms wins!!
10. Skit: (also stolen from YLhelp.com and YLplaybook.com) If you haven't used the classic YL skit "Little Nemo" in a while, now's a good time to do it with Lil Nemo being a Leprechaun.
11. Irish Trivia from Wes Wilson
Q: What is the name of the lead singer of Irish band U2?
A. Bono
Q: What are the colors of the flag of Ireland?
A: Orange, white, and green
Q: What university's mascot is The Fighting Irish?
A. Notre Dame
Q: According to legend, Saint Patrick drove what creatures out of Ireland?
a. Snakes
b. Spiders
c. Banshees
d. French people
Q: The shamrock has been used over the centuries as a specific remedy for what?
a. Dehydration
b. Snake bites and scorpion stings
c. Urinary and kidney stones
d. Girl cooties
Q: According to legend, leprechauns all engage in what trade?
a. Tailoring
b. Shoe making
c. Blacksmithing
d. Mattress testing
Q: Some traditional Irish St. Patrick's Day foods include what?
a. Corned beef and cabbage, soda bread
b. Sweet potato bread, soup
c. Mashed potatoes, carrots, rye bread
d. Mint pie, pretzels, curly fries and a large milk shake
Q: The most common hair color in Ireland is what?
A. Brown
Q: Which holiday's origin traces back to Ireland?
A. Halloween
What is the most important crop grown in Ireland, both historically and now?
A. Potatoes
Tie Breaker:
Q. What is the cereal Lucky Charms' tagline?
A. "They're magically delicious!"