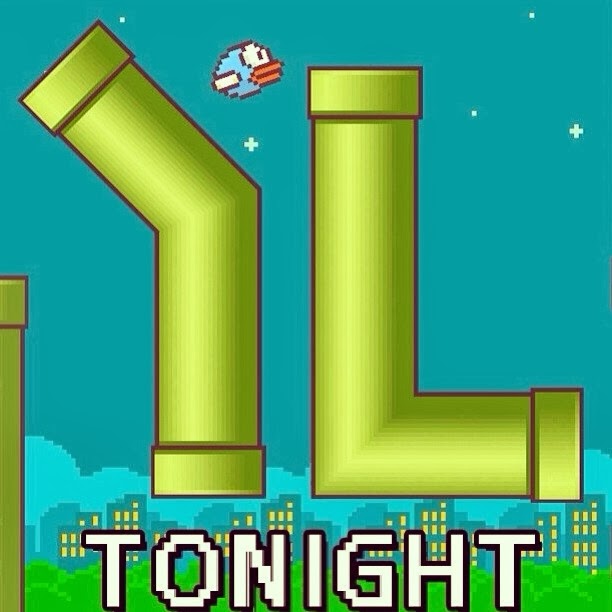 My Twitter feed went crazy on Monday with everyone tweeting about somebody named 'Flappy Bird.' After figuring out it wasn't a new rapper, I visited the AppStore and found the game was #1 in the free downloads category. Out of curiosity, I downloaded it. I was shocked by the simplicity of the game and graphics, but even more shocked by how FRUSTRATING the game was to play!
I hesitate to even post about it because if you haven't discovered it I don't want to cause you to stumble and lead you into this addiction. I already had to delete the app from my phone. I couldn't handle it. (If you're wondering, I retired at a score of 24 #humblebrag.)

The reason I'm posting about it on here is because your middle and high school friends are probably playing Flappy Bird right now during math class. Why not use the Flappy craze to create some flappy momentum at club?
Yesterday I tweeted from our @NorthwestYL account, "Whoever can get the highest score LIVE next Monday during Winter Olympics club will get Zaxbys lunch brought to you at school. #FlappyBird." I then started to get all theses texts/tweets from kids who saw the tweet. Sounds like some kids are really gearing up to impress the crowd with their Flappy skillz.
We're going to do a pre-club entry round. Before club starts, while folks are hanging out, kids will have to show a leader them getting above a score of 15 in order to be able to compete during club. If there's a ton of kids, we'll take the top 3 and let them play during club. We'll mirror my phone to the big screen with the AppleTV and let everyone watch as the top 3 compete.
It's a silly idea, but kids are excited about it. As YL leaders we go to where kids are…and sometimes that means tapping a screen really softly, repeatedly, for hours and hours, to watch a bird flap his way through strategically placed pipes.
I have a feeling the Flappy Bird craze won't last long. Kind of like Angry Birds, Temple Run, etc…. Get it while it's hot.
*If you struggle with an addiction to iPhone games, click here.