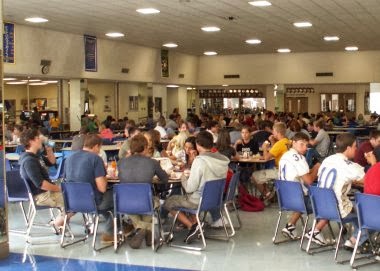 Fall camp was only a week away.
With as much 35 year-old swagger as possible, I strolled into the high school cafeteria. Across the way I noticed Shane waiting in the pizza & nuggets line. He was a senior now and hadn't been to club since sophomore year. I can usually take a hint and figured since he hadn't been at club, he probably didn't want to go to Rockbridge. I just kept the camp flyer in my back pocket and gave Shane a friendly head-nod. I strolled over to a table of sophomores where I could confidently sit down.
The underclassmen were pumped about the upcoming weekend, asking if the blob would be open, if they could sleep outside in enos, if they could bring guitars and skateboards. I tried to pay attention and engage in the excitement, but my heart was distracted by Shane.
He'd slipped through the cracks. He never really connected with a leader. I had no clue why he stopped coming to club, and honestly hadn't noticed until he'd been missing a few months. I knew he was on the YL group-text list all last year, but I'd taken him off in August because I assumed he didn't want YL texts any more .
I didn't want to go over to his table, but the Lord kept nudging me. I barely knew him or any of the other surrounding senior guys. What the heck? Be a fool for Christ, right?
As I turned to walk over, Shane stood up to get some napkins. We naturally crossed paths in the middle of the lunch room.
'What's up Shane? How ya been?
'Pretty good. How's Young Life goin? I hadn't got any texts about it or anything, but do you have my new number? I got an iPhone for Christmas last year.'
We exchanged numbers.
'You know we're going to Rockbridge next weekend. There are still some spots if you want to come with us.'
'Really? I hadn't heard much about it. Nobody's invited me to come.'
His words shook me.
All this time I'd been thinking that he was just pushing me and YL away. What he really wanted was for someone to just invite him. Someone to notice him. Someone to pursue him.
There sadly isn't a storybook ending to Shane's story.
At least, not yet.
I invited him, called him, texted him, and he said it was just too late notice for his parents to let him go.
Who knows what the Lord is up to in Shane?
I know what He's up to in me.
He used a intimidating eighteen year-old to remind me we all long to be pursued. I never want to hear another high schooler say 'Nobody invited me to come.'