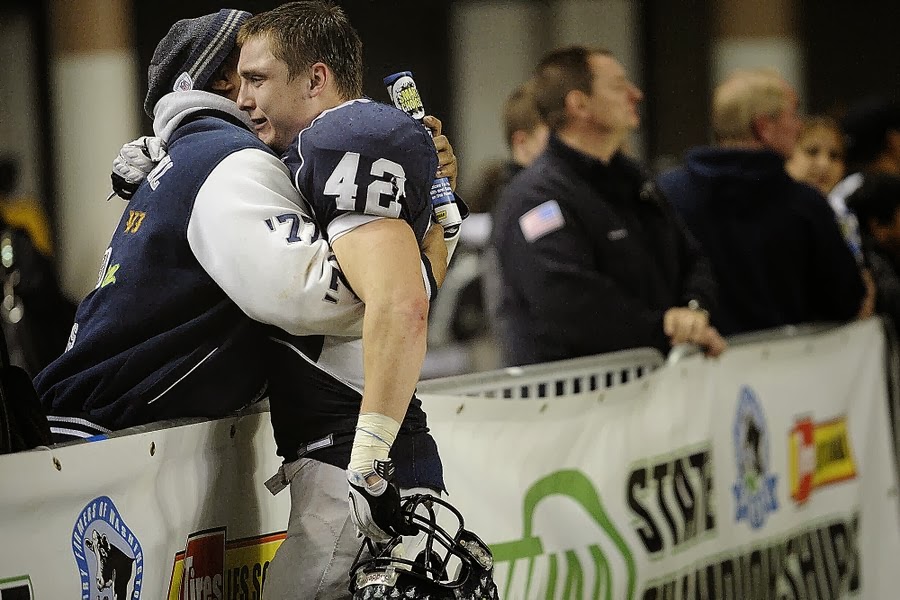 I've spent many evenings watching a high school game, only to wait around after the loss to be ignored by a fifteen-year old in a bad mood. I don't blame him. I've been there too.
It's always more fun to watch your middle and high school friends win. When they win, you can celebrate together, but how should we as Young Life leaders respond when they lose?
3 Ways To Encourage Middle/High School Athletes
Don't Leave
After a win, everyone waits around to congratulate the players. After a loss, the fans typically scatter. Lots of dads I've been around aren't singing their kid's praises after an 'L.' If they do hang around, often their words sound more critical than encouraging.
Be present in the hard times, even if no one else is. Sure, the wait is often much longer. Players are slower to come out of that locker room. They don't want to face the crowd. They want the loss to just disappear. They might not even want to see you. Wait anyways.
Last year, after a devastating loss in a huge home football game, I felt the Lord prompt me to hang around until the guys came out. It was a painfully long wait. Over an hour later, after the field lights had been shut off, Rob and Luke finally exited the field house. One coach, two moms, and one Young Life leader stood there waiting. Their heads hung low, hair matted with sweat. I'll never forget the horrendous smell of those lineman-sized hugs. I'm still convinced that five-minute walk from the locker room to the cars changed my relationship with those guys forever.
Speak The Truth
If they didn't play well, don't say 'good game.' Last week I read this article describing a survey of hundreds of college athletes. They were questioned about interactions with their parents after sporting events. When asked what encouraging things their parents said after games, there was one overwhelming response: "I love to watch you play." Simple, yet powerful, and not dependent upon whether they win or lose.
In-Game Texts
Another way to communicate that you love watching someone play is to send in-game texts or live-tweet the game, tagging your friend. Their phone is in their locker, but after the game, win or lose, they're highly anticipating any 'notifications' they might have. What if they turned on their phone to find some messages like these:
2:12 left in the 1st quarter and you just made an incredible block on number 89. He probably won't remember it, due to the minor concussion you caused, but he might see it on the news tonight.
I missed the first half, got called in to work, but that 3rd quarter was impressive. You were setting some super intelligent off-the-ball screens. Way to go bro…proud of you.
I know it was a frustrating loss, but that was the most unselfish half of basketball I've ever seen you play. You created so many open shots for Jake and Pete! Like a mini-CP3 out there.
Twitterverse: If you missed the volleyball match today, you missed a clinic put on by @Molly24Vball and the lady panthers!
In the third chapter of James we're reminded of the power of our tongue. With it we can speak life or death. May the words we speak to our middle and high school friends be constant reminders of Christ's unconditional love for them. Win or lose.