Thanks to everyone who left comments on this post to win 'Graceful' by Emily P. Freeman for your entire Campaigners group.
The random number generator selected comment #42, so congrats to Corenna Hoyt in Rhode Island for winning. Corenna, email us your mailing address and how many gals are in your Campaigners group and we'll send the books your way.
If you didn't win, you can purchase 'Graceful' for only $5 here.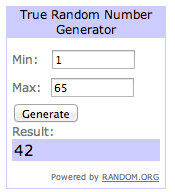 And check out Emily's other book, 'Grace for the Good Girl,' to read on your own. My wife has led a group of college YL leaders through it and it was a huge blessing to those ladies. It's on sale this week at Amazon for only $5.60.
You can always read Emily's blog here for free.
There will be another chance to win a different book for your Campaigners group in a couple weeks. Stay tuned.