Apologies on not sharing this sooner, been a busy last week. If you haven't held your Mr. Christmas Tree Pageant yet, here are a couple things we used that were big hits.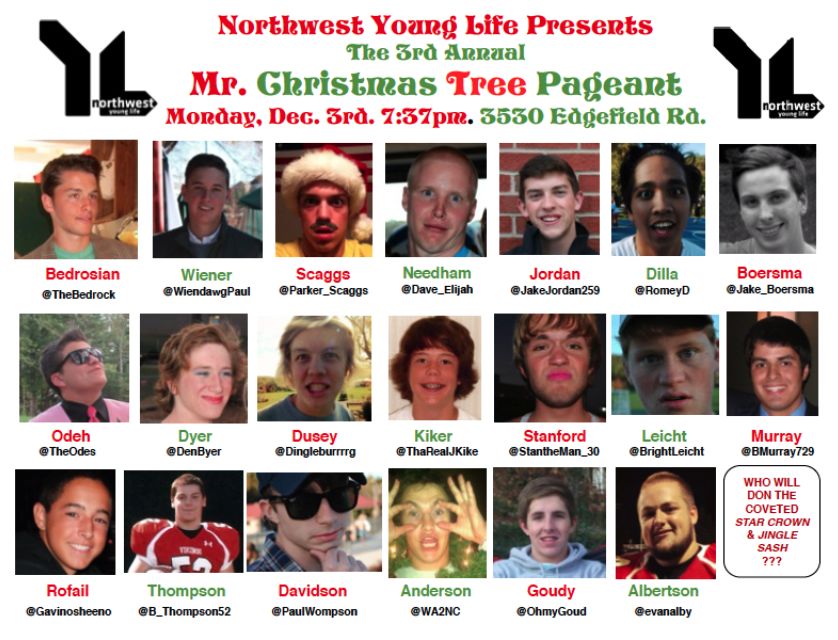 Above is a poster we hung around
the school. We also gave mini-flyer-versions of it to each senior guy and had them
autograph their pic, pass them out, and invite folks to come out and vote for
them.
Here's the training video the guys made.
Below is the runway script we read while our
senior guys walked the aisle. Feel free to steal these ideas, tweak them, and
make the script personal to your contestants. Hope it's helpful in sparking
some hilarity.
Mr. Christmas Tree Runway Script
Now it's that time you've all been waiting for,
the chance to officially meet your contestants for the 2012 Northwest Young
Life 3rd Annual Mr. Christmas Tree Pageant.
1. Zach Wiener
First down the runway is Zachary Paul Wiener. In
addition to serving as Sr. Class President, Mr. Wiener was chosen for North
Carolina All State Chorus, and even served as Patrol Leader for the 100th
Anniversary National Boy Scout Jamboree. That's right, Ladies and Gentlemen,
you're watching an actual Boy Scout Patrol Leader walk that aisle. But he's not
just a Bear Grylls wanna be, this boy scout is a tender heart. For the past three years he's volunteered at
the Guilford County Animal Shelter and served weekly at the downtown Soup Kitchen. Do you smell that? That's not axe body spray, that's not the
scent of Christmas tree pine, that's the aroma of the ladies' man, Zachary Paul
Wiener. Put your hands together and give
him a warm applause.
2. Brian Thompson
We couldn't find a runway big enough for Brian
Thompson's 512 horsepowered 5×4 2 wheel drive v-14 engine 6 wheeled truck, so
Mr. Thompson decided he'd walk the aisle instead. Number 52, also known to many
of you as 'Daddy,' is a man of esteemed reputation. He scored a perfect score
on the SAT for Steppin' And Twerkin' and is also a member of the National Honor
Society for Twerkers. While watching him
walk you might feel like you're experiencing a seizure, don't worry, that's
just Brian's backside shakin the floooh.
3. Jacob Kiker
Put your hands together for Mr. Jacob Kiker,
also know in the Twittersphere as Tha-Real-J-Kike. Note, that's not the
Fake-J-Kike, it's the real one. Mr. Kiker is also known as The Most Interesting
Christmas Tree in the world. You may have seen other trees, like coat trees or
hat trees or pine trees, and even pine tree air freshners, but you've never
seen a tree this fresh. You've never seen a tree rock a bow tie like The Real
J-Kike can. Ladies, if you're thinking to yourself, 'That's one fine tree,"
just realize, you're not alone. Ladies and Gentlemen, Mr. Jacob Kiker.
4. Parker Scaggs
The runway just got a little safer as the
Secretary Defense entered the room. It takes a real man to defend the end zone
on a football field, but multiply that on the scale of defending an entire
student body and you've found yourself Secretary Parker Scaggs. His SAT scores are higher than your mom's IQ.
His class rank is the same as the number on the side of Dale Earnhardt Jrs.
race car. Coincidence. I don't think so. For fun Mr. Swaggs kills wild rodents
who attack old ladies. He kills them with his right hand while petting kittens
with his left. Do you have a mustache? I didn't think so. But Swaggs does. Do
you have a state championship in Lacrosse?
Nope, but you probably paid money to watch this guy win his ring. Do you
work at a place where they pay you to jump up and down on bouncy things with little
children? Prob not. But Swaggs does. He didn't invent the word Christmas, but
he did invent the word Swagger. Let's show our appreciation to the man, the
myth, the legend, Secretary Parker Scaggs.
5. Jake Boersma
Our next contestant comes to us from the isle of
Dutch. Jake Boersma is known around the southern hemisphere for his ability to
kill a deer from over 300 yards away using only a hammer and a toothpick.
Formerly a stellar athlete, Mr. Boersma had to hang up his cleats after being
banned for receiving multiple concussions. He's still good at sports, he just doesn't
remember it. He also doesn't remember his own mother's birthday. He might even
win tonight, but if he does, he won't remember it. To the man who might forget
us, but the one we'll never forget, give it up for Jake Boersma.
6. Zach Leicht
Ladies and Gentlemen, we now present the
President of Young Life, Mr. Zachary Lafawnda Leicht. He didn't dye his hair
for the Christmas season, nope, you're looking at one all nat-u-ral ginger. If
your world seems dark, he can be your Bright Leicht. If he were a bee that
could fly for 365 days, he'd be your Buzz Leicht Year. Don't vote for him
because he's beautiful, vote for him because he's environmentally friendly, the
only halogen light in the competition. A vote for Ginger is a vote for you.
7. David Needham
A certified mixed martial arts ninja, David
Needham wouldn't hurt a fly, even though he could. He drives an elephant to
school and once saw a fly on that elephant's nose. Did he kill it? Of course
not, but he did pet it. He's a human walkie talkie, a one man beat box show. He
can catch food flying across the school cafeteria, with his mouth. He can catch
a sunburn walking from the cafeteria to his car. He might be albino, but albino
trees have feelings too. Let's show our love for this gentle warrior, Mr. David
Needham.
8. Christian Goudy
Is that John Mayer? Wait, Jack Johnson? Could
that be Justin Bieber himself? Almost,
but so so much better. Ladies and
gentlemen, that's none other than Mr. Christian Goudy. He can strum a ukulele, he can strum a
guitar, but most importantly, he can strum our heart strings. But there's also
another side to this tender man, for he's the only one in our competition who
gets paid to shoot guns. He turned 18 yesterday and is now a legal man, but
maybe tonight's the night he becomes a legal tree?
9. Ben Dyer
Ladies and Gentlemen, up next is Mr. Ben Dyer.
Not a lot to say about him because he's just awkward.
10. Christian Stanford
You may recognize him as the Sexy Sax Man, let's
welcome our next contestant, Mr. Christian Stanford. With the largest chest in our competition,
Mr. Stanford is rumored to be able to do over 2000 pushups in under a minute.
He holds a black belt in kickboxing and a wears a brown belt with khakis. He
doesn't drive a truck, he doesn't drive a prius, he actually doesn't even
drive, but who needs to drive when your chest is inflated with helium? Now lets give a round of applause to Stan the
man.
11. Brandon Dusenberry
Dingles, Dusey, Dingleberry, Dusendingle,
dinglehopper, whatever you call him, you know you love him. Mr. Brandon
Dusenberry is a man with a passion for shredding gnar. Give him anything that
moves, he'll shred it. Longboards…shreds gnar.
Snowboards…shreds gnar. Wake boards…you guessed it, he shreds gnar. He's
so gnarly that he even has a diseased known as gnar-colepsy, allowing him to
fall asleep while standing in the shower. Everyone take your right hand, make a
fist, raise it, and open just your thumb and pinky finger. In honor Mr.
Dingleberry, together, please yell the phrase 'gnar-wall.'
12. Brian Murray
The competition just went international as Mr.
Brian Murray flutters towards the stage. All the way from Paraguay, our Latin
Lover is known for his unparalleled dancing ability. Él puede fox trot, el
cormorán moñudo puede, puede boxear paso, puede cuadrar baile. Sentirse
cansado? o simplemente dejar que el señor Murray le recogerá y gire a tu
alrededor, Brian Murray, el Latin Lover.
13. Peter Bedrosian
Mr. Bedrock himself, Peter Bedrosian,
interrupted his intense workout regiment to be here tonight, solely because he
would like to add the title of 'Mr. Christmas Tree' to his extensive
resume. In addition to being able to
out-debate VP Joe Biden, Mr. bedrosian can power cling a young calf. He's
pretty sure he's a libra, and almost positive that he doesn't use gel to hold
that perfect perm. He's not Clark Kent, although you've probably seen him in a
speedo, but he does drive the Silver Surfer. Let's all rub our abs in unison
and realize they'll never be quite as ripped as those of Peter Bedrosian.
14. Cole Anderson
The son of George and Gayleen, Mr. Cole
Anderson, comes to us from the northWest coast of the lower continental united
states. You might think, that's just the guy who scoops my ice cream, but you'd
be sorely mistaken, because he doesn't scoop ice cream, he scoops custard. The tallest contestant in our competition is
ready to stake his claim as Mr. Christmas Tree.
He is #89 and knows the rules and regulations of the game. Give it up
for Mr. Anderson.
15. Gavin Rofail
You've heard the phrase, walk like an Egyptian,
well you're watchin it happen before your very eyes. Gavin Rofail can climb a
tree faster than a speeding squirrel. He can kick a pigskin at least a quarter
mile, I once saw him boot one over them there mountains. He loves to wear a
Superman costume, to stare danger in eye. Fear, he has none. Headbands, he has
a few. Mr. Christmas Tree winner crowns and sashes, maybe he'll get his first
tonight.
16. Paul Davidson
Last, but certainly not least, is the producer
himself, Mr. Paul Davidson. Does he wear polo? Does he wear vineyard vines?
Does he wear bow ties? Does he drive a caddy? Does he vote democratic? These things don't matter, but what does
matter is the fact that Mr. Davidson can waka flaka better than you can. What
matters is that he doesn't need to ever wear pants because his leg hair rivals
that of a bear. You know him. You love him. You wish you were him. To the man
who keeps the beat every Monday night, let's show him how our hearts beat for
him. Mr. Paul Davidson.
What Mr. Christmas Tree ideas can you share? Please comment below!