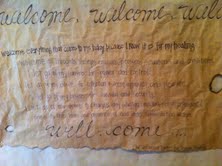 Last week a team of folks in our city set up a 24/7 Prayer room. Some right-brained ladies did an incredible job of creating a space to connect with God. The sounds, the lights, the smell, the paint, the different stations of hands-on prayer…all helped usher us into the presence of the Lord.
Funny how when we make space for God, He tends to show up.
Upon entering the room, I read the prayer below by Father Thomas Keating. It impacted me deeply and I thought it was worth passing along.
The Welcoming Prayer
Welcome, welcome, welcome.
I welcome everything that comes to me today
because I know it's for my healing.
I welcome all thoughts, feelings, emotions, persons,situations, and conditions.
I let go of my desire for power and control.
I let go of my desire for affection, esteem,approval and pleasure.
I let go of my desire for survival and security.
I let go of my desire to change any situation,condition, person or myself.
I open to the love and presence of God andGod's action within. Amen.