This guest post is written by Kyle Holt. Kyle is a Young Life leader in St. Joseph, Missouri. He's majoring in economics at Missouri Western State and enjoys sports, Chipotle, and has recently renewed his love for "Saved by the Bell."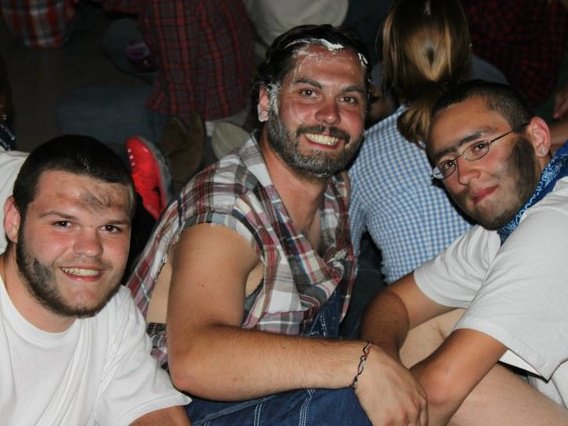 I remember sitting at Crooked Creek during Work Week in 2011 and half-listening to the morning devotional. Most of my attention was on devouring the delicious pancakes we were served that morning. However, one statement caught my attention. A statement, as I now see, that had a deep hold in my life long before I even heard it. It is now essential to how I attempt to lead my YL team.
"Community without vision is selfish and vision without community is exhausting."
Benton Young Life was the party spot on Wednesday nights for students when I started leading there in 2007. At that time, the leadership team was going through a transition: In the previous year, five leaders had stepped down which is why I was asked to lead at Benton. I fell in love with leading Young Life while club and campaigners numbers were dwindling. That school year, we started club with around 60 kids showing up. We ended with an average of 12. The next school year, we averaged around 15-20 kids at club, but for three grueling weeks in March of 2009, no one showed up. We made the tough decision to shut down club to focus on meeting kids and developing relationships.
Between March of 2009 and February 2010 when we restarted club, I became the head leader at Benton. My leadership team now consisted of myself and three other leaders. Over the spring semester of 2010, we were averaging 20-25 kids at club and felt optimistic about the future. Then, one amazing Wednesday night a semester later in October of 2010, we had 50 kids show up to club. God showed me His faithfulness. My hard work had finally paid off.
Now, I chuckle at my foolishness.I spoke of MY work paying off and God showing ME His faithfulness because that's where my heart was at the time. I was self-centered, I took too much control, and I didn't allow others to have the ownership they deserved. I had a great group of leaders but didn't provide opportunities for them to take ownership of club. I structured Benton Young Life so that I was in control.
At the end of fall 2010, one leader stepped down to focus on her student teaching and another stepped down to join the U.S. Air Force. There were now only two male leaders at Benton and no female leaders. Then, my other leader was asked to start working nights; so for about a month, I was the only club leader at Benton. God had given me what my heart desired: a mission of which I seemingly had complete control.And it was destroying my mind, body, and soul.
My original leadership team was amazing. We had a good community. We had vision. Unfortunately, our visions differed. They wanted to present the gospel to high school students at Benton. I wanted to control how the gospel was presented. The difference is huge: my vision was full of selfishness. I had the community I wanted, but my inadequacy in creating and casting vision for our community resulted in my own selfishness.My leadership team was gone. My community was gone.
I got to control how the gospel was presented at Benton. I did all the planning. I played all the music. I led all of the games. I gave all of the talks. Most nights after club, I would lie down on the couch in our club room wondering if I could keep going the way I was. I spent so much time keeping up with school, my jobs, and Young Life that my spiritual life was taking a backseat. There wasn't any time in my life to spend with Jesus, and my spirit was hanging on by a thread.
Since then, God has blessed me with four great leaders who love the Young Life campaign. He has shown me the importance of giving up control: the importance of allowing others to take part in the vision of the community. He's given me a passion to develop leaders and give them opportunities to take ownership of club. I've been in the process of walking alongside my leadership team as we grow and present the gospel to high school students, because, as I've learned, "Community without vision is selfish and vision without community is exhausting."
Thanks Kyle for sharing! This was personally convicting for me.
If any of you have a guest post you'd like to share, here's how you do it.