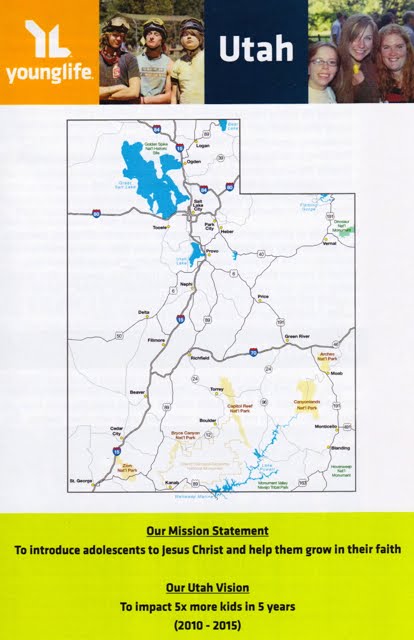 A Guest Post From Jessy Staley in Salt Lake City Utah. Jessy became a YL leader in Texas in 1996, and has been involved ever since. She even met her husband of 10 years through YL.
Young Life is currently active in 6 areas within the state of Utah. I am a part of a group of people who want to see Young Life at every school (over 300) in the state! Specifically, we would like to see Young Life be the beginning of something SPECTACULAR here, because this state is a wide open mission field with a different kind of youth culture.
How did Jim Rayburn teach us to attack an area where we wanted to see Young Life grow? By getting on our knees and praying for it. This post is an invitation to those who know Young Life best and know how God can use the ministry. We are looking for long-term, prayerful people with hearts for middle school, high school and college students. People who get excited at the thought of being a part of a prayerful, grass roots effort that will minister to Utah schools. People who love to be a part of God's work. Check out this Google Doc link and ask God if this is something He wants you to do! (Also, please take time to go through the tabs on the bottom of the Google doc!)
If you sign up to pray for a UT school – you will get update newsletters from Utah YL! If you have any questions, please feel free to email me at godwingal78@yahoo.com. Thank you for your time and I hope to report amazing things that God is doing in Utah to y'all soon!
Jessalyn Staley